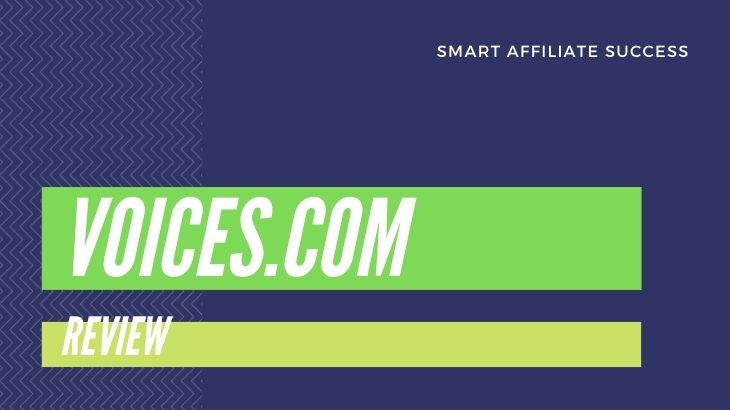 Voices.Com Review – Make Money Doing Voice-Overs?
Welcome to my Voices.Com review!
If you ever wanted to do voice-overs, but don't know where to start, then you're in luck.
The income opportunity that we're about to review is going to give you just that.
We're going to talk about Voices.Com and delve deeper into what they have to offer for those who want to become voice-over actors.
First of all, I must Congratulate you for taking your time to do your own research before buying into any "seemingly good" product.
That's the way to avoid scams and find the legitimate way to make money online!
Let me be completely transparent with you, I'm not associated with Voices.Com in any form.
So, rest assured that I'm not here to pitch or sell anything to you.
Instead, I'm here to reveal if you can really make money from their program...
Voices.Com Review Summary
Product Name: Voices.Com
Founder: David and Stephanie Ciccarelli
Product Type: Get Paid to Do Voice Overs
Price: $499 Annual Membership
Best For: People who want to get into the VO business
Summary: Voices.Com is a company that hires you as a VO or Voice-Over talent. They have great pay and the income potential is there, but it's not meant for everyone. The membership is expensive, and there's not enough jobs available for everyone. But if you're willing to spend money on the membership and if you have a great voice, this might be for you.
Rating: 70/100
Recommended: Yes and No
More...
Voices.Com is a company that connects clients to talents and freelancers who want to get paid for doing voice-overs.
Clients can post their jobs on the site, and talents can audition for them if they want.
The company was founded in 2003 by David and Stephanie Ciccarelli. The company started out as Interactive Voices and then transitioned to Voices.Com when they were able to secure the domain name from a medical journal named "Silencing the Critical Thoughts In Your Head".
Based on its 2015 revenue report, they've generated more than $10 million in revenue and continue to grow over the years.
They've also expanded to other countries and have gone as far as hiring talents for other languages such as Spanish.
There are two sides to Voices.Com: The Client side and the Talent side. You're going to sign up as a Talent, which isn't exactly cheap. You're going to fork over a membership fee, which we'll discuss below.
Job Postings
All jobs are posted for FREE by clients, so they can post job listings as much as they want. The fee only occurs when they hire talents and make transactions. Think of them as a brokerage.
Auditions
Talents can then proceed to go through these job postings and auditions. You'll also need to pay the membership fee before you can start going through the job postings.
Auditions consist of reading scripts as outlined by the clients, and you'll have to follow the guidelines requested. Then you'll need to record the audio and submit it through the platform.
On their job listings, it will also show how much the client is willing to pay you after the job is completed. You won't get paid for auditioning.
Once you're hired, you move on to the next step.
Transaction
If you're hired and the job is done, Voices.Com will be handling the payment to ensure that the clients will pay talent for the work done. They hold the money in escrow and will confirm that the work has been completed and approved.
There's a 20% fee for this transaction, which is covered by the Client.
I'm Jerry!
I Created My Own 4-Figure Monthly Passive Income at just 21 Years Old!​
What Are The Jobs Available?
There are different jobs available on Voices.Com.
You'll be doing different types of VO work such as:
Non-broadcast jobs that pays on word-count of the script
Broadcast jobs which you could land as a regular VO job
Local radio VO jobs
Internet ad VO jobs
And more…
There is no fixed rate for these types of jobs. It all boils down to the discretion of the clients.
Fees
Voices.Com earns from both clients and talents.
Clients can post their jobs for free, but they are hit with a 20% transaction fee if they use the platform to hire talent. This is added on top of the talent fee paid to the talent. So if a client pays $500 for the talent's pay, an additional $100 is shouldered by them for the listing.
For talents, they are hit with a $499 yearly membership fee, which is outrageous. There's no flexibility offered here because there's no monthly or semi-annual package.
How Much Can You Make?
The big question that we have to answer: how much money can you potentially make from the program?
Let me preface it with the following conditions:
Your income potential is based on job availability and client preference. You're going to be auditioning for these VO jobs. You're not guaranteed a spot just because you auditioned.
You're competing with other people for the VO job. Some might be better or worse than you.
According to Voices.Com's support team, talents book at least 2 to 7 jobs for every 100 auditions. That's not a lot to be honest.
The support team also suggests that you audition for 7 jobs a day to get something.
Pay Rates
They have a list of rates they pay out to their clients per project. This will give you an idea on how much you could potentially make per.
Note that budgets have the 20% included for the transaction fee, so you'll need to subtract that amount.
However, this isn't really a great representation of the pay that Voices.Com make because of the various fees that Voices.Com will pocket from clients and talents.
Payment Options
Voices.Com uses an escrow service called SurePay. This money is deposited into your bank account or PayPal account. You also have the option for getting it via check in the mail.
Payments are sent weekly and are always 1 week behind.
Voices.Com is for people who want to utilize their voices for money. It's not meant for everyone, but if you have the voice, you could make a lot of money.
Voices.Com Ugly Truths Revealed!
#1 Expensive Membership!
The membership is expensive at a whopping $500 per year. You'd have to make money to recoup your subscription before you can make a profit.
I guess you can easily get your money back with the rates that Voices.Com were paying.
#2 Huge Fee
You're going to be hit with fees (not mentioned in their site) before you get your money. Some people complained about the fees and got hit with the banhammer. One good example would be Todd Schick, who's a professional VO.
What I Like About Voices.Com?
#1 17 Years Of Experience
The people behind Voices.Com know their stuff and have worked with countless high-end clients who need professional VO tasks.
For 17 years, they delivered quality VO projects to their clients and they're there for a reason.
If you want something reliable to work with, Voices.Com is definitely that company.
#2 High-Paying Jobs
They're paying a lot of money for the jobs that they want you to do. You could earn as much as a thousand dollars for a single job if you're lucky.
Voices.Com is as legitimate as they can get. Their income potential is high, but I wouldn't recommend it you're looking for a full-time job.
The membership fee is expensive, and you'd be lucky enough to land a job if you can get accepted after the audition. You're competing with other talents for the same job.
They take out a huge fee, some of which they don't mention in their website. It's just affects your income potential, and you don't know how much they're taking from your pay.
But other than that, if you are confident about getting into this kind of work and are willing to shoulder the membership fee, go for it. The company has done a good job of providing good service for both their clients and talents.
Related Links
How I Make a Living Online?
I've personally created a 4-Figure Monthly Passive Income Stream and become financially independent at just 21 years old without any College degree or working experience!
Through my own hard work, I went from a broke restaurant waiter to living my dream laptop lifestyle in less than a year's time...
If you want to discover the secrets of how I did it at such a young age, click here!