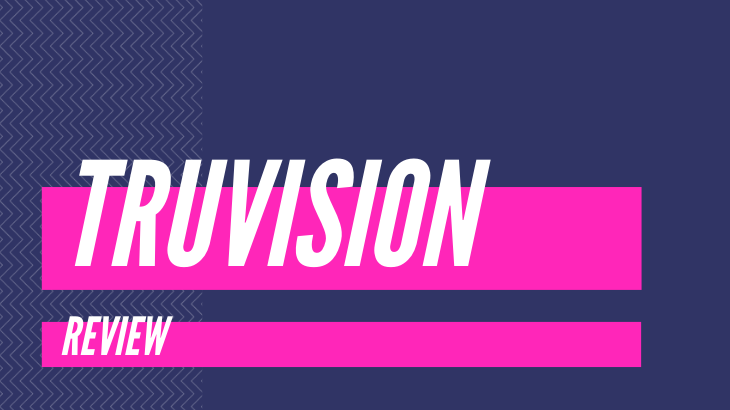 TruVision Review – Another Generic MLM Company Exposed!
Welcome to my TruVision review!
There are a lot of MLM companies out there that claim they have cutting-edge products based on science to help give you the best results possible.
Sadly, most of them are just putting up false claims about their product and not a lot of them are backed by actual science.
This company is TruVision, which is another one of those health and wellness companies that promise interesting results.
First of all, I must Congratulate you for taking your time to do your own research before buying into any "seemingly good" product.
That's the way to avoid scams and find the legitimate way to make money online!
Let me be completely transparent with you, I'm not associated with TruVision in any form.
So, rest assured that I'm not here to pitch or sell anything to you.
Instead, I'm here to reveal why I think this is nothing more than just an ordinary MLM company
TruVision Review Summary
Product Name: TruVision
Founder: Travis Martin, Shawn Gibson, and Derek Baily
Product Type: Health and Wellness MLM
Price: $37.50 for enrollment plus 100PV Autoship
Best For: No one!
Summary: TruVision is a health and wellness MLM company that markets various supplements and healthcare products. However, there's nothing unique about their program and because there's no income disclosure statement, it's safe to assume that the income potential is low. We have other issues pointed out on this article as well.
Rating: 50/100
Recommended: No!
More...
TruVision health is a MLM or multi-level marketing company that belongs under the health and wellness niche. You sign up as their distributor and sell their products on top of referring other people to their business opportunity.
The company was founded back in 2014 by Travis Martin, Shawn Gibson, and Derek Baily. They are currently located in Utah, which is also known as the MLM capital of the USA.
Since they've started, they grown so well that they were able to earn $60 million in a year. The company has great leadership and a great track record, but this doesn't mean that it's the best MLM company out there.
TruVision Product Line
TruVision Health is focused on health and wellness products, ranging from supplements to essential oils to skincare products.
Their products are divided into 4 categories:
Core
Complementary
Skincare
Essential Oils
The Core Product Category contains all of their popular items.
Product Lineup
Here's a list of products that they offer:
TruWeight and Energy – A tea drink that induces weight loss.
Heart and Hydration – Helps replenish electrolytes and improves heart health.
TrueFuel – Contains fibers and protein as well as omega vitamins.
TruSlumber – Helps induces a good night's sleep
A lot of people are claiming that the products are great and do what's expected, but there are also a lot of complaints about these products.
Let's go over to the next section.
I'm Jerry!
I Created My Own 4-Figure Monthly Passive Income at just 21 Years Old!​
Does The Product Work?
A lot of people claim that the products work, but majority of them are saying that they experienced negative effects from the products.
Some of the common complaints include:
Dizziness
Jittery and shakiness
Increased heart rate
Nausea
As you can see, these are also symptoms of extreme caffeine intake, however their products don't share the same ingredients. For example, the TruFit and TruControl capsules both offer the same benefits of weight loss but contain different ingredients.
It's also difficult to gauge weight loss results because there are several factors that might come into play. Exercise and diet can greatly affect weight loss, so if a user has been exercising and dieting together with TruFit, then there's no doubt that they're going to lose weight.
The only question remains here is whether or not TruFit contributed to the weight loss.
How To Make Money with TruVision?
TruVision uses a traditional MLM business opportunity that allows you to earn via:
Sales commissions
Bonuses from promotions and recruitments
How To Get Started with TruVision?
To sign up as an associate for TruVision, you'll need:
$35 enrolment fee
Sign up for $100 worth of products per month
Sign up for the autoship
TruVision Compensation Plan
As expected, TruVision's compensation plan is complicated but we managed to narrow it down to the most important points.
If you want to see Truvision Health's full compensation plan, click here.
You can also check out their video here:
Retail Difference (Sample Commissions)
The retail difference is their counterpart for commissions. This is basically you earning a profit from the wholesale prices you bought the products for. Example, if the customer cost is $50 and your associate cost is $30, then you earn $20 per sale of that product.
Fast Start
The Fast Start bonus is when you have a member who signs up for the associate program, including for the monthly autoship, within 60 days after you recruit them.
The Fast Start bonus gives out a percentage of the PV of the first 4 generations. 1st generation will have 20%, 2nd generation will have 10% and the 3rd and 4th generation will have 5%.
Monthly Payout
Monthly Payout is intended for rank Associates and above. They need to maintain a monthly 100PV and higher for this commission.
Matching Bonus
The Matching Bonus is offered to Associates and higher, which means that you and your members must maintain 100 PV in autoship for the current or previous calendar month.
You'll earn 10% commission on all of your associates in your downline who's able to maintain 100PV.
TruVision Ugly Truths Revealed!
#1 Products Are Hard to Sell
I am going to be downright truthful here. Their products are hard to sell, and not just because of the side effects that people are experiencing.
There are a lot of health and wellness MLM's and commercial health and wellness products out there on the market today that are cheaper and more effective than TruVision.
Generic supplements can cost you anywhere between $20 and $40 on Amazon depending on quantity.
And don't give me the "But you're paying for the results" spiel. Unless they're talking about results from scientific journals done on their products, you might as well just buy the next best supplement from a GNC store.
#2 Lawsuits Have Been Filed Against Truvision Health
TruVision Health is legit, but it doesn't mean that they don't have their fair share of legal issues.
In 2015, they had a violation against the FDA for using Synephrine and DMDA, which are dangerous when combined. When caffeine is added, it becomes more dangerous.
In 2017, they got hit with another FDA violation, and this time with the the Current Good Manufacturing Process and the Federal Food, Drug and Cosmetic Act. Their containers didn't contain information on the number of servings, wrong serving sizes, and they marketed their products as drugs.
#3 Products Are Not Scientifically Proven To Affect Metabolism
While other people claim that the products worked for them, they actually don't have the science to prove that it does.
Here's why it matters. Weight loss products in general are easier to market when the products or its ingredients have gone through a study or clinical trial about their effects. When the results are positive, it means that the product is effective (to some extent and with the right factors).
Their weight loss products are said to affect metabolism, but somehow I don't think they have proof that it does on a scientific level.
#4 Low Income Potential
I am inclined to think that the program has low income potential due to the lack of an income disclosure statement. This document contains information as to how much people are earning per level in a year.
With that being said, earning about $20 per product isn't just worth it if you're looking for a source of full-time income. The monthly autoship of 100PV will also require you to sell more of these products to recoup your expenses. You'll have to sell past 100PV to make a profit.
What I Like About TruVision?
I don't think I like this program, mainly because there are far better MLM companies out there under the health and wellness niche. Here's a short list to start with:
TruVision is a legitimate health and wellness MLM company. Unfortunately, it fails to match our expectations and requirements.
The income potential is low because there's no income disclosure statement that proves otherwise. The products are also difficult to sell because of the potential side effects and the fact that a lot of people are complaining about it.
It's your typical health and wellness MLM company that doesn't have anything unique to provide, and there are far better programs out there.
How I Make a Living Online?
I'm not a fan of MLM, not because it's illegal or not profitable, but because of all the restrictions and the expensive costs involved.
Instead, Affiliate Marketing is my top recommended business model for anyone to make money online.
The reason is simple...
You don't have to recruit anyone to make money
You have the freedom to promote any products you want and not being restricted to only promote the products from one MLM company
It's Free to get started
In fact, with affiliate marketing...
I've personally created a 4-Figure Monthly Passive Income Stream and become financially independent at just 21 years old without any College degree or working experience!
Through my own hard work, I went from a broke restaurant waiter to living my dream laptop lifestyle in less than a year's time...
If you want to discover the secrets of how I did it at such a young age, click here!