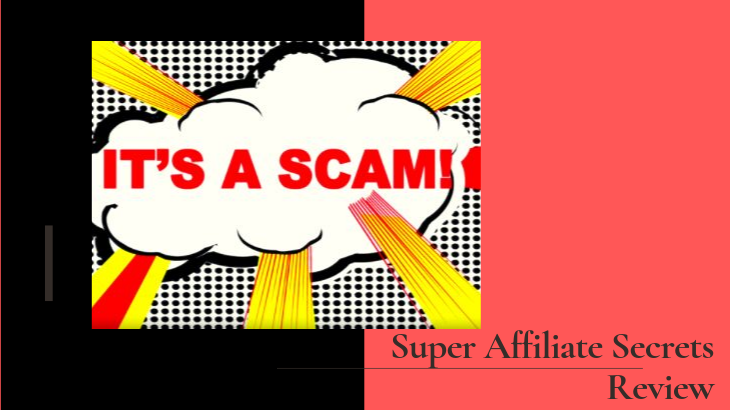 Super Affiliate Secrets Review – There's No Secret Cash Here!
Welcome to my Super Affiliate Secrets review!
Affiliate marketing scams nowadays are trying hard to make it look like they run a legitimate business model.
They do this by providing sales videos, testimonials, and even a sales pitch from the owners themselves.
However, these tactics are also their undoing as it only takes a quick Google search to verify the truth behind what they say.
And one of the scams that we're going to talk about today is Super Affiliate Secrets.
First of all, I must Congratulate you for taking your time to do your own research before buying into any "seemingly good" product.
That's the way to avoid scams and find the legitimate way to make money online!
Let me be completely transparent with you, I'm not associated with Super Affiliate Secrets in any form.
So, rest assured that I'm not here to pitch or sell anything to you.
Instead, I'm here to reveal what this scheme is hiding and where they're going to lead you down to. 
Super Affiliate Secrets Review Summary
Product Name:  Super Affiliate Secrets
Founder:  Tanja Christiansen (Obviously Fake)
Product Type:  Affiliate Marketing Program (Sales funnel for Super Affiliate Network)
Price:  $37 plus Super Affiliate Network membership levels costing up to thousands of dollars.
Best For: No one! 
Summary:  Super Affiliate Secrets pretends to be an affiliate marketing program that promises you can make thousands of dollars online, but it's nothing more than just a sales funnel for a high-ticket MLM program. However, I have uncovered proof that there's something going on with this system and one of them is that no one's making any real money at all. 
Rating: 1/100
Recommended:  No!
More...
What is Super Affiliate Secrets?
Author's Note: This is in no way connected to Spencer Mecham's Affiliate Secrets, a legitimate affiliate marketing sales funnel program.
Super Affiliate Secrets, or Super Affiliate Secrets X, promises that you could make a thousand dollars a day through their system, and all you have to do is go through their training and you'll be ready to go.
However, the program is far from what it's supposed to be because it's just your garden variety get-rich-quick scheme created by someone named Tanja Christiansen. She's also the person talking on their sales video.
The video goes about for an hour and tells you hilarious claims about how you can solve all your financial problems through their system. She goes on about how you're getting into their big secret and not wanting to tell anyone else. She does this a lot of times throughout the video.
In one part of the video, she mentions that the real creator of the program chooses to remain anonymous but doesn't really tell you why.
So, how does the program work?
Inside Super Affiliate Secrets
Super Affiliate Secrets lures you into their sales page through email, which is how I got word of their program to begin with.
However, once you sign up for Super Affiliate Secrets and pay for the membership, then you uncover their secret.
Super Affiliate Secrets is actually a sales funnel for a high-ticket MLM program called Super Affiliate Network, which I reviewed not too long ago.
How Much Does The Super Affiliate Success System Cost?
It will only cost you $37 to sign up for Super Affiliate Secrets. However, Super Affiliate Network will require another sign-up fee, costing thousands of dollars per tier (and I'll explain this in the next section).
I'm Jerry!
I Created My Own 4-Figure Monthly Passive Income at just 21 Years Old!​
What Are You Really Buying?
You're buying into the Super Affiliate Network business opportunity, which is reminiscent of infamous high-ticket programs such as MOBE and The Digital Altitude, both of which are now shut down by the FTC or Federal Trade Commission.
What It Really Would Cost You!
Joining Super Affiliate Network will give you access to their commission program, which requires you to sell their membership levels.
Much like MOBE and Digital Altitude, the business model is a pay-to-win system that requires you to pay for whatever amount you want to earn.
You'll earn 50% commission of the membership levels that you want to sell, but there's a catch.
Here are the levels offered by SAN:
Basic Membership:  $24 to $47 a month depending on special offers, promotions, or one-time offers
Annual Membership:  $297 or $397 depending on any special offers, promotions, or one-time offers
Premium Membership: $97 (one-time OTO)
Pro Silver Membership: $2497
Pro Gold Membership:  $2997 (same as Pro Silver but includes non-specified further products)
Maui Intensive Membership: $12,497 (quarterly event in Hawaii)
All In Membership: $17,497 for access to everything
If you signed up under the Basic Membership level, you'll be eligible for commissions when you sell the membership level. You won't be able to earn more than that until you purchase the next level.
Technically, you earn a thousand dollars but you have to pay a thousand dollars first.
The training program provided will only teach you on how to actually sell their membership levels, and nothing more.
Who's Super Affiliate Secrets For?
Super Affiliate Secrets Ugly Truths Revealed!
#1 - The Income Disclosure Reveals All
Some folks who are fans of my work won't care if the review is bad or not, but what they want to know is if they can earn money.
If this is you, then I completely get it.
Super Affiliate Secrets actually provides you with their income disclosure statements, but it appears that they borrowed from another sales funnel called The Profit Shortcut.
The reason why I'm showing you their income disclosure statement is because the link actually takes you to that statement.
Meanwhile, you'll also notice that The Super Affiliate Network has more or less the same statements.
In any case, out of their 40,000 members, less than 1% are only making a full-time income and the other 99% are barely making any real money at all. 
And these are the people who've paid a lot of money to get into their system, but it appears that they have yet to recoup their losses.
#2 – Fake Owner Information
At this point, I'm more inclined to believe that Tanja is the creator behind this program but makes it look like she's just the spokesperson.
Regardless, I've proven that she's no more than a fake person using a stock photo.
Here's the evidence:
So, how could you trust a program that doesn't even tell you who the real creator is?
#3 – There's No Product Being Sold Here!
Both Super Affiliate Secrets and Super Affiliate Network are so close to be flagged as a pyramid scheme simply because they focus too much on recruitment as the main method to make money.
Based on the FTC's guidelines for pyramid schemes, too much focus on recruitment is one of their red flags. It won't be long now before SAN follows in the footsteps of MOBE and Digital Altitude.
However, I am not yet saying that SAN is a pyramid scheme, but it does work like one.
What I Like About Super Affiliate Secrets?
There's nothing positive worth mentioning about the program because it's a scam and a possible pyramid scheme.
Is Super Affiliate Secrets a Scam?
Super Affiliate Secrets is a scam in a sense that it's nothing more than a sales funnel for another possible pyramid scheme, which is Super Affiliate Network.
Their income disclosure statements prove that no one's earning any money aside from the owners or creators of the program.
My guess is that Super Affiliate Network will probably get flagged soon by the FTC for their illegitimate business model.
How I Make a Living Online?
I've personally created a 4-Figure Monthly Passive Income Stream and become financially independent at just 21 years old without any College degree or working experience!
Through my own hard work, I went from a broke restaurant waiter to living my dream laptop lifestyle in less than a year's time...
If you want to discover the secrets of how I did it at such a young age, click here!