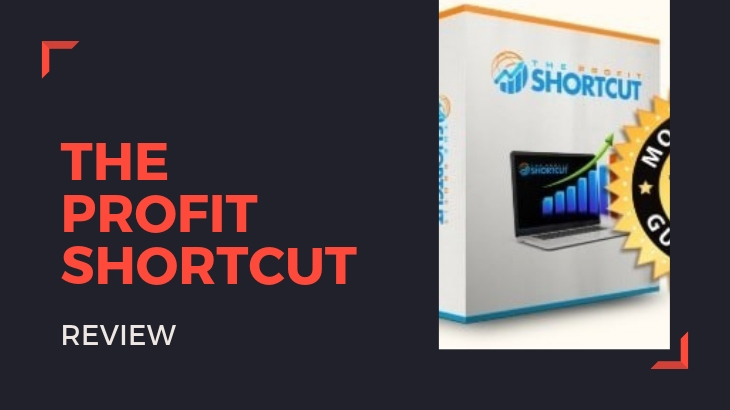 Is The Profit Shortcut a Scam? No Profits Here, That's For Sure!
Welcome to my The Profit Shortcut review!
If there's one thing in the world of affiliate marketing that's certain, as long as products contain the words such as SHORTCUT, QUICK, EASY, and RAPID, you know that there's something up.
And I am right about this product that we're about to review.
This is The Profit Shortcut!
First of all, I must Congratulate you for taking your time to do your own research before buying into any "seemingly good" product.
That's the way to avoid scams and find the legitimate way to make money online!
Let me be completely transparent with you, I'm not associated with The Profit Shortcut in any form.
So, rest assured that I'm not here to pitch or sell anything to you.
Instead, I'm here to reveal what this scheme is all about and why it's going to be shut down by the FTC in the future.
The Profit Shortcut Review Summary
Product Name: The Profit Shortcut
Founder: The Super Affiliate Network
Product Type: Affiliate Marketing Funnel
Price: $37 + Upsells
Best For: NO ONE!
Summary: The Profit Shortcut is nothing more than a doorway or a sales page to another possible pyramid scheme called The Super Affiliate Network. Their income disclosure and their disclaimer prove that there's no real money that can be earned from this program, and that's more than enough for me to tell you that this program is not worth it!
Rating: 1/100
Recommended: No!
More...
What is The Profit Shortcut?
Okay, this product called The Profit Shortcut claims that you can make lots of money really quickly and easily, even if you don't know anything about affiliate marketing.
In their sales video, they provide you with these "done-for-you" systems that's going to help you automate the entire thing.
In fact, the website just states that you can just "Activate Your Success System" and makes you believe that with a push of a button, you can make money.
But that's far from the truth.
And I say this because the Profit Shortcut system is not a system at all.
It's a doorway or landing page to another program called The Super Affiliate Network, founded by Misha Wilson.
Inside The Profit Shortcut
As I mentioned, you're not getting into a system made by The Profit Shortcut.
You're paying for a membership to get into the product called The Super Affiliate Network.
This is a program that requires you to recruit more people into the system in order to make money.
If you don't recruit members, you don't make any money. It's as simple as that.
The Profit Shortcut was created in order to drive more leads into the program.
That's why the spokesperson of the program, Sarah, claimed that she's successful and that she's able to make a lot of money.
What's The Real Cost?
So Sarah tells you that you're only going to spend $37 to get into The Profit Shortcut, but she's absolutely misleading you.
Once you're inside The Profit Shortcut, you're going to be presented with different upsells that's going to total to about a thousand dollars or more.
You're also going to pay another membership cost for The Super Affiliate Network for $47, but a premium membership costs $2,000.
Then there's the Maui Intensive Membership that costs over $12,000.
Sure, you're going to earn huge commissions if you're going to sell these memberships, but you have to buy them first before you're able to resell them.
You have to spend money to make money, which doesn't really make sense at all if they're an affiliate marketing training course.
I'm Jerry!
I Created My Own 4-Figure Monthly Passive Income at just 21 Years Old!​
The System Is Unsustainable!
The way that the The Profit Shortcut and The Super Affiliate Network work is quite unsustainable because they have to pay for the memberships.
The Super Affiliate Network doesn't have any tangible products to give out, so there's no sale done here.
This is a red flag because this is one of the many signs of a pyramid scheme.
People are then forced to join the programs to take part in the training provided, but all the training really does is how to participate in the business opportunity.
The Super Affiliate Network operates the same way as two other programs called The Digital Altitude and MOBE or My Own Business Education.
These two programs were both shut down by the FTC or Federal Trade Commission because they were flagged as pyramid schemes.
Now, I am not saying that The Super Affiliate Network is a pyramid scheme, but there are several red flags that should raise some eyebrows.
Who's The Profit Shortcut For?
No one.
The products, both The Profit Shortcut and The Super Affiliate Network, are not going to do anything for your business.
If you want to get started with affiliate marketing, there's a step-by-step guide on it that I want you to read.
You can do that by clicking this link right here.
It's free and it doesn't require you any commitments from you.
The Profit Shortcut Ugly Truths Revealed!
#1 – No One's Earning Any Money From The Program!
The program claims that their members have an amazing success rate.
And the video testimonials do their best to make it look like it.
But it's far from the truth.
A quick look at their income disclosure statement proves otherwise:
Insert The Profit Shortcut Income Disclosure
As you can see, the members belonging to the Rookie Rank earn about $103 a year, and only 12 people that are ranked Influencer and Leader are making a full-time income.
When most members are making less money than they're spending, it's not a great program to begin with.
#2 - The FTC Don't Like This Model Either
The Super Affiliate Network and The Profit Shortcut are running a program that's based on a PAY TO PLAY model.
And as a result, these programs are not going to be able to dodge the FTC for too long.
With a program that basically sells recruitment and no physical products to show for, they're going to be next to get shut down.
#3 – No Guaranteed Success!
And yes, their video may say that you're going to be successful but their disclaimer will say otherwise.
Here's a snippet of a couple of sentences that's going to take down their entire claims!
So, if a program promises you that you're going to make a lot of money but then take it back once you hand over your money, isn't that misleading?
#4 – Expensive Upsells!
When you get into The Profit Shortcut and The Super Affiliate Network, you'll have to pay your way through different upsells before you can start selling them.
And these aren't as cheap as you want them to be.
The upsells total to thousands of dollars and you're not going to be able to convince someone to spend that much money for something that doesn't guarantee their success.
What I Like About The Profit Shortcut?
Nothing.
It would go completely against my principles to promote this product by saying something positive about it.
And truth be told, there are a lot of other and better programs out there that can help you establish your online business.
But The Profit Shortcut is not one of them!
Is The Profit Shortcut a Scam?
The Profit Shortcut doesn't appear to be a scam, but it does have the making of a pyramid scheme.
The fact that it's nothing more than a doorway to another scheme proves that there's nothing decent about the system.
No one's earning any real money from the program, and that's proven by their income disclosure statement.
And there's no guaranteed success based on their disclaimer, either.
So if you sign up, you're already setting yourself up for failure.
How I Make a Living Online?
I've personally created a 4-Figure Monthly Passive Income Stream and become financially independent at just 21 years old without any College degree or working experience!
Through my own hard work, I went from a broke restaurant waiter to living my dream laptop lifestyle in less than a year's time...
If you want to discover the secrets of how I did it at such a young age, click here!