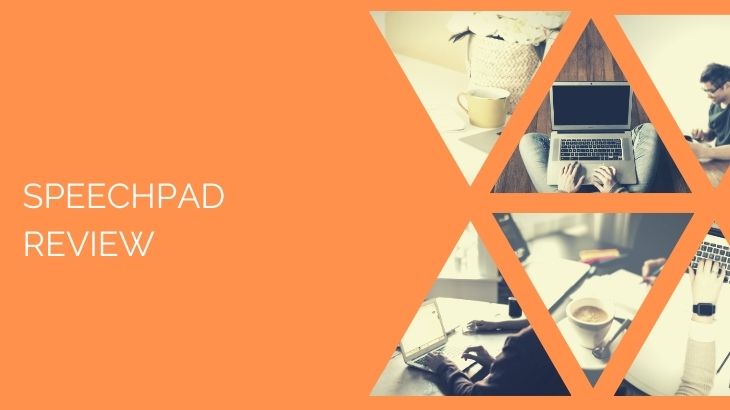 SpeechPad Review – A Transcription Platform Reviewed!
Welcome to my SpeechPad review!
Transcription jobs are almost always reliable, in terms of being legitimate and paying a decent wage. And by decent, we mean the pay meets industry standards.
But this is not meant for someone who doesn't have any idea on how transcription jobs work. There's a bare minimum for doing these kinds of jobs.
Today, we're looking at a company called SpeechPad. And we're going to find out if they're good for everyone or not.
First of all, I must Congratulate you for taking your time to do your own research before buying into any "seemingly good" product.
That's the way to avoid scams and find the legitimate way to make money online!
Let me be completely transparent with you, I'm not associated with SpeechPad in any form.
So, rest assured that I'm not here to pitch or sell anything to you.
Instead, I'm here to reveal what this platform is capable of doing.
SpeechPad Review Summary
Product Name: SpeechPad
Founder: Konstantin Othmer
Product Type: Transcription Freelance Jobs
Price: Free to Join
Best For: Experienced transcriptionists
Summary: SpeechPad is a transcription and freelance job platform that provides other services such as captioning and translating. The jobs are plenty and they have the praises for it by their members. However, the income potential may be low and the program may not be friendly for newbie transcriptionists.
Rating: 60/100
Recommended: Yes and No!
More...
SpeechPad is an online company that provides transcription and captioning services to various companies spanning different industries.
They currently have more than 5,000 transcribers employed worldwide with over 5 million total audio minutes transcribed and captioned.
The company offers 5 different services:
Transcription
Standard Captioning (closed captions for spoken dialogue only)
Premium Captioning (specialized captions that conveys all types of noise)
Translation
Reviewers (quality assistance)
They've worked with corporate giants such as:
Amazon
Netflix
Yahoo
LinkedIn
The company doesn't have any minimum work requirements, so you can choose to work any time and at any amount.
Who's Behind Speechpad?
The company was founded in early 2008 and they're currently located in San Francisco, California.
The company was founded by Konstantin Othmer, who's also currently the CEO of the company. Other members of the team include Michael Ruf, Linda Khachooni, Jill Finch, and Brian Reeve.
There is a set of requirements that need to be met if you want to work for SpeechPad.
You have to:
Be fluent in English
Have superb or above average grammatical skills
Be able to type at 40 WPM or 40 words per minute
Have reliable Internet connection, computer, and headphones
Unlike most companies, you're not required to have a foot pedal. Foot pedals are gadgets that go with transcription work to help you with pausing and playing audio files.
Sign up is free and you'll be required to fill up your basic information. Then afterwards, you'll be asked to take two tests: one for basic transcription and one for grammar.
You'll need to score 98% minimum for the transcription test and 75% for the grammar test in order to be accepted.
To do captioning jobs, you need to take a separate test called Web Video Captioning Qualification Test.
What Is Speechpad's Rating System?
SpeechPad has a rating system that helps the system determine whether you're qualified to do a job for them or not. The higher your rating is, the more jobs you qualify for.
The more accurate your jobs are, the higher rating you're awarded.
Once your rating hits below 95, you won't be able to work for Speechpad.
Speechpad Jobs
There are four different jobs you can avail of from Speechpad.
Transcriber – This is the basic job. Your responsibility here is to convert spoken words from a file into text.
Captioner – Captioners involve placing captions on video files.
Reviewer – You will be editing and reviewing the work of other transcribers.
Translator – Intended for multi-lingual freelancers who can translate from one language in spoken word to another language in text form.
Speechpad Job Board
You'll be able to access the job board once you pass their two tests. This is where you'll see the list of jobs available for that day.
You can also filter through the jobs based on your preference.
If you find a job that you want to do, you can take on it right away by clicking the Accept Job button
Be careful though since these jobs come with their own deadlines, and failing to meet them will affect your rating. You also won't be paid for late submitted work.
How Much Does Speechpad Pay?
Speechpad pays at per audio minute, which is far different from a work minute. Audio minute refers to the number of minutes you've transcribed, and not the number of minutes you worked on.
So if you're transcribing a 5-minute video, you'll be paid for the rate of 5 minutes, and not the time it takes you to work on it.
Speechpad pays $0.25 to $1 per audio minute. Entry-level transcriptionists get about $0.25 at the low end.
Your pay rate increases as you go higher in rating and you get better in job.
Captioning pays out $0.30 to $1 per audio minute.
Reviewers earn about $0.20 to $1 per audio minute, with experienced freelancers getting more .
This is why Speechpad doesn't really fit well with new transcriptionists. Experience matters in the industry, and not just within Speechpad.
They only pay through PayPal as of this writing. Once you submit your work and has been reviewed and accepted, you'll be credited payment for your work.
You don't need to request for payment or meet a threshold.
The payment schedules are twice a week on Tuesdays and Fridays.
Speechpad is not meant for anyone who's new into transcription. The rates are fairly low and may take you quite a while to get started.
SpeechPad Ugly Truths Revealed!
#1 Low Income Potential
You're not making a lot of money here. The highest you're earning would be about $1 per audio minute. Based on industry standards, transcribing an hour's worth of audio takes about 4 hours of work.
Let's do some quick math:
You're getting $60 for an audio file that's an hour long.
For 4 hours, you're getting $15 per hour for that rate. That's twice the daily minimum wage for some US states.
However, I would like to caveat this that this is an average pace and if you're. If it takes you longer, then you're going to be earning less than minimum wage.
There's also the issue of job availability and qualification. If you're starting out, you're going to be earning $0.25 at the minimum. This will only go up if your rating is higher.
#2 Not Meant For Novices
In line with #1, you're not exactly being favored here if you're new into the industry. The jobs on SpeechPad favor the experienced transcriptionists.
You can start up your transcription career with this program called Transcribe Anywhere. It literally helps you start your own business and builds your foundation for being a transcription.
What I Like About SpeechPad?
#1 Good Reviews On GlassDoor
SpeechPad maintains a good rating on GlassDoor where 37 people have given positive reviews about the program.
Based on their feedback, they're known for:
Job availability
Consistent pay
Good customer support
#2 Good Reviews on SiteJabber
The company also maintains a positive rating on SiteJabber, scoring 4.5 out of 5 stars based on 34 reviews.
They share the same sentiments as the GlassDoor reviews, so there's consistency in terms of the quality of the platform they work with.
Both sites only had negative reviews about the SpeechPad's rating system, which I can't comment on because there's not enough information to work with.
SpeechPad is a legitimate platform for transcription freelance jobs and others. However, it's not meant for people who're just starting out.
The pay's low for people who're just starting out, and it will take quite some time to build out your rating.
The program's not meant for novices due to the rating system. It's going take a long time to get to the rating that you need to get higher pay and more jobs.
But if you're curious about transcribing in general, you can't go wrong with trying this platform out. People left and right have praised the program for how good it is.
Legit Ways To Make Money Online
How I Make a Living Online?
I've personally created a 4-Figure Monthly Passive Income Stream and become financially independent at just 21 years old without any College degree or working experience!
Through my own hard work, I went from a broke restaurant waiter to living my dream laptop lifestyle in less than a year's time...
If you want to discover the secrets of how I did it at such a young age, click here!