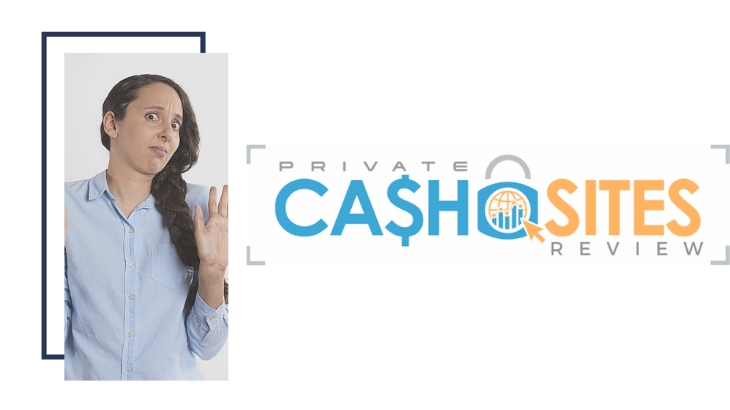 Private Cash Sites Review – 100% No Cash Here! And Here's Why!
Welcome to my Private Cash Sites review!
Several days ago, I received an email from a reader and asked me to review this program. I checked out the name and just by judging its name alone, I was right to assume a few things.
There are just so many of these programs that are circulating the Internet today.
In fact I've reviewed programs of similar nature and MO.
This is Private Cash Sites.
First of all, I must Congratulate you for taking your time to do your own research before buying into any "seemingly good" product.
That's the way to avoid scams and find the legitimate way to make money online!
Let me be completely transparent with you, I'm not associated with Private Cash Sites in any form.
So, rest assured that I'm not here to pitch or sell anything to you.
Instead, I'm here to reveal what this program is hiding and why you're not going to earn any money.
Private Cash Sites Review Summary
Product Name: Private Cash Sites
Founder: Steve / Nathan Canfield
Product Type: Affiliate Marketing Platform
Price: $37
Best For: NO ONE!
Summary: With evidence that this program is nothing more than a rehashed version of another scam, Private Cash Sites is not a program that's not worth looking into. They use the same fake testimonials with the same MO to get people to buy the program on impulse!
Rating: 1/100
Recommended: No!
More...
What is Private Cash Sites?
The moment I landed on their sales page, I had to make sure that there was no other program of the same name.
As of this writing,
I was already assuming that there was something wrong with the program, but don't let me get ahead of myself.
When I accessed their landing page, something didn't sit right with me, mostly because the landing page looked exactly like one of the scams that I previously reviewed.
I watched the video just to make sure that my assumptions were spot on.
The spokesperson starts off by saying that you found an Internet marketer's secret page that would give you access to his money making system.
The page is not exactly a secret because almost everyone can access the page.
The system claims that you're going to make up to $3,000 a day and he'll show you how to do just that.
In one of his spiels, he also tells you to remember him as the guy who saved you and stood up against other scammers out there.
Ironic, isn't it.
In reality, the program is no different from all the other programs that I've reviewed, and I can create a small list.
These are no better than Private Cash Sites:
Who's The Owner?
In the sales video of Private Cash Sites, the spokesperson's name is Steve, who appears to be the owner of the program.
In fact, it's the only name that's associated with the program. There's no other information about where they are currently located, as well as when they started.
This program literally came out of nowhere.
But in their disclaimer page, the owner of the program is Nathan Canfield. And I'll show you what I mean by this in the next few sections.
Inside Private Cash Sites
The video starts off by showing you different amounts of income proof from different accounts.
These are affiliate accounts where you specifically earn money as an affiliate of various programs and systems being marketed online.
The images provided are probably real, but it doesn't mean that these are income proofs from Private Cash Sites.
This is a common MO used by sites like Private Cash Sites to draw people into the program and make them think that there's some legitimate income floating around the program.
I'm Jerry!
I Created My Own 4-Figure Monthly Passive Income at just 21 Years Old!​
How Does Private Cash Sites Work?
As the name suggests, the program will create "private cash sites" for you, which are essentially little websites that are filled with affiliate programs and will make you money 24/7.
Now, I've been in the industry long enough to tell you that there's no automated system to helping you make money online.
Sure, you might make $3,000 a day through affiliate marketing, but trust me, that takes a long time to establish that income stream.
I am talking about years and years of authority build up, hustle, content marketing, and other strategies to get to that number.
But Private Cash Sites claims that you can do that the moment you set up their system, so it's a pretty good deal to pass on if you're not familiar with the industry.
Your little cash sites will also contain duplicated content, which do more harm than good for you because these are penalized by various search engines.
Right off the bat, your sites are not looking good and you want to look good for search engines.
This is where you get most of your traffic from.
And the problem doesn't end there.
Because these are DONE-FOR-YOU websites, your sites are hooked on to the main site's domain.
If the main site goes down, your sites go down too.
And in the other programs that I've listed above, you'll find that they promise the same thing as Private Cash Sites.
How Much Does It Cost?
The program costs $37, but there are upsells that will popup to make the signup process confusing.
Once you login to the members' area, you can expect to see more upsells, which will total to about hundreds of dollars.
These upsells will be presented in a way that they claim they can supplement your income stream, but in reality, these upsells are from companies that the creator of the program is affiliated with.
Who's Private Cash Sites For?
Private Cash Sites Ugly Truths Revealed!
#1 – It's A Rehash Of Another Scam!
Remember what I said about there being two sales video used to market this system?
The reason for that is this system is a rehashed version of another scam from 2017 called Steal My System.
And it works the same way as Private Cash Sites claims.
It's also worth mentioning that in one of the sales videos, Private Cash Sites actually mentions Steal My System.
#2 – Fake Testimonials!
If you watched both videos for Private Cash Sites and Steal My System, you'll find that they both use the same people who claim to have made some money on the system.
The problem here is that the testimonials are from paid actors from a site called Fiverr, a content marketplace.
These actors are paid to read a script that the creators of the program gave them.
If the system was as good as advertised, they wouldn't have to pay these actors to say something positive about the program.
#3 – Fake Scarcity!
Another trick into getting you into the program for an impulse buy is that they tell you that slots are limited.
This is not true at all because no affiliate marketer in their right mind would ever limit the amount of people who can access their program.
What I Like About Private Cash Sites?
There's just nothing about this program that's worth trying or even worth looking into.
I am doing the job of finding out if it's good or not for you.
Is Private Cash Sites a Scam?
Private Cash Sites is nothing but a rehashed version of another scam that existed two years ago.
They both used the same sets of fake testimonials to drive hype to their program and hid behind fake scarcity to trick people into buying on impulse.
This program is bad news and will not do you any good at all.
How I Make a Living Online?
I've personally created a 4-Figure Monthly Passive Income Stream and become financially independent at just 21 years old without any College degree or working experience!
Through my own hard work, I went from a broke restaurant waiter to living my dream laptop lifestyle in less than a year's time...
If you want to discover the secrets of how I did it at such a young age, click here!