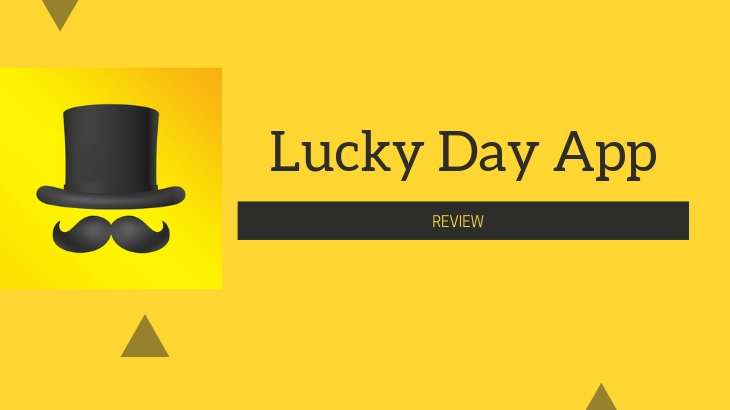 Lucky Day App Review – Is It Your Lucky Day To Earn Cash?
Welcome to my Lucky Day App review!
Remember those small lotto outlets in convenience stores and malls where you could buy raffle tickets to earn a few dollars?
Well, there's an app for that and today, that's what we're going to review.
This is Lucky Day App!
First of all, I must Congratulate you for taking your time to do your own research before buying into any "seemingly good" product.
That's the way to avoid scams and find the legitimate way to make money online!
Let me be completely transparent with you, I'm not associated with Lucky Day App in any form.
So, rest assured that I'm not here to pitch or sell anything to you.
Instead, I'm here to reveal the in's and out's of this app and whether or not it can actually make you money!
Lucky Day App Review Summary
Product Name: Lucky Day App
Founder: Not disclosed
Product Type: Get Paid To / Lottery-Based Program
Price: Free to join
Best For: People who are fond of playing games of chance.
Summary: Lucky Day App is a lottery-based rewards program that offers you different games of chance to let you win money or tokens. You can earn as much as $500 if you're really lucky. With that said, your source of income is based on luck, so it's not recommended to join this program if you're looking for a full-time income. However, if you just want to have fun while hoping that you're lucky, then you might want to join this app.
Rating: 50/100
Recommended: Yes and No!
More...
As mentioned in the introduction, Lucky Day App is a Lottery-Based Rewards Program that provides you with daily scratches, raffles, and lotto games.
When you play these games, you'll earn tokens that you can exchange for gift cards and even have a chance to earn cash prizes up to $100,000.
In addition to joining their raffles and sweepstakes, the app allows users to complete offers, watch advertising videos, and invite friends to earn extra tokens.
Now, it's worth mentioning that there are scams involving the Lucky Day App that are circulating social media accounts.
The scam's MO is simple. They'll tell you that you won two million dollars but will ask you to pay first before you can receive the reward.
These accounts are not associated with Lucky Day App. Lucky Day App will never ask you to pay to get your rewards and they will only reach out to you via their official social media platforms.
While they have a site, most of the activities will take place within their mobile app.
This can be downloaded from the Apple Store and Google Play Store.
There are a few ways for you to earn actual cash inside the app.
Raffles
Lucky Day App holds daily and monthly raffles that could earn you as much as $5,000!
You'll have to login daily to claim your free raffle entry to join the raffle. If you want another raffle entry, it'll cost you 10,000 Tokens (a secondary currency in Lucky Day App).
The monthly raffle gives you one free entry per month and each succeeding entries cost 10,000 Tokens.
I'm Jerry!
I Created My Own 4-Figure Monthly Passive Income at just 21 Years Old!​
Lotto
There's also a daily lotto that you can join in Lucky Day App.
You'll have to pick 6 numbers to join and your goal is match as many numbers as you can.
Matching 1 to3 numbers will earn you tokens, which you can exchange for raffle entries.
Matching 4 to 6 numbers will earn you a cash reward.
And similar to raffles, you'll need to open the app and pick your numbers each day to have a chance of winning.
Sadly, I couldn't find any information about how much the jackpot is at this time of writing.
Scratchers
This is the main way of earning cash and tokens through the app.
You'll be given scratchers that could win you cash or tokens.
If you match 3 symbols, you'll earn the scratcher amount plus some additional tokens.
Even if you don't match 3 symbols, all scratches pay out tokens thanks to the Bonus Section of the scratcher.
To get more scratchers, you'll have to watch video ads.
How To Earn Tokens?
Tokens is the app's main currency that you use to earn Raffle entries or to trade for gift cards.
Here are some ways for you to earn tokens?
Scratchers – Tokens are the main payout and will be awarded to you if you match three symbols. You also get tokens regardless through the bonus section.
Referrals – Referring friends may not earn you cash but you'll earn tokens for each friend you bring to the site. You'll earn 100,000 tokens for every friend you refer.
Black Jack – Playing Black Jack will also earn you tokens but doesn't provide you cash prizes. You bet your tokens you earn for up to three hands at a time.
Free Tokens – You get free tokens by completing offers, surveys, and watching ads.
How To Get Paid By Lucky Day?
There are two ways of getting paid by Lucky Day App.
Cash – You'll need a $10 minimum threshold, which is lower than most of the paid survey and rewards programs that average at $20.
Gift Cards – Gift cards can be bought using Tokens. The cheapest cards valued at $2 cost about 3,000,000 tokens, so that's a long way to go. At 5,000,000, you'll earn a $5 gift card.
Lucky Day App is a quick gambling fix for those who're fans of playing games of chance, and is a quick and fun way to earn a buck or two daily.
Lucky Day App Ugly Truths Revealed!
#1 - Not A Guaranteed Income
Lucky Day App may not advertise as a get rich quick scheme, but it's not a guaranteed source of income.
Everything is just too reliant on chance so there's no consistent way for you to earn cash.
With that being said, when you do win, you get paid more than most survey sites and GPT sites.
#2 – Lots Of Ads!
Lucky Day App allows you to get free Tokens by watching video ads, and you'll find a lot of them on the mobile app even if you're not there to get free Tokens.
This is where Lucky Day App gets their income from, so you have no choice but to watch these video ads.
Each ad takes about 15 to 30 seconds, and while it's not relatively long, it can be troublesome when you start to see them frequently.
#3 – Takes A Long Time To Get To $10!
Their minimum payout requirement is lower compared to other survey sites, but with the way their rewards system is working, it could take you a long time to get to $10.
Again, you are reliant on raffles to get the cash prizes.
Unless you're lucky enough to win more than $10 for a raffle, I doubt you could win $10 in a month.
What I Like About Lucky Day App?
#1 – People Actually Won!
Back when Lucky Day App started, all they had to advertise for their winners was a poster on their social media page.
This led to people being skeptical if REAL PEOPLE actually won.
Whether or not that's real is completely substantial at this point because there is no proof that it's real or fake.
Now, they have a winners' section on their app where people withdrew their earnings and gets updated every time a winner cashes out.
They're may not be a lot of them, but they do get paid anywhere between $50 and $500.
As of this writing, I have not found any complaint of people not getting paid, so that's a huge bonus.
Lucky Day App is a decent Lottery-Based Rewards Program that earns you money by joining their games of chance.
But because there's no consistent way of earning income, it's not something I would look into if you're looking for consistent full-time income.
On the other hand, if you're looking for a quick and fun way to earn a few bucks, then this app might be worth checking out.
How I Make a Living Online?
I've personally created a 4-Figure Monthly Passive Income Stream and become financially independent at just 21 years old without any College degree or working experience!
Through my own hard work, I went from a broke restaurant waiter to living my dream laptop lifestyle in less than a year's time...
If you want to discover the secrets of how I did it at such a young age, click here!