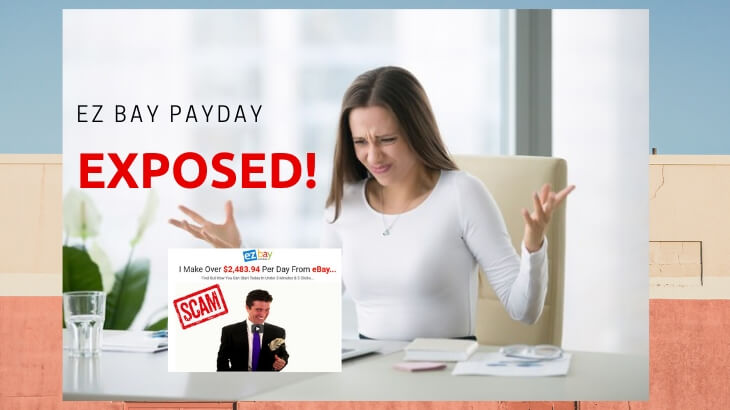 EZ Bay Payday Review – A Total BS Money-Making System!
Welcome to my EZ Bay Payday review!
Someone told me about a money-making system that has something to do with Ebay about a week ago.
I had forgotten all about it till another person told me about the same system just yesterday evening.
Curious, I checked out the system and wrote this review.
This is EZ Bay Payday!
First of all, I must Congratulate you for taking your time to do your own research before buying into any "seemingly good" product.
That's the way to avoid scams and find the legitimate way to make money online!
Let me be completely transparent with you, I'm not associated with EZ Bay Payday in any form.
So, rest assured that I'm not here to pitch or sell anything to you.
Instead, I'm here to reveal why this program is nothing short of illegitimate and why I would think that it's a big scam.
EZ Bay Payday Review Summary
Product Name: EZ Bay Payday
Founder: Steve Richards (Not Real)
Product Type: Affiliate Marketing Platform
Price: $37 one-time fee + Upsells
Best For: No One!
Summary: EZ Bay Payday is an affiliate marketing platform that promises that you can make $500 per day via eBay. Now unless you're selling your own products or a member of their affiliate program, you'll find that this claim is absolutely ridiculous! Just like your typical scams, EZ Bay Payday makes use of fake testimonials and hides behind a fake owner, so people don't have any idea on who's running the system.
Rating: 1/100
Recommended: No
More...
EZ Bay Payday is a system that promises that you can make $500 or more per day using eBay.
In their sales video, they're not exactly showing you how you're going to do that, other than mentioning eBay.
So I assume that you're going to be selling something from that site.
And to my knowledge, eBay has a program for affiliate marketers, but I doubt that the system taps into this.
To top of it off, you're only going to need about 20 minutes per day and you're going to earn $500!
If you think that this program sounds sketchy, then your gut instinct is probably telling you something.
EZ Bay Payday, and other programs of similar nature, want to make you believe that it's easy to make money online.
When in fact, it isn't.
Everything that the site has promised you up to the last part of the sales video is nothing but hype.
Who Is The Owner of EZ Bay Payday?
The owner of the program is named Steve Richards. But in a disclaimer found at the bottom of their sales page, it states that the name used in the video is nothing but a pen name.
So there's no ACTUAL information on who's running the program.
This is the first of many red flags.
As mentioned earlier, EZ Bay Payday's angle is to sell you a money-making program that taps into eBay.
Unless you're selling your own products or signed up for their affiliate program, this angle is completely BS.
Allow me to rant for a minute because EZ Bay Payday, and other programs, are just laughable by the way they're marketing their programs.
You're seeing your typical claims of making $400, $500, to $1000 per day with minimal work required.
And all of these claims are backed by nothing but even more hype.
Are you getting something useful out of EZ Bay Payday?
I'm pretty sure the answer is NO.
The Truth About EZ Bay Payday
EZ Bay Payday doesn't work as advertised (no surprises there) because there's no legitimate system that can make you hundreds of dollars per day.
The system just requires you to do the following steps:
Log in
Pick a product to sell
Connect your EZ Bay Payday cash magnet
Make money
That's all there is to it. EZ Bay Payday presents itself as a magical system that you can connect to eBay in order to earn some money?
There's no mention of what else is included if you sign up for their system.
And this is another red flag!
I'm Jerry!
I Created My Own 4-Figure Monthly Passive Income at just 21 Years Old!​
How Much Does It Cost To Join The Program?
To get into the program, you only need to pay a one-time fee of $37. Now, it seems cheap and you're thinking that's not a lot of money to lose if ever you do get scammed.
What you don't know is that the $37 is just the tip of the iceberg.
Once you buy into the program (please don't), you're going to be greeted with upsells.
And these upsells are not going to help you either.
Chances are, the upsells are going to be a bunch of ClickBank products that the people behind EZ Bay Payday are affiliated with.
This program is not meant for anyone at all.
On top of this program probably being a scam, or up to no good, you're not getting anything decent out of them.
If you're looking for a way to make money online but don't know where to get started, I would invite you to check out my step-by-step guide on affiliate marketing.
It's free and it won't ask you for your email and you don't have to sign up for anything.
EZ Bay Payday Ugly Truths Revealed!
#1 – Boo Hoo! Fake Testimonials
One of the biggest red flags that I look out for is the use of fake testimonials.
Fake testimonials are a way for programs like EZ Bay Payday to make it look like there are actually people that succeeded in using their system.
In this case and in all of the programs that I've reviewed that are similar to EZ Bay Payday, these testimonials are 100% fake.
EZ Bay Payday shows you two people who claimed to have made tons of money with the system. To those new to the industry, you'll probably take their word for it.
And I can't blame you. The testimonials attempt to hit the spot by giving you a sob story of how they turned their life around after:
Losing their job
Getting fired
Losing a lot of money from another bad investment
The people who are bringing you the testimonials for EZ Bay Payday's program are actually paid actors from a site called Fiverr, a freelance content provider.
#2 – Fake Owner! Not Even Surprised!
Unless the site has something to do with narratives or stories, every time an excuse to use a pen name comes up, they're probably hiding something.
And for Steve Richards, he's not actually real.
In one of the sales video, he showed a picture of one of his friends having a good time somewhere without him because he's stuck in his day job.
But when you search the image on Google, you'll find that his sob story is nothing more than a stock photo.
And don't forget, there's no other information about Steve Richards ANYWHERE on the site or anywhere on the Internet (except for being associated with EZ Bay Payday).
#3 – Done-For-You Systems Don't Work
EZ Bay Payday is a done-for-you system, which is no different from sites that I've reviewed such as:
And I can go on and on.
Now these systems aim to give you the idea of automation, when in fact, there's nothing automated about everything that they will do for you.
The idea of automation from their part is that you sign up, pay for the program, and you're ready to get rolling.
Whether or not you're going to pursue e-commerce or affiliate marketing, you should still know that there's nothing good that can come out of these done-for-you systems in both short-term and long-term.
#4 – It's A Vicious Cycle
When EZ Bay Payday gets unraveled by sites like ours, they're still going to do the same thing to a different group of people.
Why?
Because people will fall for it.
And here's the cycle:
Someone makes a system (EZ Bay Payday)
Someone promotes the system
People buy the system
Someone gets a lot of money from said system
Someone closes down the site and rebrands
Go back to step 1
Chances are, EZ Bay Payday will probably go offline and another new website will be created. This new website will have the same scheme, same testimonials, same sales pitch.
What I Like About EZ Bay Payday?
There's nothing positive worth mentioning about a site like EZ Bay Payday.
I've reviewed a number of other programs of the same nature, and they're not going to give you any real value for your time and money.
EZ Bay Payday is a ridiculous money-making system that claims that you can earn $500 per day by doing 20 minutes of work.
And let me tell you that's a load of BS.
On top of using fake testimonials to lure you into the system, there's no reliable information about who's running the system.
Both are huge red flags that warn you that there's nothing legitimate about the system.
EZ Bay Payday, and the hundreds of other done-for-you systems, promises you a model that will not work in both short and long-term periods.
There are better programs out there that can get you started on affiliate marketing and e-commerce, and EZ Bay Payday is not one of them.
How I Make a Living Online?
I've personally created a 4-Figure Monthly Passive Income Stream and become financially independent at just 21 years old without any College degree or working experience!
Through my own hard work, I went from a broke restaurant waiter to living my dream laptop lifestyle in less than a year's time...
If you want to discover the secrets of how I did it at such a young age, click here!