14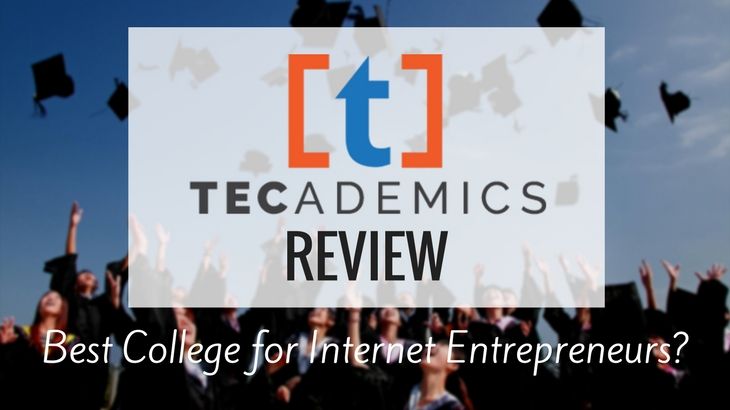 Is Tecademics a Scam? (Most Updated Tecademics Review 2018)
Welcome to my Tecademics review!
If you want to learn more about Tecademics, you've come to the right place because this is the most up-to-date Tecademics review.
Tecademics was first launched in August 2016 but since then they have undergone a lot of changes within the company, including the departure of their founder, Chris Record.
If you've read other Tecademics reviews, you'll find that most of them are based on Tecademics' old system, which means all the products and business opportunities do not match with their current website.
I'm not an affiliate of Tecademics. My goal is to help you make the best decision for yourself regarding how your valuable TIME & MONEY is spent!
So, is Tecademics a scam? Let's find out...
Tecademics Review Summary
Product Name: Tecademics
Founder: Founded by Chris Record in August 2016 (Current Chairman: Jim Piccolo)
Product Type: Internet Marketing Lessons
Price: Free to join their membership but the price of the individual courses are unknown (I'll explain)
Best For: Internet Marketing newbie, Anyone who wants to hone their internet marketing skills (But, you have to go to Arizona, USA)
Summary: Tecademics is an Internet Marketing College that teaches you the various ways to make money online. It has a physical campus located in Arizona, USA and currently they're not offering any online courses. You have to pay some expensive tuition fees and travel to Arizona to take part in their classes. They have really great courses but it's definitely not for everyone due to the cost and location.
Rating: 85/100
Recommended: Yes (Only if you live in Arizona, USA. Or if you're willing to travel there)
(This is for those who can't go to Arizona and prefer to learn from home!)
More...
Tecademics is also known as the "Internet Marketing College". It was the name they used before they were officially launched back in August 2016.
(Fun Fact: The name "Tacedemics" is an amalgamation of the words "Technology" and "Academics")
Basically, Tecademics is a company that provides courses and training for a wide-range of topics in internet marketing. (I'll talk about the different courses that are available in just a moment.)
Tecademics can be called a "College" because they literally have a physical campus in North Scottsdale Arizona, USA.
As you can see from their website, they have photos and videos featuring students learning at their campus, classrooms, etc.
This is because their goal is to be the best college that offers the best knowledge & skills in internet marketing.
Take a look at this video by Chris Record, the founder of Tecademics, which explains the vision and mission behind the company. (Personally, I think their mission is really inspiring)
Here's the story...
Traditional schools today never teach students about how to make money online and the real knowledge & skills behind internet marketing that works.
In addition, there are a lot of "gurus" out there launching new "make money online programs" every now and then. There isn't a truly systematic and reliable training system for every one.
That's why Chris decided to launch Tecademics as the only College which teaches real knowledge & skills to make money online.
To make his vision come true, he has partnered with a lot of experts in internet marketing, who are making millions or even billions online, as well as PhDs to come up with the "industry-disrupting" curriculum.
His mission is really inspiring and I personally believe the curriculum taught by Tecademics will be absolutely amazing.
I'm Jerry!
I Created My Own 4-Figure Monthly Passive Income at just 21 Years Old!​
The Outdated Tecademics Info
Like I've mentioned earlier, Tecademics has undergone a lot of changes for the past 2 years since their official launch.
So, there are a lot of outdated information out there about Tecademics. Here are some of the major changes:
1. Core Products
If you've read other outdated Tacedemics reviews, you'll know that there are 4 main products that they were promoting:
TEC - The Entrepreneur Club ($100/month)
IMPACT - Internet Marketing Principles And Core Training ($2,000)
MASTERS ($10,000)
ELITE
I won't go into the details because these products no longer exist today.
Instead, they now have what they called the "16 individual success paths". I'll explain to you about these paths in the next section below...
2. Business Model
Tacedemics used to have a multi-tier affiliate program which is somewhat similar to a Multi-Level Marketing (MLM) business.
Basically, they had a compensation plan in place to encourage members to promote their products. And members would have various rewards for promoting their 4 main products.
It seems like they have now abandoned the whole affiliate program/MLM business model.
I think this is a great move because they won't get themselves into the troubles of MLM and they can also put more focus on improving their courses.
3. Lesson Structure
They used to have online courses for people who can't travel to Arizona to attend the lesson. But it seems like they've discontinued that.
Currently, you can't purchase anything from their website. You can't even view the price of each course. All they do is to lay out the course info on their website.
If you want to enroll in any of their courses, you have to get in touch with them by sending them an Email.
4. The CEO of the Company
Lastly, the sad news is that the founder of Tacedemics has left the company and the current Chairman is Jim Piccolo.
The reason for Chris's departure seems to be the disagreements on the direction of Tecademics.
I said this is a sad news because Chris is the soul of Tecademics. He is a really successful and experienced internet marketer. Students of Tecademics definitely love Chris a lot.
Now, let's talk about the courses offered by Tacedemics.
Like I've mentioned earlier, instead of 4 main products, they now have 16 Individual Success Paths and they are:
Agency Start Up
Digital Asset Brokering
Digital Marketing for Entrepreneurs
Drone Pilot
Ecom Foundations
Ecom Management
Ecom Mastery
Email Marketing
Facebook Ad Specialist
Lead Generation Strategist
Online Video Marketing Specialist
Pay Per Click
Print On Demand
SEO Strategist
Social Media Ad Specialist
Social Media Manager
Within each path, they are broken down into 3 courses, namely Foundational Courses, Core Courses & Tactical Courses.
There are also 2 additional courses known as the Sprint Course and the Optional Course. Basically, they are the condensed version course with some additional but optional lessons.
To show you an example, take a look at the courses offered for "Drone Pilot", which is a pretty unique and interesting path:
The Good
1. Great Company Mission
I really love Tacedemics' mission for creating a College that actually teaches students about how to leverage the power of the Internet to make money online in many different ways.
Currently, there's no other school that offers the same thing. Despite traditional schools have courses in some topics of internet marketing, they are not taught by people who are actually making money from it.
Professors know the theory (which can easily be outdated in today's digital world) but they don't have the practical skills.
That's why I firmly believe if you want to be rich, you shouldn't go to College and learn from Professors.
Instead, you should spend your time and money wisely to learn from people who actually do the work and are getting real results - the real experts!
2. Wide Range of In-Depth Courses
Since Tecademics is a College, they don't specialize in just one topic. They have 16 different success paths with a total of 71 different classes.
And most importantly, these courses are created and taught by the real experts in their own fields.
3. Reputable Founder
The founder of Tecademics, Chris Record, has a pretty good "record"!
Although he has left the company, I believe his soul and his mission has stayed.
Chris used to be the Top earner for the now infamous MLM company called Empower Network.
Not only that, he had successfully launched a number of digital products, such as Dark Post Profit.
He's also the owner of a membership software called Smart Member.
Just his background alone makes me want to learn directly from him.
4. It's a Physical School
Tecademics is not another "make money online" opportunity/program which hides behind the computer screen.
They are real College with a physical campus in Arizona, USA. So this is a very reliable company.
5. Awesome Networking Opportunities
If you're able to join their classes in Arizona, you'll be able to meet and network with lots of entrepreneurs coming from all over the world.
You might be seating next to a 6 or 7-figure earners in the same classroom. This is an extremely awesome and unique opportunity to meet like-minded people.
If you're lucky enough, you can even meet your future business partners.
This is something that we can't enjoy if we just learn online instead of attending a real class.
---
The Bad
1. You Must Travel to Arizona
They seem to discontinue the online course so the only way for you to enroll in the courses is to attend LIVE classes in their campus.
This is the reason why I said you have to live in the US, preferably Arizona, because currently that's the only campus they have.
They are looking to build more campus around the world but it will take some time before they even make that happen.
There are people flying to Arizona from all over the world just to attend their classes which I think is awesome.
If you can afford it in terms of time and money, go ahead. I'm sure you'll gain a lot of valuable knowledge and skills.
However, there are a lot of people who just can't afford it.
If that's the case for you, I would recommend you to start with My Top Recommended Training which you can take from the comfort of your own home!
2. High Tuition Fee (Exclude Your Business Cost)
Currently, they don't reveal the price of the courses on their website. You have to contact them to learn more.
However, from their previous products, it cost $10,000 in order for you take part in their in-person training at their campus.
Since it's a real campus and you'll be learning from real experts (not professors), you should expect the course to be quite expensive.
But I'm sure it's still a lot cheaper compared to the tuition fee of a traditional College.
Apart from that, I just want to mention that you still need to consider the money you need to build and run your own online business.
There will be a lot of paid services & products you need to purchase when you're actually building your business. One major expenses could be the cost for paid traffic.
These are not included in the College tuition fee.
So if you're considering to take part in their course, you have to include the costs you need to build your business as well. The cost varies from business to business so I can't give you any exact number here.
If you don't have that much amount of money to invest, I would recommend you to check out My Top Recommended Training which you can get started for FREE!
3. You Need to Know What You Want to Do
Lastly, Tecademics is not really the place to help you decide what you want to pursue.
Instead, they offer the courses for each path for you to hone your skills and succeed.
It is exactly the same as applying for a traditional College. You need to know what you want to learn and study in the first place. That's how you choose which College you want to go and which course you want to take.
So, if you're still not sure which path you want to pursue, I wouldn't recommend you to spend that money to take part in their course just to find out what you want.
What if you've spent thousands of dollars and eventually found out that the course is not what you really want?
For people who are still unsure about what you want to pursue, I would recommend you to start with something that is Free, like Wealthy Affiliate!
No, Tecademics is NOT a scam!
They are a legit company offering legit courses to help people learn internet marketing, make money online and eventually create the lifestyle they want.
The fact that they have a physical campus located in Arizona, USA shows that Tecademics is legit.
However, like I've said, you need to travel to Arizona in order to take part and you need to have enough money to invest in the first place.
For those of you who don't have the money and the ability to travel to Arizona, I would recommend you to check out Wealthy Affiliate.
It is an online community which has a step-by-step training to help you build your own online business from home. It is the training I personally took to build this website!
How I Make a Living Online...
I've personally created a 4-Figure Monthly Passive Income Stream and become financially independent at just 21 years old without any College degree or working experience!
Through my own hard work, I went from a broke restaurant waiter to living my dream laptop lifestyle in less than a year's time...
If you want to discover the secrets of how I did it at such a young age, click here!