23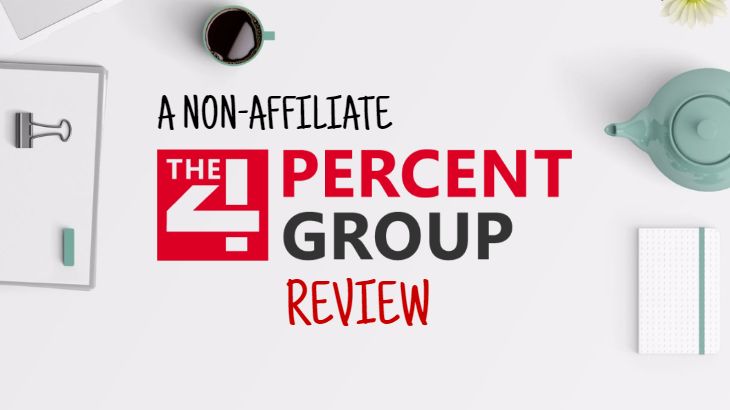 Is 4 Percent Group a Scam? An Unbiased Non-Affiliate Review 2018
Welcome to my Four Percent Group review!
Please be aware of the "overly-promotional" reviews out there because they are created by the affiliates of Four Percent Group. They are just trying to promote FPG and get more referrals.
So, is 4 Percent Group a scam?
Well, I'm not an affiliate of Four Percent Group and I can confidently tell you upfront that it is not a scam.
But there are strings attached to this program and that's what I'll be revealing to you in this Four Percent Group review...
4 Percent Group Review Summary
Product Name: Four Percent Group
Founder: Vick Strizheus (Vitaliy Strizheus)
Product Type: Affiliate Marketing Training & Sales Funnel
Price: $49/month + Hidden costs (I'll explain)
Best For: Beginners in internet marketing & The owner himself
Summary: Four Percent Group in a nutshell, is a marketing funnel (with some training) which asks you to purchase various affiliate products like AWeber, ClickFunnels, Click Magick and many more, in order for you to promote these products (together with Four Percent Group products) and make affiliate commissions. It's a legit business model but it's just not the best way to learn about affiliate marketing & make money online.
Rating: 48/100
Recommended: No
More...
4 Percent Group is a marketing & training company founded by Vick Strizheus who claims that he wants to help entrepreneurs to become the most powerful, influential and dominant figures in their business and life.
On the surface, Vick seems like a very passionate guy with huge ambitions to help people succeed.
He indeed is a man with lots of values to share. However, it's hard for people to forget what he had done in the past.
I think it is important for us to learn more about the background of Vick before we dive deeper into what Four Percent Group is really about and how it works...
The Shady Past of Vick...
Vick was the man behind quite a number of scam products in the past.
For example, he had created products like Big Idea Mastermind, Project Breakthrough and High Traffic Academy.
Take Big Idea Mastermind as an example, it is a marketing funnel to promote the now infamous Empower Network MLM scam.
I believe these products are no longer available now. And the reason for the downfall of Big Idea Mastermind is that Vick was guilty of switching people's Affiliate ID to his own so that he could earn more commissions.
The story didn't end there...
In his High Traffic Academy, he claimed that he borrowed $30,000 to start his internet marketing business but that was a total lie.
In the end, he was almost put to jail because those $30,000 was stolen from people using his online insurance scam.
Do not take my word for it. Here's the proof!
I know a person's past does not determine who he is right now. But I just think we all must be aware of his unscrupulous acts in the past if we are considering to purchase his products.
There are no negative news about Vick (as far as I know) in the recent years he has launched his latest product called the Four Percent Group.
Unlike the Big Idea Mastermind where it promotes a scammy product like Empower Network, the 4 Percent Group promotes high quality products like Tecademics, ClickFunnels, Aweber, GetResponse, Name Cheap, etc... (I'll go into the details for this in just a moment!)
These products are all legitimate and highly reliable tools today so I believe this can be a sign that Vick has changed.
Let's take a look at how 4 Percent Group works...
I'm Jerry!
I Created My Own 4-Figure Monthly Passive Income at just 21 Years Old!​
How to Make Money with 4 Percent Group?
4 Percent Group is not some training to help you become a successful entrepreneur.
It is a membership product which has training and resources to help you set up your own sales funnel and make money via the business model called Affiliate Marketing.
Yes, 4 Percent Group is just an affiliate marketing business. It teaches people how to make money by promoting affiliate products.
Here's how it works...
​When you sign up to become a Four Percent Group member, you'll have access to their 7-Step Getting Started training:
Step 1: New Member Orientation (Details, Strategy, Plan)
Step 2: Quick Setup & Activating Multiple Streams of Income
Step 3: Funnel Setup
Step 4: Power Base Activation
Step 5: Plant Your Flag
Step 6: The Miracles of Live Events
Step 7: Operation $100K
The most important work you have to do is at step 2 and 3. Basically, that's when you need to purchase the 8 tools recommended by Vick:
Tecademics (Internet Marketing College)
ClickFunnels (Sales Funnel Builder)
LeadPages (Page Builder)
Click Magick (Tracking Tool)
GetResponse (Autoresponder)
AWeber (Autoresponder)
Udimi (Solo Ads)
NameCheap (Website Domain Name)
Then you're required to set up your sales funnel using ClickFunnels and start promoting the affiliate products you've just purchased, including 4 Percent Group's membership.
He will teach you some paid traffic methods to drive traffic to your funnel landing page and all you need to do after that is wait for commission to come in.
Basically, the 2 main things you need to do to make money with 4 Percent Group is to set up your marketing funnel and drive traffic to it.
Personally, I think this is an over-simplified process because there are a lot more details to this process.
As you can see in this member's area screenshot, Vick has even put up a page for you to put in all your affiliate links for these 8 products.
He said you need to enter your affiliate links there in order to receive your affiliate commissions. But I don't think that's the case.
I wouldn't trust him to handle my affiliate links after he had switched people's affiliate links in the past...
Is Multiple Streams of Passive Income Real?
Vick has been emphasizing the importance of having multiple streams of passive income. But is that really possible with 4 Percent Group?
Let me tell you the truth...
His multiple streams of passive income refers to the fact that you're promoting multiple affiliate products so each of these product will give you a passive income stream.
What's the pre-requisite?
You have to purchase all of these products on your own first!
How Much Does 4 Percent Group Cost?
LITE ($7/month): Limited functions, for people who want to start small and test waters
PRO ($49/month): Most popular membership level which include all the things you need to make money with 4 Percent Group
PRO ELITE ($5,000/year): For more experienced marketers who are already making money online and want to scale up their business (Private Coaching included)
$7 or $49 per month may not seem to be an expensive investment for most people but that does not include a lot of the additional costs you need to run your business.
Here are the pricing for the 8 additional tools you are going to purchase:
Tecademics: It used to cost up to $12,000 but currently this product is not available
ClickFunnels: $97/month (Even more expensive than 4 Percent Group membership)
LeadPages: $37/month
Click Magick: $17/month
GetResponse: $15/month
AWeber: $19/month
Udimi: Varies depending on your solo ad
NameCheap: $10+/year
You don't need to purchase all 8. For example, you don't need both GetResponse and Aweber because they are both autoresponder.
But if you calculate all these additional costs, your investment is not just $49/month. It's a lot more than that.
P.S. There's a problem with their $7/month Lite Membership. Even if you try to sign up for it, they'll direct you to the PRO Membership and ask you to pay $49!
The Good
1. Leveraging Legit Products
Vick used to promote scam products like Empower Network. So it's really good to see that the products he uses and promotes today are all legit and reliable.
For example, ClickFunnels is a very popular tool that many successful internet marketers use to build highly profitable online businesses.
2. No Upsells
Normally, you could expect more upsells to come after you've purchased the initial membership.
But this time round, Vick does not have that. The only thing you need to be aware of is the extra costs that are not included in the membership price.
3. The System Works
Vick is no longer using unscrupulous methods to run his business.
Affiliate Marketing is a legit business model that I am personally using as well. It is the business model that has enabled a lot of people to enjoy financial freedom.
So one of the good things about 4 Percent Group is that the system works.
---
The Bad
1. Hidden Cost
Like I've mentioned, despite the affordable membership, there are quite a number of hidden costs that you'll only know after you join the system.
One more hidden cost is the money you need to invest for paid traffic, which can easily cost up to a few hundred or even thousand bucks per month.
2. Pyramid Scheme?
4 Percent Group is not a pyramid scheme. However, Vick is focusing a lot on helping members to promote and sell his own 4 Percent Membership.
He even provides you with his own proven sales funnel to promote 4 Percent Group.
I'm not against this because that's how most companies grow.
What I don't like is the fact that there is very little help for you to apply 4 Percent Group to other businesses you may have or you want to build.
This is unlike Wealthy Affiliate where you can build your own business in any market/niche you want.
3. No Traffic, No Money...
4 Percent Group focuses on paid traffic which is not the ideal strategy for beginners.
It takes a lot of trial and error to hit the jack pot in paid traffic and there are a lot of things to learn. If you're a beginner, you're likely to lose quite a lot of money just to get the hang of it.
On the other hand, 4 Percent Group does not teach you anything much about Free traffic (probably because it takes a longer time to see results).
That's why I don't really recommend beginner to join 4 Percent Group.
4. No Free Trial
There's no way for you to test-drive the system for free. Currently, it seems like the $7/month plan is also not available.
The only way is to pay $49/month directly if you want to test the system.
I don't recommend you to pay this amount of money before you could even have the taste of how the system works.
My advice to you is this...
If you're looking for ways to making money online, there must be some sort of Free Trial before you are required to pay for the actual thing.
5. Steep Learning Curves
It's really not that easy as Vick has promised.
You can't expect to start making money just because Vick has helped you setup your own sales funnel.
If you really want to succeed in the long run, you need to learn from the basics and have a strong foundation. Investing in done-for-you products won't help you in the long run.
Every single tool you're going to use in 4 Percent Group has its own learning curve, be it ClickFunnels or Aweber or Udimi.
It's really not that easy especially Vick brings so many different tools together all at once. I believe it will be quite overwhelming for beginners.
Is 4 Percent Group a Scam?
Like I've said in the beginning of this review, 4 Percent Group is NOT a scam because it is based on a legitimate business model called Affiliate Marketing and the tools they recommend to you are all great products which a lot of internet marketers use today.
However, the problem with 4 Percent Group is that they aren't some ambitious company that want to change the world as they promised:
All these are just total crap. What they do is just teach you how to set up your sales funnel and promote their affiliate products.
I really don't understand what is an "entrepreneur's lifestyle brand". All these are just hype.
I've personally created a 4-Figure Monthly Passive Income Stream and become financially independent at just 21 years old without any College degree or working experience!
Through my own hard work, I went from a broke restaurant waiter to living my dream laptop lifestyle in less than a year's time...
If you want to discover the secrets of how I did it at such a young age, click here!
---
Fun Fact: Do you know why 4 Percent Group is called 4 Percent Group?
Vick said out of 100 people who wants to succeed, 80% will complain about all the things that could possibly hold them back and never take any action. 16% will take some actions but with skepticism. Only 4% of people will actually take massive actions and do whatever it takes to succeed.