2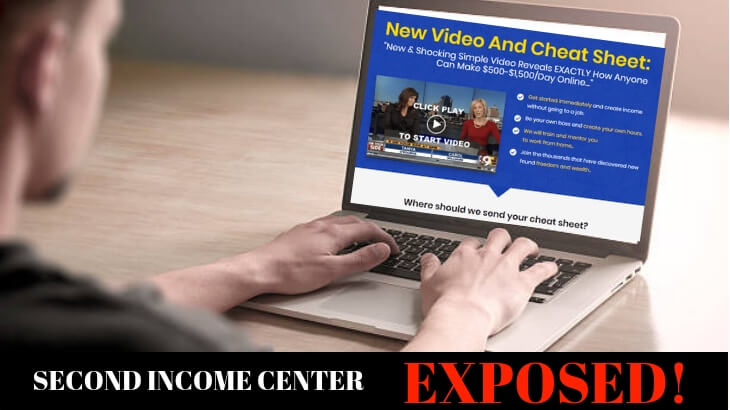 Is Second Income Center A Scam? You Bet It Is! Here's Why!
Welcome to my Second Income Center review!
Remember that line from the movie Inception "a dream within a dream"? 
Well, this is the Inception of affiliate marketing programs because it's "a scam within a scam". 
I am talking about Second Income Center. 
First of all, I must Congratulate you for taking your time to do your own research before buying into any "seemingly good" product.
That's the way to avoid scams and find the legitimate way to make money online!
Let me be completely transparent with you, I'm not associated with Second Income Center in any form.
So, rest assured that I'm not here to pitch or sell anything to you.
Instead, I'm here to reveal why this program is just so fraudulent that it's not your ordinary scam to begin with. 
Is Second Income Center a scam? 
Yeah, and here's why! 
Second Income Center Review Summary
Product Name:  Second Income Center
Founder:  Not Disclosed 
Product Type:  Work-at-home Opportunity / Affiliate Marketing Program
Price:  $97 + Upsells (costs not disclosed)
Best For:  NO ONE! 
Summary:  Second Income Center markets a promising work-at-home opportunity using an age-old marketing tactic. It also gives you an impression on how affiliate marketing works. However, the program is an obvious scam for a lot of reasons, which is why it doesn't do me any good to recommend this program to anyone. On top of the obvious fake stories and testimonials (which I'll reveal later), the scam also operates on top of another scam (find out later in this article). With that being said, I don't see any reason why you should even bother spending 5 minutes on their homepage. 
Rating: 1/100
Recommended:  No
More...
What is Second Income Center?
Second Income Center is advertised as a program that allows you to set-up a work-from-home program, helping you earn $500 to $1500 every day.
You'll be able to choose your own hours and do all of what Second Income Center wants you to do with minimal or no experience and technical skills required.
That's according to their sales video.
However this was not the first time that I've seen these sales videos. I've seen them in scam sites such as Home Income System.
The other news clips have nothing to do with Second Income Center at all. They're just news broadcasts that talk about working from home.
From the sales page and homepage alone, I could already tell that something was very wrong here.
Not to mention that there's no information about its founder or their current HQ.  
Inside Second Income Center
When you click through Second Income Center, you'll be taken to their main program called Personal Computer Success.
As it turns out, Second Income Center is just an affiliate of that program. This program is also a scam that takes in people to a fake work-from-home opportunity known as "link posting".
Both systems charge you and others for $97 for access to a non-existent job and once you're paid up, you'll then be presented a lot of upsells or what they call "online coaching" programs.
The problem here is that the people behind these programs are not even coaches.
They're just sales people looking to get money from as many victims as they can before they close out the system.
Then these people rebrand the scam and then repeat all over again.
How Does Link Posting Work?
Link posting can be defined by its own name. You are paid to post links everywhere on web where you can make money from.
These links can range from your own website's URL to your affiliate URLs.
But what Second Income Center tries to present you is that every time you post the links and someone clicks on them, you earn money.
In reality, links don't guarantee that you'll earn a commission. Unless the links you're posting are of high-end products that people are actually buying.
So you're not getting paid via commission or a fixed salary either from this work opportunity.
I'm Jerry!
I Created My Own 4-Figure Monthly Passive Income at just 21 Years Old!​
The Bonus Cheat Sheet!
Okay, so when you signed up for their program, you'll also be given access to what they call a "Cheat Sheet".
This is what the cheat sheet looks like:
And the reason why this list was created is because Second Income Center / Personal Computer Success is affiliated with these programs.
So every time you sign up for these programs through their link, they earn money.
The sheet does look decent enough with sites like Survey Junkie and Vindale Research on it, but you'll also find not-so-decent sites like The Az Code and AppCoiner in it as well.
You'll have to browse through the list and check for their reviews to see whether or not these sites are even worth your time.
Who's Second Income Center For?
It's already too obvious that Second Income Center Alias Personal Computer Success is nothing more than a scam.
This program will not benefit anyone at all, except for its creators.
Second Income Center Ugly Truths Revealed!
#1 – Fake Success Stories!
If you decide to do the rational thing by exiting the page, you'll find a pop-up that tries to convince you one last time to buy their program.
This pop-up will want you to believe that they're helping people like Melissa Johnson, who appears on the pop-up, to financial freedom.
However, Melissa Johnson is not a real member nor even a real person. She's not earned $12,500 and has not even bought the program.
Melissa is nothing more than a fake character donning a stock photo to make us believe that their program is that awesome.
Here's "Melissa".
And that's not all. Melissa Johnson appears in other scams as well.
This time using a different photo, but I'm pretty sure that's a stock photo too.
And then there's this guy too.
This guy claims to have been crushing it using Second Income Center's system and is raking in the big dough.
But apparently, this guy is nothing more than a paid spokesperson from a site called Fiverr.
If you do decide to dig deeper into their site, you'll find more success stories and testimonials but I'm sure that none of them are legitimate.
#2 - It's Just A Doorway To Another Scam!
The Second Income Center is not a system at all.
It's merely a doorway page to its affiliate page called Personal Computer Success, which is another scam in itself.
So, whoever is in charge of the Personal Computer Success program paid the creator/s of Second Income Center commissions for sending people their way.
And when you do get to their sales page, you'll notice that the layout is quite similar to Second Income Center's.
#3 – A Misrepresentation Of Affiliate Marketing
Second Income Center, or Personal Computer Success, is modeled after affiliate marketing.
If it was built the right way.
You have your affiliate links, or any link that allows you to earn a commission, and you share it with the rest of the world.
Then you earn through the links and then rinse and repeat.
That's barely scratching the surface of affiliate marketing though.
With Second Income Center's perception of affiliate marketing, it's nowhere near to how it's supposed to be.
First, it's giving you misleading claims about earning $500 to $1500 a day.
That may be possible with affiliate marketing, but it doesn't mean that $500 on your first few weeks.
Believe me, that takes a long time to achieve income like that.
If you're looking to get started on affiliate marketing, I have a step-by-step guide for that. Check that out by clicking this link right here.
What I Like About Second Income Center?
There's nothing positive mentioning about this obvious scam.
And I do try to be very objective when it comes to my reviews.
Second Income Center is bad news. Period.
Is Second Income Center A Scam?
You better believe that Second Income Center or Personal Computer Success is a scam!
On top of the very obvious fake testimonials and success stories, there's no concrete product or system being sold here.
Then there's the fact that it's a scam within a scam, or rather, you're being led towards another scam.
Both programs can cost you a lot of money without getting anything in return.
How I Make A Living Online?
I've personally created a 4-Figure Monthly Passive Income Stream and become financially independent at just 21 years old without any College degree or working experience!
Through my own hard work, I went from a broke restaurant waiter to living my dream laptop lifestyle in less than a year's time...
If you want to discover the secrets of how I did it at such a young age, click here!