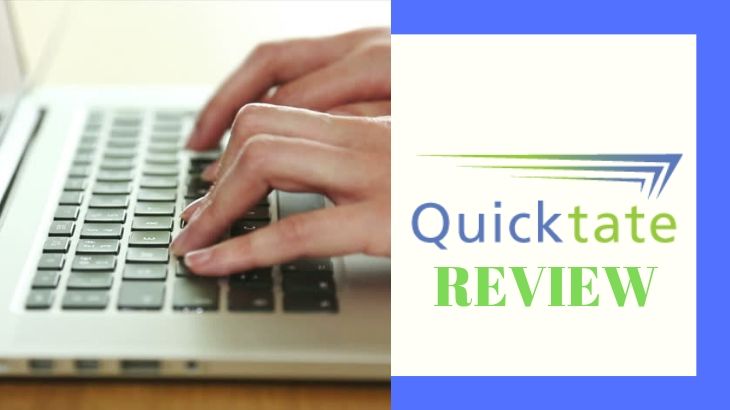 Is Quicktate a Scam? – Get A Job As a Transcriptionist!
Welcome to my Quicktate review!
If you're planning to make money online, there are two ways to do so. You can sell products (whether it's your own or someone else's and earn a commission), or you can work remote jobs from the comforts of your own home.
Today, we're going to explore an opportunity that provides the latter.
This is Quicktate.
First of all, I must Congratulate you for taking your time to do your own research before buying into any "seemingly good" product.
That's the way to avoid scams and find the legitimate way to make money online!
Let me be completely transparent with you, I'm not associated with Quicktate in any form.
So, rest assured that I'm not here to pitch or sell anything to you.
Instead, I'm here to reveal how you can take advantage of this opportunity and how you can make money out of this program.
Quicktate Review Summary
Product Name: Quicktate
Founder: Not disclosed
Product Type: Work-At-Home Opportunity (Transcription Jobs)
Price: Free To Join!
Best For: Anyone who's a Native English speaker and has decent listening and typing skills.
Summary: Quicktate provides you with a decent opportunity to make money online by hiring you as an independent contractor. However, if you're expecting to earn a full-time income out of this program, you may be disappointed. The income potential is low, and is quite far from industry standards. But if you don't mind to get into the program to practice your transcription skills while earning in the process, then it's worth trying out.
Rating: 50/100
Recommended: No!
More...
Quicktate is a transcription company that provides you with the opportunity of working as a transcriptionist for their company.
Partnered with a company called iDictate, Quicktate offers different services for different transcription projects, so you're never out of a job or task for that matter.
Quicktate hires you as an independent contractor at varying rates, depending on the project listed, so if you're looking to be hired as a remote employee, you may want to look somewhere else.
Quicktate is a work-at-home platform that provides you with different transcription jobs from hundreds of companies around the world.
When applying for a job at Quicktate, you'll be handling these different jobs as listed on their site:
And in this section, we'll go over their program, from the hiring process to how much they pay you.
The Selection Process
Quicktate has a strict selection process, which is not that surprising considering that programs such as DaDaABC and Humanatic are just strict.
While the named programs are different from Quicktate, they are similar to Quicktate by providing work-at-home opportunities.
According to Quicktate's website, they are usually hiring experienced or professional transcriptionists, which means you need to have the typing and listening skills required for the job.
On top of their application form, you also have to provide 3 non-family references and pay $20 for the background check.
They also won't accept anyone with a past conviction, so there's that as well.
This is probably the first WAH (work-at-home) opportunity that requires background checks and I don't think I've reviewed any other program that does this.
Assuming you pass the application process, you will then be asked to take a transcription test.
I'm Jerry!
I Created My Own 4-Figure Monthly Passive Income at just 21 Years Old!​
What Are These Tests?
Little details are provided about the tests, and since I don't have any experience about them, I am simply relying on what others have said about the tests.
The tests required by Quicktate are English Language tests and typing assignments. This allows them to identify if you're an experienced typist or someone who's just starting out.
Working As A Transcriptionist
The quality of your work is monitored consistently by Quicktate, so you need to do a good job at all times.
If the quality of your work is subpar, then you may get lesser jobs or you may even be removed from the program.
Based on what their site says, anyone can just log in to the site to receive audio files (as soon as they pass the application process and if they're accepted).
These audio files will just start playing once you're logged in. Audio files are about a few minutes long and can take as long as an hour.
How Much Can You Make Money?
Quickrate's pay rate is on a per-word basis as opposed to the standard per audio minute or per audio hour.
They pay about $0.00025 per word, or about $0.25 cents per 1,000 words, for general and legal transcription work.
Medical transcription work pays $0.005 per word or $5 per 1,000 words.
On average, you can earn anywhere between $5 and $7 per hour, but this depends on the job availability.
If you do a good job, you'll be promoted to work for their partner, iDictate, where they pay higher rates compared to Quicktate.
Payments are issued weekly via PayPal.
As of this writing, there seems to be no information about any threshold or minimum requirement to cash out. You will be paid based on the amount of work done per week.
Does Quicktate Hire Non-US Residents?
Based on their website, yes they do but they don't list specific countries.
However, they do requires non-US residents to submit a tax ID number as part of their application.
Advancement Opportunities?
If you're consistently good at transcribing, then there's a chance you get promoted to work for iDictate, which is Quicktate's partnered company.
They pay out higher rates to their transcribers, at a rate of half a cent per word.
Quicktate is a decent opportunity for anyone who's a Native English speaker and has decent listening and typing skills.
Their proof-reading skills must also be good enough to pass Quicktate's standards.
If this is a program that may not be for you, then you might want to check out my FREE 1-hour training and discover all of my top affiliate marketing secrets!
Quicktate Ugly Truths Revealed!
#1 – Low Income Potential!
Based on the rates I listed, the income potential is barely enough if you're looking for a source of full-time income.
According to their Indeed profile, a lot of their independent contractors pointed that fact out as well.
At a rate of $5 to $7 per hour on average, it's quite low but it is comparatively higher than survey and GPT sites.
#2 – It's A Job!
This may be both a positive and negative feature about Quicktate. You see, you're relying on the available jobs to earn money from Quicktate.
The fact that you're required to pay for your background check and then submit a Tax ID means that you're listed as an Independent Contractor.
#3 – Actually Not Meant For Experienced Transcriptionists!
Despite advertising that it's meant for professional and experienced transcriptionists, it doesn't really provide them with enough incentive to work for Quicktate.
According to ZipRecruiter, Remote Medical Transcription work averages at about $57,855 per year for the United States.
That's about $4,821 per month, or about $30.13 per hour at 8 hours per day and 20 work days per week.
What I Like About Quicktate?
#1 – Great Place To Start For Beginners!
It may not be for experts, but it is a good starting ground for those who're just starting out.
The audio tapes provide good practice while giving them the opportunity to learn how to become a good transcriptionist.
Quicktate provides you with a decent opportunity to make money online by hiring you as an independent contractor.
However, if you're expecting to earn a full-time income out of this program, you may only end up disappointed.
The income potential is quite low, and based on the computations above, it's quite far from how much the industry actually pays.
But if you don't mind to get into the program to practice your transcription skills while earning in the process, then it's worth trying out.
How I Make a Living Online?
I've personally created a 4-Figure Monthly Passive Income Stream and become financially independent at just 21 years old without any College degree or working experience!
Through my own hard work, I went from a broke restaurant waiter to living my dream laptop lifestyle in less than a year's time...
If you want to discover the secrets of how I did it at such a young age, I have an upcoming FREE 1-HOUR TRAINING where I'll reveal everything to you!
Click on the button below to join my FREE TRAINING...