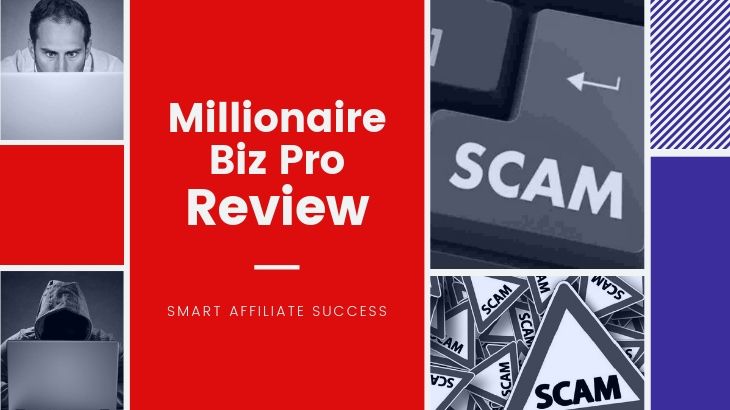 Is Millionaire Biz Pro a Scam? You Bet Your Dollar It Is!
Welcome to my Millionaire Biz Pro review!
Whenever a site claims that you can "manipulate traffic" to "earn thousands of dollars in 24 hours", then you know that site is completely full of BS.
There's just no way for any program or business model that could make that claim work.
Yes, you can earn thousands of dollars in 24 hours, but it doesn't really happen the moment you sign up for the program.
And today, we're going to call BS on one such program called Millionaire Biz Pro!
First of all, I must Congratulate you for taking your time to do your own research before buying into any "seemingly good" product.
That's the way to avoid scams and find the legitimate way to make money online!
Let me be completely transparent with you, I'm not associated with Millionaire Biz Pro in any form.
So, rest assured that I'm not here to pitch or sell anything to you.
Instead, I'm here to reveal what this scam does and why you shouldn't bother with it!
Millionaire Biz Pro Review Summary
Product Name: Millionaire Biz Pro
Founder: Derek Maxwell
Product Type: Affiliate Marketing System
Price: $47 plus upsells
Best For: NO ONE!
Summary: Millionaire Biz Pro is an affiliate marketing system that claims you can make thousands of dollars in a day with their traffic manipulation program and their foolproof system. But we all know that's a load of BS. There's just so many red flags raised by this program that makes me think this is an absolute scam, and its fake owner and fake testimonials being some of them.
Rating: 1/100
Recommended: No!
More...
What is Millionaire Biz Pro?
Millionaire Biz Pro is a website that claims you can make a lot of money online through their business opportunity.
They will help you get started through their training videos and materials, as well as show you how to set up your landing pages and how to use them to make money through your affiliate links.
The site claims that you can make up to a $1,000 per day just to get started, and if you think this is too good to be true, you're right to think that.
Founded by a marketer named Derek Maxwell in 2016, the system boasts of its users making thousands of dollars by doing minimal work possible.
The system claims that it can manipulate traffic towards your landing pages, that's why users are able to earn thousands of dollars per day.
But from my POV, it's really hard to understand what their business is all about and how any website owner can generate the amount of money they are claiming.
In their sales video, they only talk about "products" and "services" but don't really get into explaining the whole lot of it.
Based on some of the feedback that I read, Millionaire Biz Pro promoted MOBE or My Own Business Education, which is an affiliate marketing program that's been tagged as a pyramid scheme by the FTC.
That's more than enough to turn tail and find another legitimate affiliate marketing program, if you ask me.
And in this review, I'll go over more reasons why this opportunity should be avoided like the plague.
Inside Millionaire Biz Pro
Millionaire Biz Pro helps you set up an affiliate marketing business through their training videos, landing pages, and their list of affiliate links for you to post on your pages.
You also get access to a traffic generator program which supposedly funnels people into your landing pages by gathering emails.
Then you'll be taught how to use these emails to send your affiliate links to.
The training materials are not free. It's going to cost you $47 to join the opportunity, but it might be higher since it's now hosted on ClickBank.
But you're not going to stop at $47. There are a lot of upsells in the program that's supposedly going to help improve your income stream.
Sadly, the upsells are in no way related to Millionaire Biz Pro and are only affiliate links of Derek Maxwell. So he's making more money if you buy these upsells on top of you buying into his program.
I'm Jerry!
I Created My Own 4-Figure Monthly Passive Income at just 21 Years Old!​
The Training
Millionaire Biz Pro contains training material to help you get started on your affiliate marketing business.
It shows you the basics of affiliate marketing and how you can make this business model work.
Insert Is Millionaire Biz Pro a Scam - More Sales Pitch
The training has you signing up for two programs: Pure Leverage, which is a program that provides an email autoresponder service to build your list, and Click Better, an affiliate marketplace that offers higher commission rates than its competitors.
Now I won't get into the details of these two programs, but what I can tell you is that the training program you're paying for on Millionaire Biz Pro can be found for FREE.
Just do a search on step-by-step guide on affiliate marketing and you'll find hundreds of resources from well-known marketers.
Who's Millionaire Biz Pro For?
No one!
At this point, there's just a lot of red flags that I found when I was reviewing this product and I will explain each and every one of them in the next section.
Millionaire Biz Pro Ugly Truths Revealed!
#1 - Fake Testimonials
In their sales video, you'll find a couple of people talking about how they earned thousands of dollars in a day.
If you're new to affiliate marketing, you probably won't think twice about this testimonial being a complete fake.
But in reality, a lot of these programs rely on fake testimonials to add more hype to their sales pitches.
And they do this by hiring paid actors from a site called Fiverr.
So that user on their sales page is nothing more than a paid actress, and here's her profile page:
These fake testimonials can be bought for as little as $5 and can go as high as $25, and they're quite convincing. That's why reviews like these always highlight the fake testimonials as much as they can.
#2 – Misleading Claims!
One of the biggest red flags here is that you can a thousand dollars within 24 hours after starting.
You're even told that as soon as you finish the training course and have your page running, you're going to churn out money faster than you can say "Millionaire Biz Pro".
However, none of their claims have any evidence to back it up, and the fact that their disclaimer contradicts their income claims says it all:
Their disclaimer outrightly tells you that Internet Marketing is not meant for everyone and that you should understand the risks of using the materials presented by Millionaire Biz Pro.
So they are telling you that you can get screwed by Millionaire Biz Pro and you can't call them out on it because they'll just wave this disclaimer and say "we told you so!"
#3 – Traffic Manipulation? RIGHT!
One of the most important things in affiliate marketing is traffic. This is how you're going to be generating income.
But with Millionaire Biz Pro, they claim that they'll teach you how to manipulate traffic through their system.
In reality, it's not something that you can do easily. In fact, that's not how Internet traffic works!
Yes, you can "manipulate" traffic but only by paying for ads to make your site appear more frequently than usual.
This is the equivalent of paying for a TV commercial.
But traffic that can be manipulated as illustrated by Millionaire Biz Pro is just wrong on so many levels and shouldn't be believed the first time you hear it!
#4 – Pricing And Upsells!
Millionaire Biz Pro costs about $47, as it says so on their sales banners.
But there's a lot more to that $47.
So if you checkout and decide to quit halfway, the site will prompt a $10 discount. But this only gets you access to their basic training.
There are a lot more pushy sales videos that will try to get you to buy upgrades after you join.
These upgrades cost up to hundreds of dollars per, and that's just shoddy marketing.
#5 – Fake Owner!
You can tell a lot about the program by just how trustworthy its owner is.
In the case of Millionaire Biz Pro, there's not a lot of information about Derek Maxwell that you can find outside of his involvement with the program.
It's like he just popped out of nowhere to spread his program.
And that's because he's not a real person.
The photo that you see on the video is actually a stock photo of some gray-haired guy.
But that's not the only photo that's stock.
Pictures of his houses and cars posted on the site are also stock photos, and a quick Google Image search can spot that.
What's worse here is that in the sales video, he says that he's not going to use gimmicks by showing off his pictures of fancy cars and mansions, but he does the complete opposite.
What I Like About Millionaire Biz Pro?
There's just nothing good about this program at all.
Is Millionaire Biz Pro a Scam?
Yes, for all we know, Millionaire Biz Pro might be a scam based on the red flags that were raised up.
A fake owner using fake testimonials to drive misleading claims to unsuspecting marketers? I would say these are part of a strategy to just get the money from them and run.
There's no evidence at all that someone got something good out of this program, except for the owner who's probably generated a lot of money by scamming people.
How I Make a Living Online?
I've personally created a 4-Figure Monthly Passive Income Stream and become financially independent at just 21 years old without any College degree or working experience!
Through my own hard work, I went from a broke restaurant waiter to living my dream laptop lifestyle in less than a year's time...
If you want to discover the secrets of how I did it at such a young age, click here!