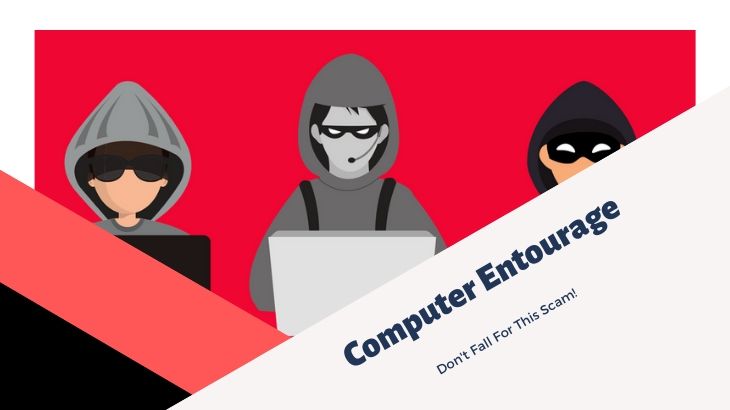 Computer Entourage Review – Don't Fall For This Scam!
Welcome to my Computer Entourage review!
Something about these make money online opportunities just stick out like a red flower on a white winter field.
Maybe it's the name, or maybe it's their landing page that looks exactly like an older scam before it.
Or could be the fact that they just promise you that you could make money but they don't teach you how to do that.
This is Computer Entourage.
First of all, I must Congratulate you for taking your time to do your own research before buying into any "seemingly good" product.
That's the way to avoid scams and find the legitimate way to make money online!
Let me be completely transparent with you, I'm not associated with Computer Entourage in any form.
So, rest assured that I'm not here to pitch or sell anything to you.
Instead, I'm here to reveal why you shouldn't fall for this scam!
Computer Entourage Review Summary
Product Name: Computer Entourage
Founder: Not disclosed
Product Type: Affiliate Marketing System (Possible MOBE Sales Funnel)
Price: Not disclosed
Best For: NO ONE!
Summary: Computer Entourage raised a lot of red flags in this review and while it says it's an affiliate marketing opportunity, it doesn't really do anything for you. On top of it being a possible sales funnel for another scam, there's no other information about what the program is all about and how you can make money of it.
Rating: 1/100
Recommended: No!
More...
What is Computer Entourage?
I scoured through my email used to sign up for make money online opportunities and found this interesting program called Computer Entourage.
A funny name, to be honest.
At first I thought this was a legitimate website that could help you make money. But after reviewing programs like these, it turns out that they're just as bad as the next one.
In the last month alone, I've exposed similar other systems such as Home Income System and Inbox Income that look exactly like Computer Entourage.
See their website's landing page here, and check out the mentioned site's landing pages on their individual links above:
You'll notice that they all look exactly the same, and even using the same video.
On their website, it says that your life can change within 5 minutes and that you don't need any affiliate marketing experience to be your own boss.
Obviously, the claims are just as farfetched as the next one and I'll explain why in the next few sections.
Inside Computer Entourage
Computer Entourage claims that the system is your "#1 Choice For Online Success" and further promotes itself through the following claims:
"How to change your life NOW! Within 5 minutes you could be working from the comfort of your own home!"
To hype this further, the company even has bullet point sales pitches to get you more excited on what it has to offer:
"Get Started Immediately!"
"No Prior Experience, or Skills Required."
"Limited Number of Spots Open, Check for Availability."
"Be Your Own Boss and Choose Your Own Hours."
If that wasn't enough, they also say that their system was featured on news sites such as:
FOX NEWS
MSNBC
USA TODAY
ABC
CNN
All of their sales pitches and news partners may sound impressive, but it's worth noting that there's not a single shred of evidence to back these claims up.
To add insult to injury, Computer Entourage fails to provide us with any background information on who runs the company, when it was founded, and where it's currently headquartered.
Doing a Google search about Computer Entourage returns no other information outside of these reviews.
I'm Jerry!
I Created My Own 4-Figure Monthly Passive Income at just 21 Years Old!​
What Products Does Computer Entourage Sell?
You're probably wondering what Computer Entourage has to offer, and how it could make you a lot of money online.
You'd be disappointed to find out that they don't have products to sell.
The only thing you're buying into is access to the income opportunity that it's promoting.
What's The Computer Entourage Compensation Plan?
How on earth will they make you money if they're not selling any product to earn commissions with?
Well, the set-up is pretty simple. The income opportunity is their selling point, and they do that by making you believe that you can make a lot of money online.
Instead, the program does absolutely nothing to help you do just that and you're just buying into their opportunity to resell it to other people.
It's kind of like a MOBE business model where you pay to earn, but I couldn't find any other information about how their system actually works.
How Much To Join Computer Entourage?
There's a fee associated with joining Computer Entourage, but at this time of writing, I couldn't find any information on how much it costs to join the system.
Who's Computer Entourage For?
No one.
There are just a lot of red flags on this site that makes me think that this is a possible scam.
Computer Entourage Ugly Truths Revealed!
#1 - Fake Endorsements
A closer look at their website shows the logos of news sites such as Fox News, MSNBC, and USA Today on their upper right hand corner.
You'd think they might be legitimate, but in fact they aren't.
The reason why sites like Computer Entourage feature these logos is to make you think they've been featured on the news.
Now, it's true that there is a news video about work from home opportunities, but the news video does not make any mention of any system at all.
It just shows you that people are finding success at working from home.
You could call it clever marketing, but I call it unethical and deceitful.
#2 - Unrealistic Results
Another red flag is when they tell you how easy to make money using their system.
Sure you can get started in as little as 5 minutes, but it's a different story when it comes to earning a lot of money the moment you get started.
That's just not how affiliate marketing works.
It takes time and effort to earn the amount of money that they're claiming you could earn. I've been fortunate enough to earn enough money online to make it worth my while, but it took me years to get to where I am now.
#3 – No Other Information About Anything!
This is probably the most obvious red flag of them all. There's just no other information about how their system works.
They just hype you up with promises of changing your life by they don't exactly show you that.
This is just plain unethical marketing tactic to get you to believe that there's something good about this program, when in fact there isn't.
#4 – A Rehashed Version Of Another Scam!
As I mentioned earlier, Computer Entourage appears to be a rehashed version of another scam called Home Income System.
Now Home Income System is just another sales funnel for a high-ticket network marketing opportunity called MOBE.
I call it a high-ticket opportunity because you have to spend money to match their earnings. So if you wanted to spend thousands of dollars per commission, you'd have to sign up for the membership that allows you to do just that.
If you want higher commissions, you need to sign up for the higher commission tiers.
What I Like About Computer Entourage?
Nothing.
There's just nothing I like about Computer Entourage to turn this review around.
Is Computer Entourage a Scam?
Computer Entourage is not as legitimate as you think. There are just a lot of red flags that were raised on this review that makes me conclude that this is a possible scam.
The fake endorsements with false claims of income are just some of the red flags that's more than enough to convince you to not buy into the program.
It is also a possibility that this could be a sales funnel for MOBE, and I say this because it's a rehashed version of another scam that's also a funnel.
How I Make a Living Online?
I've personally created a 4-Figure Monthly Passive Income Stream and become financially independent at just 21 years old without any College degree or working experience!
Through my own hard work, I went from a broke restaurant waiter to living my dream laptop lifestyle in less than a year's time...
If you want to discover the secrets of how I did it at such a young age, click here!