2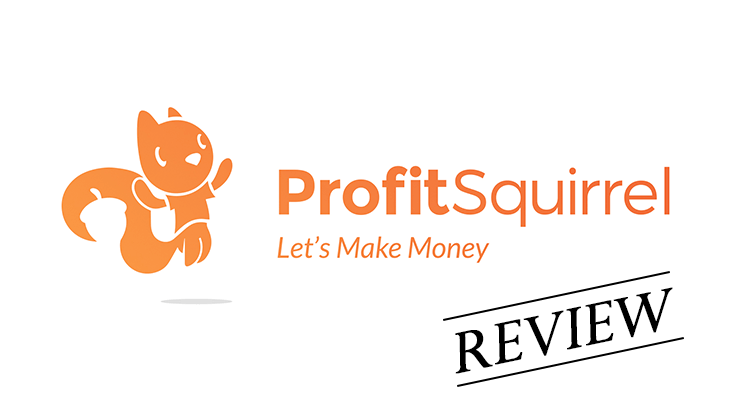 Is Profit Squirrel a Scam? – 100% Risk-Free Sports Betting?!
Welcome to my Profit Squirrel review!
First of all, I must Congratulate you for taking your time to do your own research before buying into any "seemingly good" product.
That's the way to avoid scams and find the legitimate way to make money online!
At the point of this writing, World Cup 2018 has just ended not long ago.
Did you make money? Or did you lose money?
What if I tell you that there's a sure-fire way for you to make money in any sports betting, 100% risk-free and NO gambling involved?
And you can make an extra £500/month, which is £6,000/year?
I know what most of you will be thinking...
"It's probably a scam because that's just not possible, right?"
Well, look at what I've just discovered...
Profit Squirrel Review Summary
Summary: It's true that Profit Squirrel can guarantee you to make money through their system via "Matched betting" . So, if you're a sports betting lover and would love a more secured way to make money, Profit Squirrel is a good option. But the problem with Profit Squirrel is that it's NOT for everyone and it's NOT a sustainable way to generate an income.
Rating: 60/100
Recommended: Yes & No (I'll explain)
More...
Let's take a look at how Chris, founder of Profit Squirrel, explains his product:
Basically, Profit Squirrel is a company based in UK that offers "Matched Betting" services and guarantee to help people make money on every single betting, be it football, tennis or horse racing.
Chris even claimed that many people in the UK are now generating an extra £500/month by just spending a few hours per week.
In order to understand how it works, we need to first understand what exactly is "Matched betting"...
What is Matched Betting?
According to Wikipedia...
"Matched betting is a bеtting technique used by individuals to profit from the free bets and incentives offered by bookmakers. It is generally considered risk-free as it is based on the application of a mathematical equation rather than chance."
So what you'll be doing is that you place a bet for a certain outcome, and then place another bet for the opposite outcome – this is called a 'match'.
You are basically hedging your bets by placing more than one bet to cover any potential losses.
But logically, we all know that if you place two bets with the exact opposite outcome, you're also not making any money, right?
So the real profits from match betting comes from the bookmaker's bonus offers and incentives.
Here's the thing...
Bookmakers will often put up different bonuses or incentives for both new and existing members. And those bonuses & incentives are the profits you're making as someone who do matched betting.
So, matched betting is similar but very different from normal sports betting because you're not gambling.
If you need more explanation, watch this video below:
By the way, Profit Squirrel is not the only company offering matched betting services. Other competitors inlcude:
As you can see, Profit Squirrel is $24.99/month which is more expensive than many other competitors.
Let's see what's included in Profit Squirrel and see if it's really worth the price...
I'm Jerry!
I Created My Own 4-Figure Monthly Passive Income at just 21 Years Old!​
Knowing the concept of matched betting is not enough because it's really hard for you to determine which one to bet and how much to bet things like that.
That's why there are so many different service providers in this niche.
In Profit Squirrel, there are 6 main components:
PS Academy - They have a ton of step-by-step training with both videos & written texts to teach you the basics and help you get started
Matching Software - Through their software, you'll be able to see and capture the most profitable Matches in seconds
One-Click Calculators - This calculator allows you to know exactly how much profit you're guaranteed to make
Profit Tracker - As its name suggests, you're able to tracks your profits over time and know your performance
Event Calendar - This tool allows you to see exactly when the most profitable opportunities will appear weeks in advance
Community Forum - If you need any help, they have a members community to support you and answer your questions
These are the tools that you'll be using and paying for.
The biggest difference between Profit Squirrel and bookmakers is that bookmakers offer incentives for you to gamble, but Profit Squirrel doesn't gamble.
It gives you the skills and opportunity to make money from betting in a much more secured way.
How to Get Started with Profit Squirrel?
One good news is that it's FREE to get started with Profit Squirrel.
They have a Free membership where you can get access to their members area for free.
But the only thing you can do with the Free membership is to view some of the training.
In order for you to use all their tools and start betting, you have to upgrade to either the monthly or yearly membership.
On top of that, the minimum deposit required is £40 to £50.
That's the minimum for you to at least earn £20 in a single bet.
Of course the more you deposit, the more you can earn for each bet.
But I'm sure you'll start to wonder, is this really that reliable?
If it's 100% risk-free and guaranteed to make money, why aren't more people doing it?
Here's the reason...
What I DON'T Like About Profit Squirrel...
1. Not For Everyone
First of all, Profit Squirrel and many of the similar services are only available for UK residents.
As long as you're an UK resident, you can leverage this service to make money from any part of the world. It's not necessary for you to be in UK.
Also, you must be 18 years old in order to join such platforms and do matched betting.
I'm not saying I don't like such rules. But this is just some facts you need to know if you're considering.
2. Getting Banned by Bookmakers
On top of that, some bookmakers may ban or flag your account if they find out you're doing matches betting because from the bookmakers perspective, they want more gamblers instead of people who know how to play the game.
3. Not a Sustainable Way to Make Money
But the most important reason that I don't recommend Profit Squirrel is that it's NOT a sustainable way to make money.
If you're a betting lover, yes this can be a good way for you to make some extra cash.
But after all, it's impossible for most people to create a steady and sustainable income through betting.
It's neither a passive income as well.
Instead, if you want to make real sustainable money, I would recommend you to learn about Affiliate Marketing because that's the business model which has allowed me to achieve financial independence at just 21 years old!
What I Like About Profit Squirrel...
After all, Profit Squirrel is a legit program. So here are some of the benefits...
1. Guarantee Earnings
In order to make sure there's no risk for you, Profit Squirrel offers a 30-Day Profit Guarantee as you can see below:
They promise you that if you don't make any profit within 30 days, they'll not only refund you the money but they will give you an additional £100.
Of course, there are some requirements for that to make sure people don't abuse their offer.
2. Tax-Free Income
I think this is pretty self-explanatory.
Basically, you don't have to pay any taxes in UK for the money you make from matched betting.
3. High Rating + Great Reviews
Finally, I've done some research and found that there are lots of great reviews and feedback for Profit Squirrel.
They have a 92% Excellent rate at Trustpilot:
And many people are saying a lot of good things about Profit Squirrel:
Is Profit Squirrel a Scam?
I think it's quite clear that Profit Squirrel is NOT a scam.
It's a legitimate way for you to make money from matched betting, which is a much safer way to bet than the traditional sports betting.
So, like I've said, if you're a sports betting fan, please consider joining Profit Squirrel so that you don't have to rely on luck and gamble.
However, if you haven't been doing sports betting, you're most probably searching for Profit Squirrel as a way to make money online.
My recommendation to you is don't take this opportunity and start betting because this isn't worth your time.
There are much better ways to make a sustainable income, such as affiliate marketing...
How I Make a Living Online...
Affiliate Marketing is my top recommended way for any one to make money online because:
You don't have to recruit anyone to make money like what people usually do in MLM
You don't have to depend on luck or even gamble
You have the freedom to promote whatever products you want and earn a true passive income from home
In fact, with affiliate marketing...
I've personally created a 4-Figure Monthly Passive Income Stream and become financially independent at just 21 years old without any College degree or working experience!
Through my own hard work, I went from a broke restaurant waiter to living my dream laptop lifestyle in less than a year's time...
If you want to discover the secrets of how I did it at such a young age, click here!