1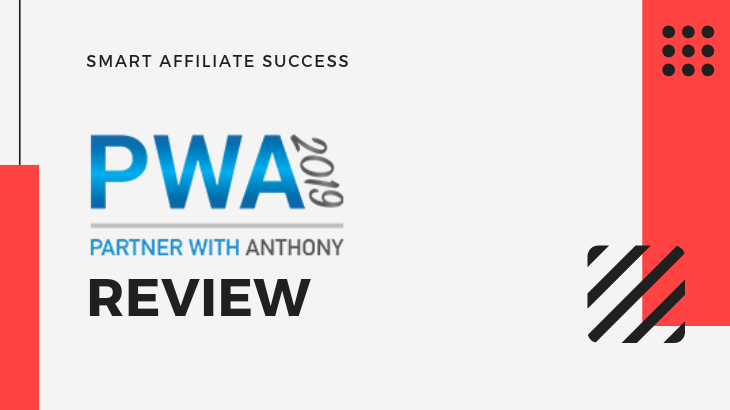 Is Partner With Anthony a Scam? – It's a Course You Don't Want To Buy!
Welcome to my Partner with Anthony review!
Partner With Anthony is marketed as a program that gives you as an opportunity to be mentored by one of the most well-known marketers in the business.
However, there are several reasons why this program just doesn't add up to what it claims, and why its own founder has a somewhat questionable reputation as of this writing.
First of all, I must Congratulate you for taking your time to do your own research before buying into any "seemingly good" product.
That's the way to avoid scams and find the legitimate way to make money online!
Let me be completely transparent with you, I'm not associated with Partner with Anthony in any form.
So, rest assured that I'm not here to pitch or sell anything to you.
Instead, I'm here to reveal the details on why this mentoring program isn't all that it promises to be. 
Partner with Anthony Review Summary
Product Name:  Partner With Anthony
Founder:  Anthony Morrison
Product Type:  Affiliate Marketing Training Course
Price: $7 per month or $97 one-time fee, plus upsells
Best For: No one.  
Summary:  Partner With Anthony is an affiliate marketing training program created by Anthony Morrison, a well-known Internet marketer. He's known for other training courses, but unfortunately, none that aren't in good standing with his consumers. His latest program, Partner With Anthony, is riddled with a lot of issues from hidden charges to manipulative marketing ploys to get people to buy into the program. There are better programs out there that are more equipped to build your affiliate marketing business.
Rating: 20/100
Recommended:  No!
More...
What is Partner With Anthony?
Partner With Anthony (PWA) is a mentoring program for affiliate marketing that contains 13 video training sessions and teaches you how to make money as an affiliate marketer.
The site's sales video goes on a long pitch about how this is a "true partnership opportunity" to work with a well-known marketer named Anthony Morrison.
And unfortunately, this is not what you're going to get from this program.
You're actually getting access to Anthony's training videos and books, but you're not going to have direct contact with Anthony directly if you have questions or concerns.
Instead, you're given access to him via a support ticket which is answered by his outsourced support team.
You'll also be able to use his done-for-you sales funnels to send people your affiliate products in order to make a commission.
And we'll go over the program in detail in the next section.
Who Exactly Is Anthony Morrison?
Anthony Morrison is an online marketer with over 10 years' experience in affiliate marketing. In that time, he's created several books and courses aimed at teaching you how to make passive income online, but it remains to be seen if whether these have actually helped people or not.
I've read reviews about his other courses and programs which people have enrolled in, and it's fair to conclude that Anthony could've done better.
Inside Partner With Anthony
Once you sign up for the monthly membership fee, you'll be able to login to the PWA member's area and find the link to the training session.
There's also a time delay for each of these training videos so you can't binge-watch them in a day. You'll have to wait 24 hours after completing the lessons before you start the next one.
This is to prevent people from just skipping through the videos and rushing through them.
I won't list them down in detail, but I think the titles themselves are self-explanatory on what you can expect from each video.
I'm Jerry!
I Created My Own 4-Figure Monthly Passive Income at just 21 Years Old!​
Can You Make Money With Partner With Anthony?
Through this program? No.
But with affiliate marketing, definitely. However, it takes a decent amount of time and hard work to be able to sustain the amount of money that Anthony promises you in his videos.
There are also different affiliate marketing training programs that could provide you with a more solid foundation on your affiliate marketing business.
Granted, these are expensive but the education that you get from these courses are world-class and of the highest quality. Just check them for yourself and you be the judge:
The Real Cost!
There are two payment options provided for you: either pay the $7 monthly for life, or a one-time fee of $97.
Of course, if there was any real value to this program, I would suggest the one-time fee. But these aren't the only costs associated with the program.
It also has various upsells, costing up to hundreds of dollars per month. Yes, you read that right.
Upsell 1: ClickFunnels – $99-$297/month
Upsell 2: BuildRedirects – $19.99-$99.99/month
Upsell 3: Digital Marketing Mastermind – $69.95/year
Upsell 4: M Insider Newsletter – $9.95/month
Upsell 5: Get Response – $15-$1,199/month
Upsell 6: AWeber – $19-$149/month
Outside of M Insider Newsletter, these upsells are legitimate programs, but you're better off signing up for each one of them on their main site as opposed to clicking on Anthony's affiliate link.
The M Insider Newsletter is Anthony Morrison's very own newsletter program that he distributes to his member, containing all the most recent industry information in affiliate marketing.
Again, a quick search in Google would keep you updated with the latest happenings for FREE.
Why Is Anthony Morrison So Controversial?
The problem with Anthony Morrison here is that he's good at he does, and I don't mean that in a sense that he's helping people create passive income.
He's good at marketing himself, and he does an amazing job at it too.
However, a lot of people that read his books or attend his seminars don't have a lot of familiarity and knowledge about the world of affiliate marketing themselves. So it's no surprise that people will actually want to learn from him.
This is not to discredit Anthony Morrison or anything else, but to succeed in affiliate marketing, one has to have the basic background information in computers and how internet marketing works, even if it's just surface-level knowledge.
Who's Partner With Anthony For?
There's just nothing about this program that makes me want to recommend this to anyone, and I mean this in a way that there are better programs out there that could provide better knowledge and a more solid foundation in affiliate marketing.
Partner With Anthony Ugly Truths Revealed!
#1- Unexpected Charges With No Chance Of A Refund
There have been a lot of complaints from people who got hit with hidden charges and fees, and granted these were all in the fine print of their terms and conditions, it's unethical to not make the members aware of it.
This is a screenshot of their BBB or Better Business Bureau profile that shows one of their members' complaints about getting hit with a hidden fee.
They're also unable to resolve the issue, just like the vast majority of the comments.
SOURCE: Better Business Bureau
#2- Website Glitches With Zero Support
On top of dealing with the hidden fees, members also complained of technical bugs and glitches in their website.
If you're paying close to hundreds of dollars for everything, then the least you could receive from them is a fully functional website that works 95% of the time.
But that's not going to happen with Partner With Anthony.
SOURCE: Highya
#3- Anthony Morrison Isn't A Good Mentor!
His reputation as an internet marketer precedes him, but it doesn't reflect the quality of mentorship you get from him.
Frankly speaking, he doesn't have a good reputation and his marketing techniques are manipulative and frustrating.
He's just so good at marketing himself and that's why he's had people buy into the programs and courses without providing them with anything of decent quality.
I would leave it up to you to do further reading on his other products if you really wish to work with Anthony Morrison.
What I Like About Partner With Anthony?
There's just nothing about this program that I like for two reasons:
There are better training courses out there
There are better mentors out there that will BE THERE to help you
Is Partner With Anthony a Scam?
No, it's not a scam. It's a legitimate affiliate marketing training course created by Anthony Morrison, but it's a program that I don't really recommend at all.
The program doesn't give you what it promises, which is actual mentorship from Anthony. It only gives you access to his training videos. This is a very manipulative claim and one of the reasons why this program is no good.
There are also issues with hidden charges and technical glitches within the site, so it provides more inconvenience for you.
And like I said, there are better programs out there that are going to train you on how to do affiliate marketing the right way.
How I Make a Living Online?
I've personally created a 4-Figure Monthly Passive Income Stream and become financially independent at just 21 years old without any College degree or working experience!
Through my own hard work, I went from a broke restaurant waiter to living my dream laptop lifestyle in less than a year's time...
If you want to discover the secrets of how I did it at such a young age, click here!