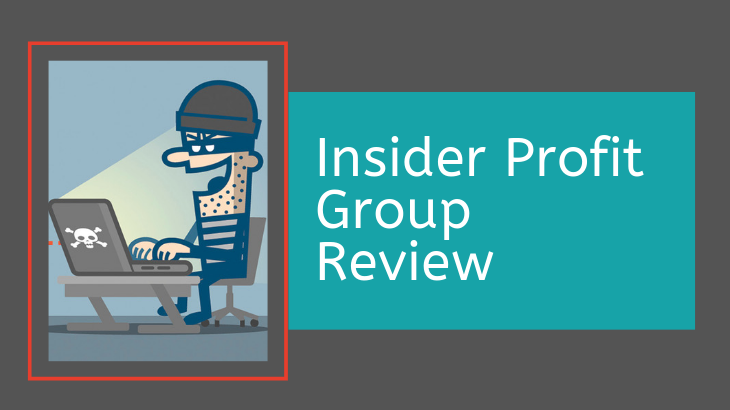 Insider Profit Group Review – How Not To Make Money On Facebook!
Welcome to my Insider Profit Group review!
People have found a way to monetize Facebook, and unfortunately, the vast majority of them happen to be scams.
That's because they don't know how exactly Facebook works, and neither do their customers. This is why these program creators take advantage of this situation.
One of those creators that we're about to expose is behind Insider Profit Group, a scheme that claims you can make money via Facebook groups.
First of all, I must Congratulate you for taking your time to do your own research before buying into any "seemingly good" product.
That's the way to avoid scams and find the legitimate way to make money online!
Let me be completely transparent with you, I'm not associated with Insider Profit Group in any form.
So, rest assured that I'm not here to pitch or sell anything to you.
Instead, I'm here to reveal how this program is going to try and scam you out of your hard-earned money.
Insider Profit Group Review Summary
Product Name: Insider Profit Group
Founder: Steven Jason (Not a real person)
Product Type: Affiliate Marketing Software
Price: $9 + $400 worth of upsells
Best For: No one!
Summary: Insider Profit Group is an affiliate marketing system that leverages Facebook groups as your source of income, and promises you can make $11k a week! However, all of what they promise are smokes and mirrors, and this program will do ABSOLUTELY NOTHING to help you make money online. I've listed a few red flags on this review that prove that there's really something wrong with this program, and that's why I can't recommend this program to anyone.
Rating: 1/100
Recommended: No!
More...
What is Insider Profit Group?
I received information about this product a week ago when a friend of mine sent it to me via email. I was curious because this was one of the few schemes that had a unique Modus Operandi.
When I visited their landing page, it gave me an all too familiar feeling that there's something up with this program.
I don't know whether it's the $4.7 billion honey pot claim, or the fact that the website looked exactly like the other scams that I reviewed recently.
According to their sales video, Insider Profit Group claims that you can make tons of money through Facebook's Group feature. The narrator, Steven Jason, is also the owner of the program.
He also mentions that he found a "secret loophole" on Facebook that lets him earn $11k per month and now he's sharing this secret to you… for a few bucks.
He also said that you don't need to have special skills or experience to succeed in using this program because everything's done with a push of a button.
Inside Insider Profit Group
Insider Profit Group works just like any other Clickbank scam out there.
Now, Clickbank is a legitimate affiliate marketing marketplace with legitimate products. It's just that there are some products in their listing that are… suspicious. Insider Profit Group is one of them.
Insider Profit Group reaches out to you via email, which they probably got from a market research company or from another site they're affiliate with that you signed up for.
Jason doesn't do a good job at explaining how the system works because all he talks about is how you could make $11k per month after you sign up with the $9 initial fee.
In any case, what you're probably getting won't be an automated software but rather, a PDF on how to build Facebook groups and how to monetize them. Now, it's possible to make money with Facebook groups but it takes a lot of money, time, and effort to get to where you want to be.
Unless you plan on spending a fortune on ads, there's no way you're making $11k a month just like that.
I'm Jerry!
I Created My Own 4-Figure Monthly Passive Income at just 21 Years Old!​
Don't Be Fooled By The Price!
The cost of joining Insider Profit Group is $9, but that's not the only cost associated with the program.
There are upsells that cost a total of $400 and they're going to be promoted by telling you that they're going to help you earn more money.
Who's Insider Profit Group For?
No one. Everyone should avoid this program like the plague. It's nothing but a scam and it doesn't do anything for anyone!
Insider Profit Group Ugly Truths Revealed!
#1 – Expect Expensive Upsells
The upsells are hidden costs that aren't mentioned anywhere on the landing page or the sales video. They want to catch you by surprise by just presenting these offers and then saying that they're "once-in-a-lifetime" prices and will be gone if you close the window.
Here's the list of upsells:
Upsell #1 – Platinum Group $197
Upsell #2 – Crypto Millionaires Calendar $147
Upsell #3 – Diamond Profit Booster $97
It totals to about $400, and costs way more than the $9 you initially paid.
In my opinion, the lack of transparency about these upsells means that they're not really there to help you supplement your income. They're just there to milk more money out of you.
#2 – Steven Jason Is Not A Real Person!
Any successful affiliate marketer will leave digital footprints through their social media profiles, blogs, and even articles about them.
Steven Jason doesn't have any. In fact, there's no other information I could find about Steven Jason outside of his connection to Insider Profit Group. It's like he doesn't exist at all.
And that's the truth of it all: Steven doesn't exist because the owners don't want you to find out who they really are. The main reason why they don't want you to know anything about them is so they won't be named in any lawsuit.
They also mention this in their disclaimer that Steven Jason is nothing more than a pen name.
Are you willing to spend money on a program that doesn't even tell you who the real owners are?
#3 – Success Not Guaranteed!
At the bottom of their page, you'll see a small notice that says the results or claims that they mentioned are NOT a guarantee that your results will be the same.
In other words, they're telling you that you're not going to make money the same way they do. In fact, they're telling you outright that you're not going to make any money at all.
This is the small text at the bottom of the page:
If that's the case, then what was the point of all the hype and promises that Steven made during the sales video?
Well, those are all for luring you into the program and to make you fork over more than $400 of your hard-earned money. The $9 signup fee is nothing more than a trick to make you think that the entire program is affordable.
What I Like About Insider Profit Group?
Nothing about this program is good, so there's nothing to like here. This is an unbiased opinion as well because there's no point in salvaging this program's first impression by leaving a positive comment.
Is Insider Profit Group a Scam?
Insider Profit Group is an affiliate marketing program that claims you can monetize Facebook groups. However, its ridiculous claims and the absence of real owner information are dead giveaways that this program is a scam.
Granted, there's a way to make on Facebook groups but it takes time and effort to turn it into a consistent stream of income. But Insider Profit Group doesn't teach you how to do this. They're all smokes and mirrors at this point.
100% Not Recommended to anyone!
How I Make a Living Online?
I've personally created a 4-Figure Monthly Passive Income Stream and become financially independent at just 21 years old without any College degree or working experience!
Through my own hard work, I went from a broke restaurant waiter to living my dream laptop lifestyle in less than a year's time...
If you want to discover the secrets of how I did it at such a young age, click here!