1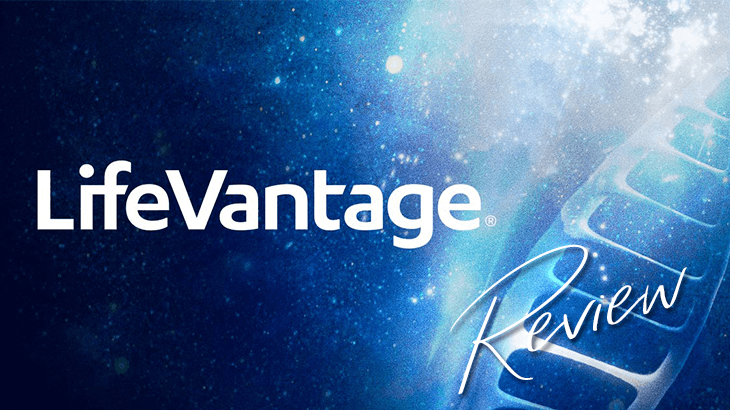 Is LifeVantage a Scam? – Your "Disadvantage in Life" Exposed!
Welcome to my LifeVantage review!
Chances are, someone has just introduced to you some amazing anti-aging products by LifeVantage or even the ability to make money with these awesome products.
First of all, I must Congratulate you for taking your time to do your own research before buying into any "seemingly good" product.
That's the way to avoid scams and find the legitimate way to make money online!
To be completely honest with you, I'm not in any form of relationship with LifeVantage so I'm not here to pitch any of their products or business opportunity to you.
Instead, I'm here to give you a 3rd party review on this company and expose to you exactly what you really need to be aware about this company...
LifeVantage Review Summary
Product Name: LifeVantage
Founder: Publicly Listed Company (CEO: Darren Jensen)
Product Type: Health & Wellness MLM Company
Price: $50 + upsell packages up to $1,250
Best For: Women, Moms, Housewives...
Summary: LifeVantage has some unique & amazing anti-aging products. But those are very controversial at the same time. All you need to know is that LifeVantage is just like a typical MLM company which has a steep startup cost and focus a lot on recruiting & face-to-face selling.
Rating: 20/100
Recommended: No
More...
LifeVantage is a nutraceutical company that claims to be a leader in Nrf2 science, which can help reduce free radicals in your body, improve your health and potentially live longer.
To be honest, they're just trying to make use to some complicated science language to convince people that their products are reliable and research-based.
I doubt you'll know the meaning Nrf2 unless you've done your own research or you're experienced in this field.
In simple language, this is what they're trying to do...
Our body ages because of our cells get oxidized due to wear & tear and all the pollution around us.
That's why you've probably heard a lot of people talking about antioxidant when they're discussing about supplements that improve our health.
So, LifeVantage is basically trying to reduce "oxidative stress" to our body through their science-based anti-aging products.
Is it really true and do they deliver? We'll find out in a second.
Some Background Info first...
LifeVantage was founded back in 1988 as a traditional retail company.
It was formerly known as LifeLine Therapeutics, Lifeline Nutraceuticals, and Yaak River Resources, Inc.
Afterwards, they adopted the Multi-Level Marketing (MLM) business model and start recruiting people into the system.
Currently, they're a publicly traded company on Nasdaq with the symbol "LFVN".
LifeVantage Product Line
Being a health & wellness MLM company, their products revolve around looking younger, getting healthier and wealthier.
They have a solid product line that covers all these aspects, including your pets!
These are their main products:
Protandim (Nutritionals) - This is their flagship product which is also the most controversial. It's basically a dietary supplement. (Also available for dogs!)
TrueScience (Beauty) - A series of skincare products which include facial cleanser, perfection lotion, eye serum and anti-aging cream.
PhysIQ (Fitness) - Supplements that help you lose weight, burn fat and supplement protein.
AXIO (Energy) - Energy drink that claims to help you not just for your physical body, but also for your brain to increase focus, clarity, concentration and alertness.
Are LifeVantage's Products Reliable?
To be honest, I'm not sure because it's very controversial.
They claimed that their products are science-based.
But there are some evidences showing that they actually paid for those scientific studies. In other words, it's biased and inaccurate.
Of course, their company and distributors will claim otherwise. That's why it's very controversial.
But most importantly, we all must be aware that none of LifeVantage's products are FDA approved! (Food & Drug Administration)
My take is this...
You cannot fully trust people who are pitching those products to you. So you need to do your own research.
That's why you're here. And my research shows a very controversial viewpoint.
My question to you is...
Would you want to get involved in such controversial company/product even though it may sound very attractive?
I'm Jerry!
I Created My Own 4-Figure Monthly Passive Income at just 21 Years Old!​
How to Make Money with LifeVantage?
LifeVantage is a typical MLM company. So, the way to make money can be very complicated according to their compensation plan.
Basically, you can earn commission by selling their products or by recruiting people into the system.
But in order for you to be an eligible distributor of LifeVantage, you need to go through some steps and invest quite a fair bit of money.
First of all, you need to purchase the $50 Starter Kit which has the necessary training materials for you to get started with your business.
Although this is the only compulsory requirement to be an official LifeVantage distributor, you still need to purchase their products.
How do you promote their products without trying them out yourself, right?
So, right after purchasing the $50 Starter Kit, they'll introduce 4 different product packages telling you that these can help you save money:
Silver ($350) - 20% savings
Gold Pack ($650) - 25% savings
Gold Performance Pack ($650) - 25% savings
Platinum ($1,250) - 30% savings
Can you see how your cost will start to grow?
That's not the end...
Just like any other MLM company, you still need to meet the monthly order requirement in order for you to be active and be eligible for commission.
That's the exact reason why many innocent people get themselves further into debt by starting an MLM business.
When it doesn't work out in the end, they call it a scam!
LifeVantage Compensation Plan
There are 8 different ways you can earn commission from LifeVantage:
Retail Sales
Smart Start Bonus
Launch Bonus
Royalty Commission
Generational Matching Bonus
Elite Bonus Pool
Achievement Bonus
Multiple Business Centers
Like I've said, MLM compensation plan can be very complicated and hard to understand.
So, let me hand over to someone who is personally involved in this company to explain to you:
LifeVantage Ugly Truths Revealed!
1. Pyramid Scheme in Disguise
According to FTC, pyramid scheme are businesses that focus on recruiting instead of providing products or services.
Yea, I know LifeVantage has its own unique products so I'm not saying it is a pyramid scheme or a scam.
All I'm saying is that it's a "pyramid scheme in disguise".
In my opinion, they're just using their own line of health and beauty aids products as the method of focusing on recruiting downline reps so as not to appear like a pyramid scheme!
Why do I say so?
Some of you might disagree with me. But it's okay.
Ultimately, if you really go and study how they run their business, they're still focusing on recruiting people.
Most money is still made in recruiting.
So, if you don't want to do any recruiting or face-to-face selling, I'm sorry to say that MLM is definitely not for you.
Try Affiliate Marketing!
2. FALSE Health Claims!
Protandim is their main product which is also the most controversial one.
They've made some claims about it being able to cure cancer things like that. (The claim could be made by their distributors.)
But the truth is that...
No matter how powerful & magical they claimed their products to be, it's not regulated after all.
And multiple studies have shown that there's nothing special about Protandim.
It's just a combination of common herbal ingredients with some heavy marketing.
Don't believe me?
Here's a warning letter in 2017 by the U.S. Food & Drug Administration about the inappropriate and false health claims of their products
3. Difficult to Cancel Monthly Order
Another problem is that there have been cases where its customers were unable to cancel their monthly product order and kept on getting charged for autoship.
Below is just one evidence:
In fact, this is not uncommon. Some MLM companies have a really complicated cancellation procedure which is just an unethical way to take more money from innocent people.
Melaleuca is one of the examples for having complicated cancellation procedure.
4. Duplicated & Ineffective Website
With the $50 Starter Kit, they claimed that you'll be give a website of your own without any recurring fee.
All you need to do is to send people to your website and it will do all the work for you.
You'll get compensated for anyone who purchases through your website.
Well, this is far from the truths!
Yes, you'll have a website to sell your LifeVantage products. But those are not original. They're just duplicated subdomain website.
That's why there's not recurring fee.
The worst part is that you can't get any free targeted traffic from Google with a duplicated website.
The only ways for you to get traffic is by:
Paid traffic (e.g. Facebook Ads, Instagram Ads, Solo Ads, etc.)
Social Media Marketing (Building a brand)
Word of mouth
First of all, paid traffic can be really expensive and you need to have the necessary knowledge and skills.
Secondly, branding takes time. You can't build a brand within a few weeks.
Lastly, word of mouth is slow and you can't get lots of traffic in a short period of time.
So, don't fall into their trap thinking that you can make easy sales with a website provided by them.
If you want to build a website and make it work for you (like what my website is doing for me right now), you need to learn the necessary skills and don't just HOPE things will happen for you.
Building a website is great. It can work for me 24/7 so I can make money anytime in the day.
That's also how I managed to earn 4-Figure monthly passive income at just 21 years old without any College degree or working experience.
Check out this program if you're interested in building your own website. Don't trust such "seemingly easy" websites.
5. Most People FAILED 🙁
This is the unfortunate truths we all should know for most of the MLM companies.
Only the people at the top can make those huge checks and the success rate is so small.
Just take a look at their income disclosure.
The reason is this...
No everyone is good at selling and there are a lot of people hate face-to-face selling especially.
LifeVantage does provide some form of training, such as:
Virtual Vantage University - Interactive training modules
Company hosted events/conventions
But ultimately, there are still a lot of hard work and most people today just don't have that determination and persistence as many people are looking for instant gratification.
6. Just Like Jeunesse!
Last but not least, I really need to mention about Jeunesse.
I've just reviewed this company and to my surprise, these 2 companies are extremely extremely similar.
They're both:
Focusing on anti-aging products
Competing in the health & wellness niche
Focus on recruiting
Being accused by many for being a pyramid scheme
Very similar startup cost, monthly requirements
Their compensation plans are also very similar
To be honest, the health & wellness niche is really saturated with so many companies competing with one another. (E.g. Shaklee, Essante Organics)
Once you're aware of the existence of all these companies, I'm sure you'll start wondering what's so special about LifeVantage?
The Good Things About LifeVantage...
1. Products Work (For Some)
Despite having so many negative reviews, I must say, LifeVantage's products still work. At least for some people.
I can't saying anything about the reliability of their products because it's very subjective.
But let's take a look at some of the comments from their satisfied customers:
These may or may not be real. But it's worth noticing that their products are not scam.
The effectiveness is very subjective.
2. Public Listed Company
Also, like I've mentioned in the beginning, LifeVantage is a public listed and traded company.
So, that separates themselves apart from many MLM companies in the same niche and gives them more credibility for sure.
Nope, LifeVantage is not a scam. If not, how could it go public?
So, it is a legitimate MLM company. Those who tell you it's a scam are usually people who have tried and failed before.
They're not the right people you should listen to anyway.
Product-wise, LifeVantage is very controversial and subjective. So, let's put it aside.
Income-wise, yes it's possible for you to make some good money.
But the pre-requisite for that is you need to be a good salesperson and do a lot of recruiting & face-to-face selling.
Personally, I know that's not for me.
Anyway, if you're interested in running a MLM business, I wouldn't recommend LifeVantage, simply because there are better alternatives.
For example, you can check out Young Living.
They don't have controversial products and they are product-oriented. In other words, they'll never be associated with pyramid scheme.
How I Make a Living Online...
Like I've said, MLM is not for me, like it's not for many of you as well.
I believe MLM can make good money but it's only for the right people who are willing to put in the necessary effort.
Here, I'm proud to say that Affiliate Marketing is for anyone and it's my top recommended business model to newbies to make money online.
The reason is simple...
You don't need to do any recruiting or face-to-face selling
You have the freedom to promote any product you like, not restricted to the same MLM company.
In fact, with affiliate marketing...
I've personally created a 4-Figure Monthly Passive Income Stream and become financially independent at just 21 years old without any College degree or working experience!
Through my own hard work, I went from a broke restaurant waiter to living my dream laptop lifestyle in less than a year's time...
If you want to discover the secrets of how I did it at such a young age, click here!