4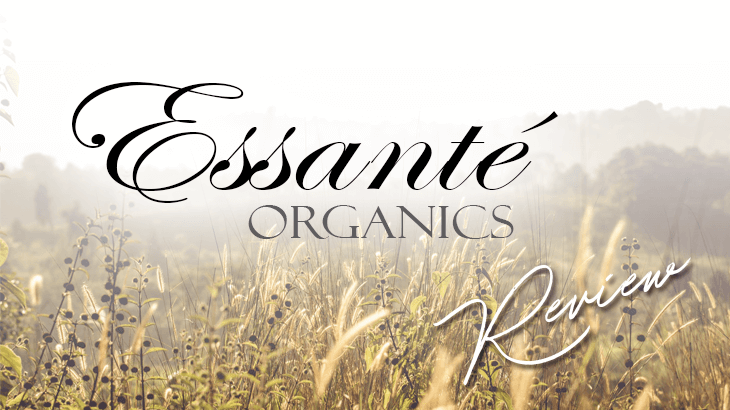 Is Essanté Organics a Scam? (The "ORGANIC Hype" Exposed!)
Welcome to my Essante Organics review!
Chances are, someone has just recommended to you a product by Essante Organics or this "seemingly lucrative" business opportunity for you to achieve financial freedom by just working 7-10 hours per week.
First of all, I must Congratulate you for taking your time to do your own research before buying into any product or business opportunity.
That's the way to avoid scams and find the legitimate way to make money online!
Essante Organics claim to bring you the most natural, non-toxic and organic products for your body, your health, your baby and your home.
Not only that, it claims to bring you wealth with little effort.
Is that really true? Or is Essante Organics a scam?
Let's cut straight to the point...
Product-wise, they have decent products to offer.
But income-wise, it's definitely not the best place for you to invest your time and money.
Let me show you why...
Essanté Organics Review Summary
Product Name: Essanté Organics
Founder: Michael Wenniger
Product Type: Health & Wellness MLM Company
Price: $29.95 to start with $199 & $499 upsells
Best For: Moms, Housewives, Parents...
Summary: Essante Organics is a legitimate MLM company with some good training & support. But the problem is that they're giving some unrealistic claims and there's an expensive startup cost.
Rating: 45/100
Recommended: No
More...
What is Essante Organics?
Some Background Info...
Essante Organics is an Arizona-based health & wellness Multi-Level Marketing (MLM) company selling health-related products using the direct selling business model.
It was first founded in 2004 by Michael Wenniger as "Essante Worldwide".
In 2009, it was re-branded to the current name "Essante Organics".
As it's name suggests, they put a lot emphasis on producing organic products to remove toxins from our everyday lives.
Here's their mission:
"Eliminate Toxins from Everyone's Life, One Household at a Time."
To be honest, this is a great mission and their motive to change the world by helping people to live a "toxic-free" and "debt-free" life is awesome!
However, do you know how many companies out there are doing the exact same thing?
I can give you a loooong list of companies that are also trying to sell health-related product that are natural things like that.
For example, there are Amway, Herbalife, Avon, Norwex, Melaleuca, Shaklee, etc...
They may not be exactly the same. After all, they're different companies.
But they're in the exact same market competing with one another.
Most importantly, I can guarantee you that many of them do not produce 100% real, organic, toxic-free products even if they claim to be.
So, my advice to you is to be skeptical. You shouldn't trust anything and make your purchasing decision based on what the seller tells you.
I'm going to give you more proofs & evidence later on. So, stay tuned!
So what exactly do they sell?
The major categories include:
Weight loss
Personal care (body care, cosmetics, facial care, oral care...)
Anti-aging
Alkalizing
Home care
So their products ranges from supplements to shampoo to essential oils to laundry liquid to hand sanitizer, etc...
They even have a whole category of products for babies.
These are exactly the same as those companies I've just mentioned. They're all selling very similar products.
This makes me wonder...
What's the "Unique Selling Proposition" for each of them?
I'm Jerry!
I Created My Own 4-Figure Monthly Passive Income at just 21 Years Old!​
How to Make Money with Essante Organics?
There are 3 main ways for you to make money with Essante Organics:
Acquire customers and sell Essante products
Recruit downline members
Earn bonuses by advancing in ranks & helping your downlines to succeed
But in order to start making money, you have to first become a "Wholesale Customer" or "Brand Partner" by paying a one-time $29.95 fee.
This is kinda like purchasing a membership fee to become their independent distributor so that you can be eligible to promote their products and earn commissions.
On top of that, they'll push you to purchase the "Go-Green Packs" which costs either $199 or $499.
The good thing is that these are not necessary for you to earn commission from Essante Organics. $24.95 is all you need to get started.
The purpose of these packs is to help you save cost when you buy products in bulk. So, it's also known as the "Below Wholesale Pack".
Essante Organics Compensation Plan
There are 6 income streams you can expect as an Essante Organics Independent Distributor...
1. Retail Sales
This is the most direct sales. You promote products at the retail price and earn a 30% commission for your own sales.
For the sales made by your downlines, you'll earn 5%.
2. Enroller Bonus
You can also make money by selling those 2 Go-Green Packs I just mentioned.
For each $199 Go-Green Pack sale, you earn $50.
For each $499 Go-Green Pack sale, you earn $100.
I know the percentage or ratio doesn't match but that's just the way it is.
3. Express Start Gold Bonus
In the first 30 days of joining Essante Organics, you can earn a $500 bonus if you're able to enroll 4 downlines and assist each of them to enroll 2 of their own.
To be honest, this can be easy or hard depending on your effort and talent.
There are a lot of meetings, conversations and face-to-face selling involved.
If you're an extrovert and are good at networking, this will be a pretty easy task for you. If not, it'll be very hard for you to get this bonus.
4. Endless Team Bonus
This is where real passive income comes in...
Basically, you're required to enroll 2 downlines and help them to enroll 2 as well. And then help your downlines to help their downlines to enroll more and it just goes on and goes.
It will look something like this:
That's when your MLM structure starts to form up.
However, there's another requirement and that is for them to each have 75 points of monthly Easy Order (autoship)
And that's when Essante Organics will pay you monthly passive income based on the number of levels you have.
As you can see from the image above, the deeper your downline structure, the more residual income you can earn.
But the problem for this is that it makes the business focus more on recruiting!
5. 100% Matching Bonus
If you can earn some residual income from the Endless Team Bonus, I consider you as quite successful with Essante Organics.
Because the other bonuses are a lot harder to achieve and not many people can get it.
For this 100% Matching Bonus, you need to have 5 downlines that are each earning $5,000/month from Endless Team Bonus.
This is when you can get a 100% Matching Bonus of $25,000/month. ($5,000 x 5 = $25,000)
6. Expansion Rate Bonus
Lastly, this is their Global Profit Sharing.
You need to generate a $50K/month in sales volume for 2 of your downline teams. With that, you're qualified to enter this contest and have a chance to share the company's annual profit.
For more detail explanation, please refer to their compensation plan PDF or watch the video below:
What I Like About Essante Organics...
1. Great Training & Support
Essante Organics provide some pretty good training to help beginners get started with their business.
They even have an award-winning free training website for its members.
Basically, there's ongoing support through live conferences & training calls which is a pretty good advantage over many MLMs out there.
Some just focus on their compensation plans but lack quality training & support to help members.
2. Good Customer Service
From my research, I found that the customer service team of Essante Organics is actually pretty active in replying to both positive & negative feedback.
Below is an example:
It's surprising to me that they actually spend time to reply to people's criticism patiently.
Very few companies can do this.
3. 30-Day Money-Back Guarantee
They also have a 30-Day money-back guarantee for all of their products.
It's good that you can get a refund if you're not satisfied.
What I DON'T Like About Essante Organics...
1. Expensive Startup Cost
Despite $29.95 is all you need to get started, they'll definitely push you to purchase their $199 & $499 upsells.
Because if you're serious about this business, you need to invest in these upsells for higher commission and some tax reductions.
But paying $500 can be considered pretty expensive for people who wants to make money.
These people don't have much money to invest in the first place.
On the other hand, I actually started my own online business for FREE. And I'm now generating a 4-Figure monthly passive income at just 21 years old without any College degree or working experience!
So, there are definitely cheaper alternatives out there and this program is the one I recommend!
2. Not Transparent
Essante Organics is not transparent in the sense that they don't have an Income Disclosure Statement, which I believe is necessary for all MLM companies to have.
Also, their compensation plan document is very short and not comprehensive.
3. Unrealistic Claim
They claimed that you can earn 6 different paychecks (the 6 income streams I explained to you earlier on) but you only need to work part time and spend about 7 to 10 hours per week.
This is possible but it's not realistic for beginners.
It takes a long time and lots of hard work before you can be financially free and work 7-10 hours per day.
So, I really don't agree with them for using such unrealistic claims to persuade beginners.
4. "Organics" is Overrated
This comes to a very interesting part...
Today, all the companies are claiming that their products are natural, pure, organic, etc...
But do you know that many of them are just illusions?
In the United States, in order for a product to be labeled as "Natural", the law is that it only requires ONE ingredient to be found in nature!
This means that the product can still be labeled as "Natural" despite 90% of the ingredients are all synthetic.
What?!
The similar concept applies to the word "Organic".
Let face it...
These terms have been abused by all the sellers and marketers.
You're too naive to think that the product is safe to use or consume as long as it's labeled "organic" and "natural".
For consumption goods, the product can be "natural" despite having things like pesticides.
Can you start to see why we can't really trust marketers?
Just take a look at this post about the truth about organic.
5. Saturated Market
To be honest, the "Health & Wellness" niche is a very saturated and competitive market.
I've already listed out quite a number of competitors earlier on. There are simply too many companies and products in this market.
From the business point of view, it's a lot harder to sell these products as compared to companies like Young Living, which is in a "blue ocean" market.
You really need to think twice if you want to join the war in this red hot ocean and putting in lots of effort to stand out from the crowd.
Considering the amount of time, effort and money you need to put in, it's not worth it in my opinion.
Like I've said earlier on, my top recommended business allows you to get started for FREE!
6. Ineffective & Duplicated Website
With the $29.95 starter fee, you'll be given a website with all the products from Essante Organics.
They claimed that as long as you drive people to your website, the website will do all the selling for you.
Yea, you're right...
The sad truth is that the website they provide you is actually a duplicated website. So it's impossible for you to get free targeted traffic from Google.
The only ways for you to get traffic to your website are:
Paid traffic (Facebook Ads, Instagram Ads, Solo Ads, etc.)
Social Media Marketing
Word of mouth
Yes, it can work. But you need to get the right education and training before you can fully utilize this medium to grow your business.
If not, this duplicated website is just a waste of resources for most people in the company.
For me, I've learnt how to run websites on my own and drive Free targeted traffic from Google.
In other words, my website is really working for me right now 24/7, even when I'm sleeping or travelling.
That's real passive income. And that's also how I can create my own 4-Figure monthly passive income stream at just 21 years old!
7. Face-to-Face Selling
I hate face-to-face selling!
I don't think many people like it either.
But Essante Organics is just a typical MLM and to run this business, F2F selling is inevitable.
If you're not comfortable meeting new people every day, organize events/workshops, do face-to-face selling, Essante Organics is definitely not for you.
Yes, you can learn and train but you're going to have a tough time for sure.
That's why I didn't go down the MLM route. Instead, affiliate marketing is what I recommend.
Like I've said earlier on, I love affiliate marketing because my website is doing all the selling for me once I set it up.
I can even make money when I was sleeping or travelling.
Is Essante Organics a Scam?
No, Essante Organics is definitely not a scam. It's a legit MLM company selling decent products.
But the major problem with this business is that it requires an expensive startup cost of up to $500+ and it's in a really competitive market.
However, if you are good at networking and you love their products, this business is a perfect fit for you.
If not, you'll have a hard time trying to make this work.
Never join a MLM company because of the money. You have to really love the product yourself!
How I Make a Living Online...
Like I've mentioned earlier on, Affiliate Marketing is my top recommended business model for anyone to make money online.
The reason is simple...
You don't have to do any face-to-face selling because your website will be doing all the selling for you passively.
You can sell any products you like and not being restricted to only promote products from the MLM company you join.
For example, if you're passionate about hiking, you can build a website promoting hiking equipment on Amazon and earn passive income. (That's called doing what you love!)
In fact...
I've personally created a 4-Figure Monthly Passive Income Stream and become financially independent at just 21 years old without any College degree or working experience!
Through my own hard work, I went from a broke restaurant waiter to living my dream laptop lifestyle in less than a year's time...
If you want to discover the secrets of how I did it at such a young age, click here!