17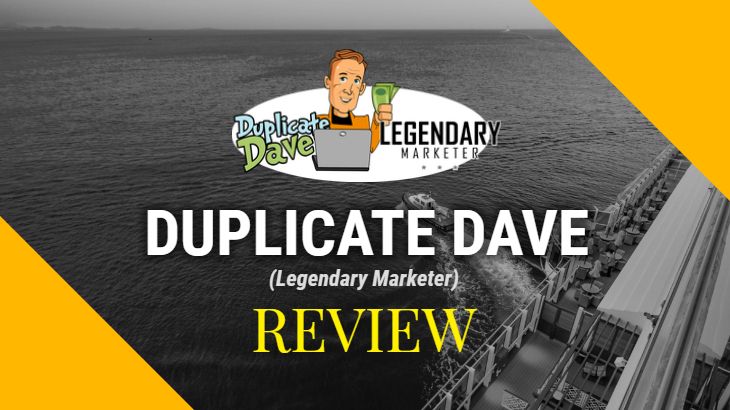 Is Duplicate Dave a Scam? What David Sharpe is NOT telling you…
Welcome to my Duplicate Dave review!
A lot of people have been asking is Duplicate Dave a scam?
Well, there are 2 things I want to disclose first.
I'm not an affiliate of Duplicate Dave so I'm not here to show off to you my income proof and "recruit" you like any other affiliates do.
There are a lot of outdated Duplicate Dave reviews out there because Duplicate Dave does not really exist anymore. I'll explain to you why in my review.
Let's begin...
Duplicate Dave Review Summary
Product Name: Duplicate Dave (aka Legendary Marketer)
Founder: David Sharpe
Product Type: High-ticket Affiliate Marketing Program
Price: Front-end $30/month, upsells up to $30,000
Best For: David and people who have thousands of dollars to invest
Summary: Duplicate Dave is a legit program which allows you to make real money online. But the pre-requisite is that you need to have a couple of thousand dollars to invest in their products in the first place. Also, you're restricted to only promote their High-Ticket affiliate products.
Rating: 65/100
Recommended: Not really
More...
Basically, Duplicate Dave was a Internet Marketing course created by David Sharpe. But now it has been re-branded as Legendary Marketer.
I don't know why he wanted to change the name but I guess it's because "Legendary Marketer" is a more brandable name than "Duplicate Dave".
Whenever you're searching for Duplicate Dave, you'll eventually be directed to Legendary Marketer's website.
For example, when you try to opt-in to Duplicate Dave's landing page, you're be led to Legendary Marketer's checkout page.
So How Does Duplicate Dave or Legendary Marketer Work?
Dave believes that starting your own online business is as hard as starting a traditional business. The success rate is so small that only 1 out of 10 businesses will survive.
But he said that franchise business has a much higher success rate. Out of 10 franchises, 9 will survive.
I don't know where did he get that statistics from but it's just what he said in his sales video.
So his proposal is this...
He has created tons of resources regarding internet marketing in his Legendary Marketer brand. He's also built a high converting sales funnel to promote his products in Legendary Marketer.
Now, he wants to offer you the opportunity to "borrow" all his resources and make money by promoting Legendary Marketer like applying the franchise model in the online world.
These resources include ready-made:
Landing page
Video Ads
Banner Ads
Ad Copy
Email Copy (45-day Email sequence)
And basically the whole Sales Funnel
All you need to do is to drive traffic to their landing page. Dave and his team of coach will do all the selling for you.
So basically, Dave is giving you the opportunity to literally duplicate his sales funnel and make money. That's also how the name "Duplicate Dave" came from.
Sounds great to you?
I personally think it's too good to be true.
I'm Jerry!
I Created My Own 4-Figure Monthly Passive Income at just 21 Years Old!​
Can You Really Make Money with Duplicate Dave?
Short answer: YES!
My recommendation: It's not a good business model you should invest in.
I can feel that some of the supporters & affiliates of Duplicate Dave or Legendary Marketer start to hate me and disagree with me.
But let me explain...
Yes, you can make money with Duplicate Dave because Dave is good at selling and he does pay his affiliates handsomely.
That's why there are a lot of affiliates showing off their commission screenshot like this one:
I know seeing this kind of income proof is very tempting for you to give it a shot.
But you need to first understand their business model before you can decided whether this is for you.
The reality is that it is possible to make money with Duplicate Dave. But is it for you?
Here's a reality check...
Take a look at the product list and their prices. These are all high-ticket products except the first two.
What if I tell you that you need to purchase the $2,500 product before you can potentially make the $1,000 commission?
What if I tell you that you need to purchase the $5,000 product before you can potentially make the $2,000 commission?
Do you have the money to invest in the first place?
Duplicate Dave is a "pay-to-play" game. You need to pay them the money first before you are "qualified" to receive commission. But there's no guarantee!
Being qualified does not guarantee you to earn commission. You still have to put in the hard work and spend some more money to drive traffic.
Given all these information, do you think this is still suitable for you?
By the way, if you want to find out more about the details of each product, go to my Legendary Marketer review.
The Good
1. Legit Training
There are hours and hours of helpful training videos to teach you on various aspects of internet marketing, such as:
Facebook Ads
Facebook Fan Page Marketing
Lead Generation
Traffic Generation
Instagram & YouTube Advertising, etc.
There are a lot of step-by-step content for you to consume.
So, I believe at least the $30/month Legendary Marketer Club Membership is worth the price.
But rest of the upsells are simply too expensive. I believe they're overcharging you because they want to make money from you.
The reason they have the valuable front-end product that only costs $30/month is because they want to hook you into the system so that they can upsell you the expensive products afterwards.
2. Not Multi-Level Marketing (MLM)
Duplicate Dave is a pure affiliate marketing business because there are no complicated multiple commission levels involved.
I'm happy for them for not using the MLM structure because a lot of companies tend to become a pyramid scheme if they adopt the MLM business model.
3. 30-Day Money-Back Guarantee
You can request a refund within 30 days but that's only for the $30 Legendary Marketer Club Membership.
You're not going to get any refund if you purchase the high-ticket upsells.
That's why I recommend you to try out their $30/month membership if you're really interested in Legendary Marketer.
---
The Bad
1. Too Expensive
This is very obvious. Their affiliates can make a lot of money because they're selling high-ticket products.
I've calculate that if you are to purchase all the products from Duplicate Dave, it'll be more than $58K!
You can say you don't need to purchase all their products but you still have to purchase some of the high-ticket products before you can make some real money from them.
Not only that, the coach they assigned to you once you join will also be upselling you along the way.
It definitely in their favor to encourage you keep upgrading and purchasing more products. That's also one of the way their coaches make money.
P.S. This program that has enabled me to generate a 4-Figure Monthly Passive Income at just 21 years old is FREE to get started and only cost $49/month fee to go full-time!
2. Can't Build Your Own Business
Duplicate Dave claims that you can take what you learnt from their training and apply to build your own business.
But the problem is they didn't provide you with much resources for you to build your own business.
Throughout the training, you're encouraged to resell their products to more people.
Once again, that's why it's called "Duplicate Dave". They want you to duplicate the business model so that they can make more money.
3. "Pay-to-Play" System
Like I've explained earlier on, you have to pay in order to be qualified for commission.
Paying the $30 monthly fee only allows you to earn $18 commission. You can't earn $1K, $2K or more commission unless you're able to pay a couple of thousand dollars first.
That's a major flaw for this high-ticket affiliate program.
This is also why I don't recommend you to invest despite it may work for some people.
Is Duplicate Dave a Scam?
Nope, Duplicate Dave is not a scam because it offers legit training and Dave does pay his affiliates.
It is real that there are affiliates earning a lot of money. But this is the same for many other programs as well, even for those scams.
Whether this opportunity is for you is another story.
I've just provided you with all the information for you make your own informed decision.
If you have thousands of dollars and you're interested in this opportunity, go ahead and make it work for you.
Once you get the results like other affiliates, come back and share with us your experience.
How I Make a Living Online...
I've personally created a 4-Figure Monthly Passive Income Stream and become financially independent at just 21 years old without any College degree or working experience!
Through my own hard work, I went from a broke restaurant waiter to living my dream laptop lifestyle in less than a year's time...
If you want to discover the secrets of how I did it at such a young age, click here!