2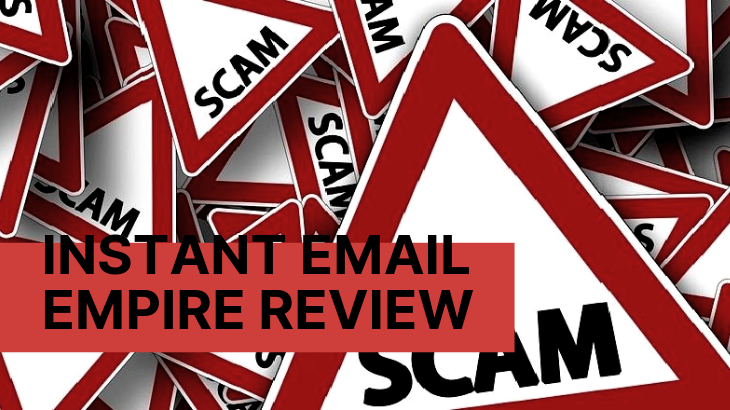 Instant Email Empire Review – No Empire, No Profits Here!
Welcome to my Instant Email Empire review!
This program claims that you can make a steady stream of income through your emails.
The sales pitch tries to be as convincing and legitimate as it could to convince you and many others to give this a shot.
But is this a legitimate program?
We'll find out.
This is Instant Email Empire.
First of all, I must Congratulate you for taking your time to do your own research before buying into any "seemingly good" product.
That's the way to avoid scams and find the legitimate way to make money online!
Let me be completely transparent with you, I'm not associated with Instant Email Empire in any form.
So, rest assured that I'm not here to pitch or sell anything to you.
Instead, I'm here to reveal why this isn't going to build your business empire and why this isn't worth anyone's time!
Instant Email Empire Review Summary
Product Name: Instant Email Empire
Founder: Bobby (No other name disclosed)
Product Type: Email Marketing System
Price: $9,99 a month plus upsells
Best For: No one!
Summary: Instant Email Empire is an email marketing system that's very questionable for several reasons, and I'm not talking about them having a fake owner. Their business model just doesn't make sense at all, and there's just no way for anyone to make money at all. And their members are saying it too!
Rating: 1/100
Recommended: No!
More...
What is Instant Email Empire?
Instant Email Empire is a biz-opp that claims that you can earn millions from the comforts of your own home by sending emails.
In the video, a guy named Bobby tells you that he's made $1,426,242.09 just last year alone through email marketing.
He then goes on about how he's able to buy a huge mansion and afford luxurious vacations with his family.
Because he's a good guy, he's going to give you everything you need to get started, and that you'll "never pay him a single dime ever".
What you only need to do is to create a free account and Bobby will send you free subscribers and give you offers to promote to them so you can start earning commissions.
I signed up for their site so you don't have to.
Inside Instant Email Empire
The site owner here actually makes money off of you when you sign up for Builderall, an email marketing platform subscription.
You'll have to pay at least $9.90 a month to build a list of email subscribers and to send out a lot of emails.
While I was in the member's area dashboard, I saw my subscriber count and bank account balance go up, which I think is designed to make people think that the program is working its magic.
But this is far from the truth.
The subscriber count and the bank balance are nothing but illusions to keep people paying the monthly subscription.
How Instant Email Empire REALLY Works?
As I went through the page, I was then presented with an upsell that would "fill my account with 5,000 hungry subscribers" for only $34.
Because this is an email marketing system, you'll need subscribers to keep your list generating a steady stream of income.
But that's not the case here since you want quality subscribers, not quantity.
For that price, I doubt that these subscribers actually want something from this program.
In a nutshell, here's how the program works:
You sign-up for free
Subscribe to Builderall (optional) to send out mass emails
Pay $34 for low quality email leads
Sell products through your emails
Now email marketing is a legitimate business model, and so is affiliate marketing.
But the way Instant Email Empire presents it is not how these models work.
You can earn money as a Builderall affiliate (this is a legitimate program used by legitimate companies), but again, Instant Email Empire uses it the wrong way.
Who's Instant Email Empire For?
No one.
There's just a lot of issues with this program that makes me not want to recommend this to anyone.
Instant Email Empire Ugly Truths Revealed!
#1 – Not Free As Advertised!
Here's the first red flag.
On their sales video, Bobby says that you can sign up for free and start working with the system. But this is far from the truth.
The guy just wants you to think that you're getting into a zero-risk business opportunity so you'll feel you have nothing to lose.
Once you're in the member's area, you'll then be surprised by the number of subscriptions that you have to sign up for to make the system work.
#2 – Bobby Is Not Real!
Bobby is not a real person, or at the very least, is not the millionaire that he says he is.
He's actually an actor from a site called Fiverr, a freelance content marketplace where you can get these videos made for as low as $5 to $10.
Here he is:
When a program hides the real identity of their owners and company, then they're doing something illegal that they don't want to be liable for in any court.
#3 – A Rehashed Version Of Another Scam
This scam is actually a rehashed version of older scams such as GIM System Training and Copy My Email System.
The scam works in exactly the same way too. People think they're getting a free system, and then hand over a lot of money for the upsells once they sign up.
When the scam gets exposed enough, they shut down, rebrand, and relaunch again.
#4 – Spams Everywhere!
When you sign up for their email system, you'll then be bombarded with a lot of emails from Bobby and his friends.
This is pretty normal because they just want you to buy more of their products.
#5 – Members Didn't Get Paid!
Every single review from Instant Email Empire ends with the story of members not getting paid when they're about to withdraw.
Here's some review from their ReportScam profile:
Scroll through their profile and you'll see a lot of complaints about members not being able to withdraw their cash.
What I Like About Instant Email Empire?
There's nothing positive worth mentioning about this program at all.
It's clear from the get-go that there's something about the program that's not legitimate, and I was right!
Is Instant Email Empire a Scam?
Let's see.
Fake owner? CHECK.
Members not getting paid? CHECK.
Rehashed scam? CHECK.
These red flags and more are enough to convince me that Instant Email Empire is not a legitimate program, nor is it a legitimate way to make money online.
Email marketing and affiliate marketing are legitimate business models, but not in the way that Instant Email Empire presents it.
There's nothing good that you can get out of this program. Stay away from it.
How I Make a Living Online?
I've personally created a 4-Figure Monthly Passive Income Stream and become financially independent at just 21 years old without any College degree or working experience!
Through my own hard work, I went from a broke restaurant waiter to living my dream laptop lifestyle in less than a year's time...
If you want to discover the secrets of how I did it at such a young age, click here!