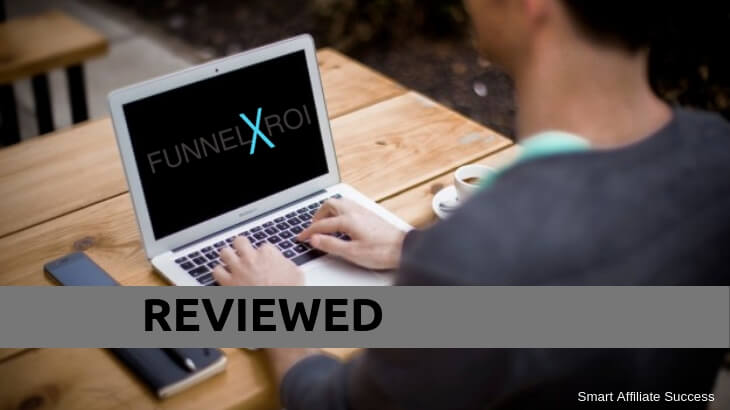 Funnel X ROI Review – A Pay-To-Earn Marketing Platform Reviewed!
Welcome to my Funnel X ROI review!
Now I've reviewed countless affiliate marketing platforms and none of them can ever come close to how this program was built.
Let's take a closer look at Funnel X ROI.
First of all, I must Congratulate you for taking your time to do your own research before buying into any "seemingly good" product.
That's the way to avoid scams and find the legitimate way to make money online!
Let me be completely transparent with you, I'm not associated with Funnel X ROI in any form.
So, rest assured that I'm not here to pitch or sell anything to you.
Instead, I'm here to reveal why this is a pay-to-win program that forces you to spend more to earn more, and why they work that way.
Funnel X ROI Review Summary
Product Name: Funnel X ROI
Founder: David Dekel
Product Type: Comprehensive Affiliate Marketing Platform
Price: $880 to $5,952 Upfront Costs + $50/month
Best For: Experienced affiliate marketers with deep pockets
Summary: Funnel X ROI is a comprehensive affiliate marketing platform developed by David Dekel. And as you've read on the title, it's a PAY-TO-EARN system that may be beneficial or disadvantageous to anyone. This is probably its biggest downside because you have to pay more to earn more because of its commission structure. This also makes the program very expensive and not that accessible to novice affiliate marketers, despite having a lot of training materials. But if you're an experienced affiliate marketer, this might be worth looking into if you want to thicken your revenue stream.
Rating: 50/100
Recommended: No
More...
Funnel X ROI is a comprehensive affiliate marketing system that you can join for free to help you earn money online.
This is not your typical program because the company will not be paying the commissions.
Instead all of your commissions will be paid by the 3rd party affiliate marketing opportunities that are integrated into the system.
You don't make the money with Funnel X ROI itself, but through the programs associated with the system.
Who Is Behind Funnel X ROI?
David Dekel is the man behind Funnel X ROI, who not only created the system but also the training videos as well.
Now I won't go as far as say anything positive or negative about Dekel because I haven't had any personal or professional experience with his programs, and this is the first time that I've heard of him.
But based on how the program is created, it looks like David knows what he's doing and it would be an effective money-making tool if it was used properly.
Inside Funnel X ROI are 5 main programs and 2 supplementary programs where you can earn money from.
Now the funnel is free to join, but each program will have its own associated costs. This is because these programs are from 3rd party sources.
The system is laid out in a step-by-step walkthrough where each sales video will lay out its opportunities for you and share the benefits of adding them to your funnel.
Here's a short breakdown of the programs and their costs:
1. Easy 1Up – $25 to $2000
Easy 1Up is a MLM or multi-level marketing style of business with six different levels that you can buy into.
You also earn 100% commission from each customer sign-up and evolves into a more complex commission structure.
If you sign up for the $100 level, you only make $100 in commissions, regardless of how much your customer spent for signing up.
Before you start calling out "PONZI SCHEME", each level of this program provides you with training material involving email and affiliate marketing.
The more you pay, the more in-depth your training is.
2. Now Lifestyle – $600/year or $74.91/month OR $50/month Special (as long as available)
Founded by Joel Therien, Now Lifestyle is a health and wellness company that provides supplements and video workout programs.
They also offer an affiliate program with marketing tools for your sales funnel.
As an affiliate you're required to buy three levels of products:
Health & Wellness for 5 Family Members – $100/year or $24.97/month: A membership for a customized diet and exercise program for you and 5 family members.
Business Automation and Autoresponder – $250/year or $24.97/month: A landing page builder, lead capture system, text/video templates, autoresponder, a list of 5000 subscribers, and email swipe files.
Reseller Program – $250/year or $24.97/month: This level gives you a license that will allow you to sell and collect up to $100% commission up front, and 90% for residual monthly commissions.
3. The ROI Panel – $197, $597, or $1497
The Profit Vision system is what David uses himself to rake in a lot of commissions.
It's a system that shows you where profits are coming from, and where your money is going.
If you spend money on traffic, like Solo Ads, the system tracks which traffic source is the most profitable one.
You'll also receive a reseller license with the level you purchase and earn a 50% commission for selling that level.
If you signed up for $197, you'll earn 50% of $197 from each customer no matter how much they spent.
4. Funnel X Advance – $200+ to $1997
The fourth program is Funnel X Advance, which is one of Dekel's other systems, and it's Pay-Per-Lead.
Here you don't need to sell anything since you only need to pay per lead.
You earn $1 for every qualified lead you send into the program.
There are four levels to choose from, with the top three levels offering tools and pre-written materials for your campaigns.
Each successive level offers more training and bonuses than the previous one.
You'll also need to subscribe to NowLifestyle Autoresponder, which is about $50/month and with the ROI Panel for $197 and up.
I'm Jerry!
I Created My Own 4-Figure Monthly Passive Income at just 21 Years Old!​
Supplementary Programs
Advertising Boost – $49/month or $458/year
This program allows you to create enticing offers by adding vacation stay bonuses to generate more leads.
This program also has its own affiliate program that you can use to earn commissions.
Udimi (Solo Ads) – Hundreds per email campaign
This is David's secret traffic course, but it's not actually a real secret.
A lot of marketers outside his system use this site to buy solo ads.
You can join this program for free and scroll through the sellers until you find one that you can use.
David recommends that you only pay for traffic for earning commissions, and this can get quite costly if you're thinking of running a lot of campaigns every month.
How To Get Started With Funnel X ROI?
The system is free to join, but the individual products have their associated costs.
If you wish to purchase everything he recommends, here's what you're looking at spending:
Minimum of $880 upfront costs + $50 per month.
Maximum of $5952 upfront costs + $50 per month.
Funnel X ROI is intended for serious marketers looking to build a sturdy money-making system, and for those who can afford to spend on the system.
With that said, it's definitely not intended for beginners because there are a lot of mechanics involved that just doesn't get explained well enough (unless you pay out of your butt for the training).
Funnel X ROI Ugly Truths Revealed!
#1 – It's Not Meant For Beginners
Contrary to the promotion of various training programs, Funnel X ROI is a system that's not actually meant for those who're relatively into the world of online marketing.
At its core, you have the process of creating a funnel that will consists of multiple pages of sales video to promote the various programs.
As you go through the funnel, you'll need to sign up for each program and in the end, you're ready to start earning money.
They'll show you how to do it, but they don't go that in-depth on how affiliate marketing works.
This is why its disadvantageous for novices.
If someone like me were to sign up for Funnel X ROI, I'd be able to make a lot of money using their stream because I know my way around the Internet.
But for the average Joe and Jane who purchase these systems? I don't think so.
Thankfully, there are other platforms out there that are designed for beginners, so I would advise you to look at these first:
#2 – It Is An Expensive Pay-To-Win Platform!
The way the commissions are modeled out make it look like the higher you pay out, the higher your profits will be.
So, you're going to have to spend as much as $5,000 to get the most of every dollar you could potentially earn in order to get your ROI faster.
What I Like About Funnel X ROI?
#1 – Comprehensive And Powerful
As I mentioned earlier, the Funnel X ROI is a powerful tool when it's in the right hands.
And by right hands, I mean those who're experienced in affiliate marketing.
The system is also very comprehensive in a sense that each individual program almost synergizes with one another.
You're not looking at another marketer trying to sell you products he's affiliated with, rather you're getting products from a marketer who knows that they work.
Funnel X ROI looks to be a comprehensive and legitimate online marketing system that's intended to get you the thickest possible revenue stream.
However, there are a few reasons why this program is not recommended for anyone. First and foremost, it's a pay-to-win platform because of the way the commissions are all laid out.
In order to earn more, you have to pay more.
And because you have to pay more, the program becomes a little bit more expensive, so it's really puts your ROI in jeopardy.
However, it's a very good program designed for experienced affiliate marketers but is not intended for beginners.
How I Make a Living Online?
I've personally created a 4-Figure Monthly Passive Income Stream and become financially independent at just 21 years old without any College degree or working experience!
Through my own hard work, I went from a broke restaurant waiter to living my dream laptop lifestyle in less than a year's time...
If you want to discover the secrets of how I did it at such a young age, click here!