11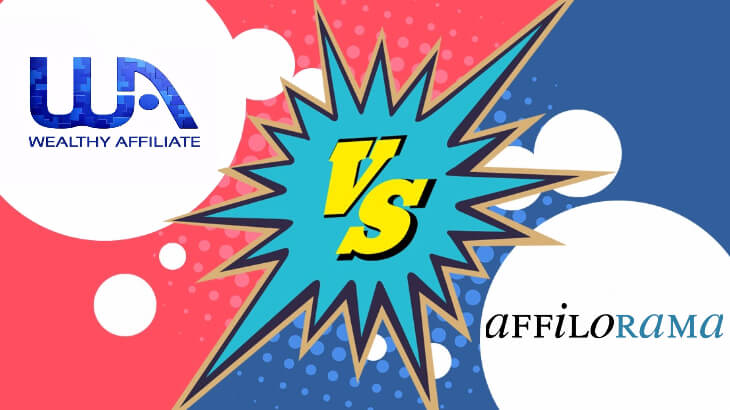 Wealthy Affiliate VS Affilorama Review 2018 (I've Tried Both of Them)
Wealthy Affiliate and Affilorama are two of the largest affiliate marketing training platform in the market. So, you might be wondering which one is better for you since they're offering similar stuffs.
Before we get started, just a quick disclosure that I'm a member and affiliate of both Wealthy Affiliate and Affilorama so I have first-hand experience with both platforms.
In this Wealthy Affiliate VS Affilorama Review, I just want to offer my honest opinion and comparison about both platforms to help you decide which one is for you. Is that okay?
But if you just want to quickly know which one I recommend, check out this quick comparison table below:
More...
Wealthy Affiliate VS Affilorama Review: Quick Comparison
Wealthy Affiliate
Price: Free (Starter), $49/month (Premium) + No upsells
Free Training: 10 Getting Started Lessons to walk you through the basics of affiliate marketing and setting up a FREE website at WA
Premium Training: 50 Lessons of intensive affiliate marketing training covering everything you need to know to run a successful and profitable affiliate marketing business, Weekly Live Webinars, thousands of community training contributed by fellow WA members
Support: 24/7 from both WA professional support team, owners of WA and thousands of WA members worldwide
Other Resources: Website Builder, Web Hosting, Keyword Research Tool (All included in Premium membership)
Affilorama
Price: Free (Basic), $67/month (Premium) + Upsells
Free Training: 80+ Video Tutorials with written notes covering the basics about setting up your affiliate marketing business, SEO, PPC and some interviews
Premium Training: Monthly subscription-based Affiliate Marketing resources and training which include webinars, interviews, etc.
Support: Call & Email support provided but not 24/7, hardly to get any support from the owner directly, support from thousands of Affilorama members worldwide
Other Resources: AffilioBlueprint ($197), AffiloJetpack ($997), AffiloTools (Free for Affilorama members)
I'll personally recommend Wealthy Affiliate over Affilorama for the following reasons:
Wealthy Affiliate is much cheaper than Affilorama
But at the same time, WA's training and resources are more thorough and up-to-date
WA support is much better than Affilorama (I personally enjoy the 24/7 professional support from WA)
There's a 24/7 Live Chat area in WA where you can get immediate help as well
Now, let's dive into detailed comparison between the 2 platforms...
Wealthy Affiliate VS Affilorama: Pricing
Similarity
Both platforms have a Free Membership option which is great. They don't have a limited trial period as well. Which means you can enjoy their Free Membership for as long as you want. (i.e. lifetime access)
Also, they both have a 7-Day Premium Membership promotion period. For Wealthy Affiliate, you can enjoy your first month of Premium Membership at $19 while you can get first month Affilorama Premium Membership at just $1.
This promotion is only applicable if you upgrade within 7 days for both platforms.
Difference
Wealthy Affiliate Premium Membership charges at $49 per month and $359 per year. Whilst Affilorama Premium Membership charges at $69 per month. There's no yearly payment for Affilorama but I heard there's a 3-year membership price at $497. To get this 3-year membership, you'll need to contact Affilorama support for it.
Wealthy Affiliate VS Affilorama: Training
Free Training
Wealthy Affiliate has 10 Lessons that are available to Free Starter Members. These are the 10 lessons included:
Introduction to Wealthy Affiliate & Affiliate Marketing
Understand How to Make Money Online
Choose a Niche
Building Your Own Niche Website
Setting Up Your Website
Getting Your Site Ready for Search Engines
Creating Your Initial Website Content
Creating Custom Menus on Your Website
Understanding Keywords
Recap & Upgrade to Premium
For Affilorama, their Free Training includes more than 80 Video Tutorials with written notes in PDF form that cover much more affiliate marketing information. These include:
Basics of affiliate marketing
Setting up your domain, hosting and website
SEO, Email marketing, PPC, etc...
As you can see, Affilorama's Free Training is more thorough as compared to Wealthy Affiliate's Free Training. WA's Free Training is much limited and more focused on upgrading to Premium Membership.
Premium Training
As for Premium Training, Wealthy Affiliate is much better than Affilorama as Affilorama Premium Training does not have much more value than its Free Training. What's included is just a couple of more video training as well as AffiloMagazine which includes a monthly webinar, interview and some other resources.
On the other hand, Wealthy Affiliate's Premium Membership grants you access to everything within the platform. This include:
50 Affiliate Marketing Lessons
Weekly Live Training on advanced internet marketing topics
Thousands of Community Training on a wide range of topics
Basically, there are endless of knowledge you can learn from Wealthy Affiliate because there are new training being added every single day and there's a weekly live training by WA coach.
And one of the biggest difference between WA and Affilorama is that WA's training are constantly being updated while Affilorama's training are not. Some of Affilorama's training are outdated. This includes training on backlinks and Private Label Right (PLR) contents.
Wealthy Affiliate VS Affilorama: Support
In terms of support, Wealthy Affiliate wins Affilorama once again.
Wealthy Affiliate has a very complete support system which includes:
24/7 Technical Support (for any problems you face on your website)
24/7 Live Chat within the community for you to get immediate help anytime
Able to Private Message all the members so you can get help directly from more experienced members
Discussion areas within each training so you won't get lost at each step
Able to privately contact the owners of Wealthy Affiliate should you have any inquiries
For Affilorama, these are the supports included:
Call Support (Mon-Fri 5pm to 1am EST)
Email Support (reply within 24 hours)
Forum where you can get help from fellow Affilorama members
As you can see, Wealthy Affiliate has a much more comprehensive support system than Affilorama for sure.
Wealthy Affiliate VS Affilorama: Other Resources
Wealthy Affiliate
These are the additional resources you'll get as a Wealthy Affiliate FREE Member:
Website Builder
2 FREE websites running on SiteRubix subdomain (you can transfer it to your own domain anytime)
Free Trial Keyword Research Tool
These are the additional resources you'll get as a Wealthy Affiliate Premium Member:
Hosting up to 25 domains
FREE SSL Certificates for all your websites
Full access to Wealthy Affiliate's Keyword Research Tool (which include SERP analysis, Site Ranking Research, Affiliate Program research, etc.)
Website Feedback and Commenting platform which allows people to offer feedback and comments on your website
If you're a Premium Member, everything within WA will be available to you without any upsells. However, this is not the case for Affilorama. Let's take a look...
Affilorama
With Affilorama Premium Membership, you can host up to 15 domains in their platform. Apart from that, below are their 3 main resources available:
AffiloBlueprint is a 12-week step-by-step course with detailed videos to guide you on how to set up your affiliate website and how to start running your own affiliate marketing business. There are homework for you to complete every week so that you won't get lost.
With AffiloBlueprint, you'll have access to 1-month Affilorama Premium Membership. However, this is a one-time investment of $197 which makes me wonder what's the difference between AffiloBlueprint and Affilorama Premium since they are very similar. I'm also wondering why this step-by-step video course is not included in Affilorama Premium. Probably it's just an additional upsell to make money?
#2 AffiloTools (Free for Premium Members)
AffiloTools is a tool package that includes:
Search Engine data
Keyword Research
Website Stats Tracking
Competitor Analysis
Site Health
Backlink builder
This is a decent tool for package for internet marketers. However, tools like backlink builder is kind of outdated as building backlinks is not that relevant today.
AffiloJetpack is a done-for-you affiliate marketing package which includes:
5 high-profit-potential niche packs
WordPress theme
90 top-quality newsletter
3 ebooks
20 articles
Professionally designed graphics
One-click hosting for 1 year
Traffic generation training
Basically, this is for those who don't want to do-it-yourself and and have the capital to invest in this high-ticket package to get results faster.
Both Wealthy Affiliate and Affilorama are not scams. They are two of the top leading platforms in this affiliate marketing training market.
And both have their own pros and cons. But what I think is more important today is training and support as these are the most important thing for beginners who want to learn affiliate marketing.
For training, Wealthy Affiliate clearly wins Affilorama as some of Affilorama's training is outdated while Wealthy Affiliate has fresh new content being added and updated every single day.
For support, Wealthy Affiliate again clearly wins Affilorama as they have a very complete and convenient support system for anyone to get help 24/7.
So, I guess the winner is very clear. Drum roll please... (LOL)
Wealthy Affiliate is My Top Recommended Platform to Build Your Profitable Affiliate Marketing Business