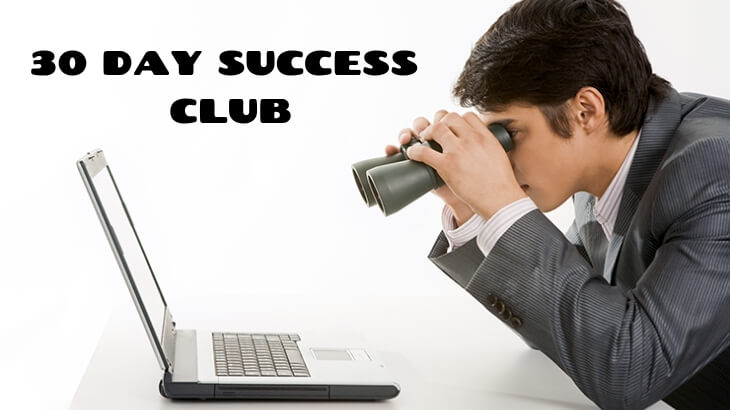 Is 30 Day Success Club a Scam? Three Reasons To Avoid It!
Welcome to my 30 Day Success Club review!
There seems to be a large influx of ClickBank products that debuted over the last year, and they're starting to go right under my radar.
Let me talk about 30 Day Success Club, and why it's not successful at all.
First of all, I must Congratulate you for taking your time to do your own research before buying into any "seemingly good" product.
That's the way to avoid scams and find the legitimate way to make money online!
Let me be completely transparent with you, I'm not associated with 30 Day Success Club in any form.
So, rest assured that I'm not here to pitch or sell anything to you.
Instead, I'm here to reveal why 30 Day Success Club appears to be a scam, and why I'll give you three reasons to avoid it.
30 Day Success Club Review Summary
Product Name: 30 Day Success Club
Founder: Not disclosed
Product Type: Affiliate Marketing Platform
Price: $37 one-time fee plus upsells
Best For: NO ONE!
Summary: 30 Day Success Club is an affiliate marketing platform that provides done-for-you websites to host your affiliate products with. However, there are several red flags that were raised as I wrote this review and why I have reason to believe that this is a scheme. First, there's no information about who the owners are and they even use fake testimonials to hide the truth about their program. Second, they are selling outdated traffic strategies that are not sustainable in the long run! This program is not meant for anyone at all.
Rating: 1/100
Recommended: No
More...
What is 30 Day Success Club?
30 Day Success Club is a ClickBank Marketplace product that claims it can help people make money online.
And it's based on a legitimate business model that sites like Smart Affiliate Success are using: affiliate marketing.
And they'll tell you in their sales video that you can make a 4-digit income every month.
But what they don't tell you is how the actual process of affiliate marketing works, and how websites work.
This product apparently targets people who don't know anything about how affiliate marketing works.
Their sales video is basically them just rambling about a system that could help you earn thousands of dollars a month, with only a few minutes of your time per day.
And I'm not surprised either.
I've reviewed similar other products on ClickBank such as The Ecom Formula, and Five Minute Profit Sites.
These sites are similar to 30 Day Success Club because they all use the same scheme, which is a misrepresentation of affiliate marketing and the use of nothing but hype to sell their products.
Inside 30 Day Success Club
Okay, so the way 30 Day Success Club works is that once members have paid the one-time cost, they'll be taken to the members' area, which will have a site builder (a common feature used to create websites within a website).
Once you're in the site builder, you'll be asked to input data for your website and it will then be created with products you can earn commissions from.
Now, this is a legitimate way to make money because this is how affiliate marketing works (in a nutshell).
From what I can surmise from their system, you're getting affiliate products from ClickBank Marketplace.
Again, there's nothing wrong with the way their scheme works (at least in terms of getting products from ClickBank).
ClickBank is one of many vendors where you can subscribe to different affiliate products, but I doubt of the quality of products they curate for you.
After that, your website is good to go and ready to make some money.
I'm Jerry!
I Created My Own 4-Figure Monthly Passive Income at just 21 Years Old!​
How Real Websites Work & Why 30 Day Success Club Won't
Now if 30 Day Success Club existed 10 years, their system might have worked, and you could potentially earn thousands of dollars a month.
But nowadays, you just can't set up a website and get thousands of visitors on day 1.
It just doesn't work that way.
30 Day Success Club's sales video claims that you can use the free traffic for this, which allows the system to get the income that it claims you could get.
But the strategies they are teaching you is to spam your website's URL all over the web like on social media sites, forums, blogs, and even doing videos.
While you could get a trickle of traffic, it's not a sustainable method in the long run because Google and other search engines frown upon spamming your website's URL.
What's Missing?
What's missing from 30 Day Success Club's free traffic strategy is that they don't teach SEO or search engine optimization.
This is an important process if you want to get the search engines to notice your website.
How To Get Started With 30 Day Success Club?
Contrary to what their landing page and sales video are saying, it's not free to get your website made with 30 Day Success Club.
Your upfront cost to get into the system is $37, and this is just to cover the costs of your website.
Then there's the upsells, which are nothing but affiliate products of the 30 Day Success Club's creators (from which they'll earn if you buy them).
Email Compatibility - $37: This allows you to integrate email autoresponders like Aweber or GetResponse to get more leads.
3x More Sites - $47: This allows you to build more websites so you can, in their theory, drive more impressions to your links and traffic.
Heatmaps - $47: This allows you to install analytics (not Google's) on your website so you'll see where people are clicking and which pages they're visiting.
Who's 30 Day Success Club For?
There's no one that would recommend this program to, and I would list down all of the reasons why in the next section below.
If you want to get into affiliate marketing, there are better platforms out there that could provide you with a more solid and more stable foundation.
Here's my step-by-step guide on affiliate marketing that you can check out with no costs or no commitments.
30 Day Success Club Ugly Truths Revealed!
#1 – Fake Testimonials And Endorsements
On their sales video, you'll have their so-called customers tell you about how successful they are with 30 Day Success Club's system.
But if you take a closer look, and listen intently, you'll realize that they're probably reading off a script.
And that's because those folks are paid actors from a site called Fiverr, a content marketplace where you can hire people to do a spokesperson video for a few bucks.
The use of fake testimonials says a lot about what the company is all about.
For 30 Day Success Club, using fake testimonials mean that they are hiding the fact that there's no way for you to earn money from the site.
#2 – Outdated Traffic Strategies
One of the biggest issues that you have to face in owning a website is traffic.
You can forget about having a website with all of the products in place if you can't get people to visit it.
With 30 Day Success Club, you're looking at outdated traffic strategies from sources that involves spamming your URL.
The strategies include:
Forum posting
Guest blog posting
Social media
Leaving comments
YouTube videos
If this was 10 years ago, their strategies would have had merit and would've worked. But Google has cracked down on these strategies and have limited your potential from getting a good ranking in Google.
#3 – Done-For-You Systems Have No Sense Of Stability!
Done-for-you systems are unreliable and unstable in the long run because these are hosted on the main company's site.
So once the company goes offline, every other site hosted on it goes down too.
You also can't make edits, change themes, or have any form of control over your website's design.
What I Like About 30 Day Success Club?
There's nothing positive worth mentioning about 30 Day Success Club in this review, for the sole reason that the disadvantages have greatly outweighed anything good (if any) about the program.
Is 30 Day Success Club a Scam?
The biggest issue that I have with 30 Day Success Club is that they have the makings of a scam.
Which is why I would advise anyone to not purchase this program, or its related upsells.
Apart from having no information about the who the real owners are and the fact that they are using fake testimonials, selling outdated strategies to novice marketers is kind of a BS move to be honest.
The only people that benefit from the program are the creators.
How I Make a Living Online?
I've personally created a 4-Figure Monthly Passive Income Stream and become financially independent at just 21 years old without any College degree or working experience!
Through my own hard work, I went from a broke restaurant waiter to living my dream laptop lifestyle in less than a year's time...
If you want to discover the secrets of how I did it at such a young age, click here!