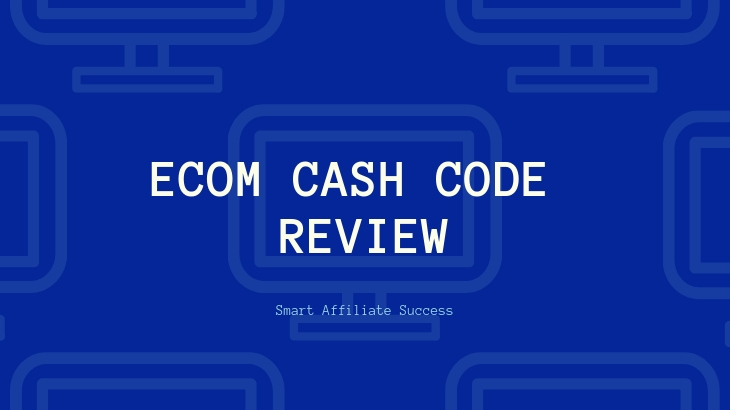 Ecom Cash Code Review – Nothing More Than A Sales Funnel!
Welcome to my Ecom Cash Code review!
Let's cut to the chase. This is just one of many programs that promise that you can get rich quick by using a secret exploit or scheme that marketers are not using.
In reality, these programs are nothing more than sales funnel for another program (which I'll reveal below!)
This is Ecom Cash Code.
First of all, I must Congratulate you for taking your time to do your own research before buying into any "seemingly good" product.
That's the way to avoid scams and find the legitimate way to make money online!
Let me be completely transparent with you, I'm not associated with Ecom Cash Code in any form.
So, rest assured that I'm not here to pitch or sell anything to you.
Instead, I'm here to reveal what this program is going to lead you into, and why this is nothing more than just a waste of time.
I know it wasted mine.
Ecom Cash Code Review Summary
Product Name: Ecom Cash Code
Founder: Probably Teo Vee
Product Type: Affiliate Marketing Platform
Price: $97 (one-time fee) plus upsells
Best For: Absolutely no one!
Summary: Ecom Cash Code promises that you can get rich quick by giving you a plugin that you can use on other sites to get money. There are just a lot of things wrong with their program, and I'll go over them in this article. But the biggest issue that I have with their program is that this is nothing more than a sales funnel for another program (which I'll reveal in this article!)
Rating: 1/100
Recommended: No
More...
Ecom Cash Code over at Cash Code Secret claims that they have "a code that legally taps into the purchases of customers from all over the world."
That's what they say on their sales video.
In their video, the host consistently repeats the phrases "plugins" and "follow the code on any number of websites" which doesn't make any sense at all but he says that you can make money off of their program.
The concept that the company is trying to present to you is a bastardized version of affiliate marketing.
In the real world, affiliate marketing involves getting you a special link (not a plugin) and may require coding (which the program uses in its pitch).
This code will track back to you so you can earn commissions every time someone clicks on your link and buys the product you are affiliated with.
That's the gist of realistic affiliate marketing.
But Ecom Cash Code does not really teach you the entire concept of affiliate marketing. If he did, then he wouldn't be telling you that you could make 5-figures online in your first month.
Because that's not how affiliate marketing works.
Before I tell you about the nuts and bolts of the program, I want to tell you what Ecom Cash Code is all about.
This is nothing more than a sales funnel for another program called My Ecom Club, a dropshipping course developed by Teo Vee.
What does this mean?
Ecom Cash Code is not a program but it's just a sales page that tricks you into selling you a different program.
In any case, this is highly unethical because you're buying a program that sells you another program that sells you more products.
How Does Ecom Cash Code Work?
Ecom Cash Code works by getting you into the sales page, usually via email or an online ad, and the page only has one goal: to get you to pay $97 to gain access into the system.
To make this happen, they'll present you with "get rich quick" hypes and other BS claims.
If you do buy into the program, you're just gaining access into some basic training on how to make money with eCommerce, specifically via a business model known as dropshipping.
Dropshipping is a business model that allows you to setup a website that sells physical products.
But when someone buys from your store, they are buying directly from the wholesaler.
You don't need to stock on any inventory and you're basically the middleman between the customer and the wholesaler.
Now this is a legitimate business model and I've known people who're successful using this model, but it's not as easy as it sounds.
Dropshipping is just like running a business with actual products because of the hidden costs involved and the many moving parts behind the scenes.
But you're not going to know all of this until you fork over the $97!
I'm Jerry!
I Created My Own 4-Figure Monthly Passive Income at just 21 Years Old!​
So What Are You Buying?
When you buy into Ecom Cash Code, you're really buying into My Ecom Club, so I know for a fact that the upsells are going to cost you at least $2000 and it goes on higher from there.
Teo Vee is involved with My Ecom Club, along with other questionable programs, and that he uses multiple sales funnels (like Ecom Cash Code) to get people into the site.
My Ecom Club provides you with training on e-commerce, specifically on dropshipping via Shopify and AliExpress.
In my review, the training isn't all that bad and it's not as bad as you would expect judging from the ridiculous marketing tactics to get you to buy into it.
However, the program is pricey due to the upsells, which cost thousands of dollars.
Who's Ecom Cash Code For?
Ecom Cash Code is not meant for anyone, and I'll tell you why.
There's nothing of value that's being provided by the program at all.
There are better dropshipping courses out there that provide you with better quality of training, such as Amazing Selling Machine.
Ecom Cash Code Ugly Truths Revealed!
#1 – You're Not Getting Anything At All!
By the way they marketed the program, they're making it look like you're buying into a "get rich quick" scheme but you're not getting that.
You're buying a code that you can plugin to any site that's supposed to help you make thousands of dollars a month.
That's just too good to be true because if there was such a code, why isn't anyone else using it and why is it still a secret?
Ecom Cash Code's claims and features just don't add up and it sounds like every other scam that I've reviewed over the past few days.
I don't even think that you're buying an actual system or a program, let alone a training course. You're getting nothing for your $97.
#2 – Fake Testimonials
And just like My Ecom Club, Ecom Cash Code is not without fake testimonials, and they're just as obvious.
I mean just look at one of the testimonials from Ecom Cash Code.
To the ill-informed, these testimonials are not to be believed since they are from paid actors from a site called Fiverr, an outsourcing website that allows you to hire people for content.
I've seen these testimonials all over the Internet as well.
Granted they're from different programs, but I guarantee you that the people in the testimonials are all the same.
#3 – Affiliate Marketing Does Not Work This Way!
One of the biggest issues that I have with programs like Ecom Cash Code is that they are presenting the opportunity of affiliate marketing the wrong way.
Ecom Cash Code presents you with a "plugin" that requires minimal coding that you can add into any website and then you'll start to earn some serious cash.
Let me tell you three things about that statement alone:
You can't manually code into another person's website. You have to access the HTML files on their hosting server and then paste your code within those files.
There's no such thing as a plugin in affiliate marketing. The notion of it is ridiculous. You'll have referral URL's or affiliate URL's, but no plugins to install.
You can earn some serious cash on affiliate marketing but there's a lot of work involved and it goes beyond using a plugin.
What I Like About Ecom Cash Code?
There's absolutely nothing that I like about Ecom Cash Code, and I'm going to explain that in the next section.
When I review programs and systems, I comb through them one by one to check for features, benefits, and bonuses that might be beneficial to the customer.
And yes, even if I list down ten negative feedback about a system, it doesn't mean that the entire system is bad.
If a program had ten negative feedback, but only one positive feedback such as its money-back guarantee or a free trial, then those are worth mentioning in any of my review.
Is Ecom Cash Code a Scam?
Ecom Cash Code is something that I would advice my readers to avoid because this program is nothing more than a sales funnel to a dropshipping course.
You're paying money for a system that promises you that you'll get rich, only to lure you into another system where you have to fork over more cash.
On top of fake testimonials and unrealistic claims on their landing page, there just seems to be nothing of value with this program.
How I Make a Living Online?
I've personally created a 4-Figure Monthly Passive Income Stream and become financially independent at just 21 years old without any College degree or working experience!
Through my own hard work, I went from a broke restaurant waiter to living my dream laptop lifestyle in less than a year's time...
If you want to discover the secrets of how I did it at such a young age, click here!