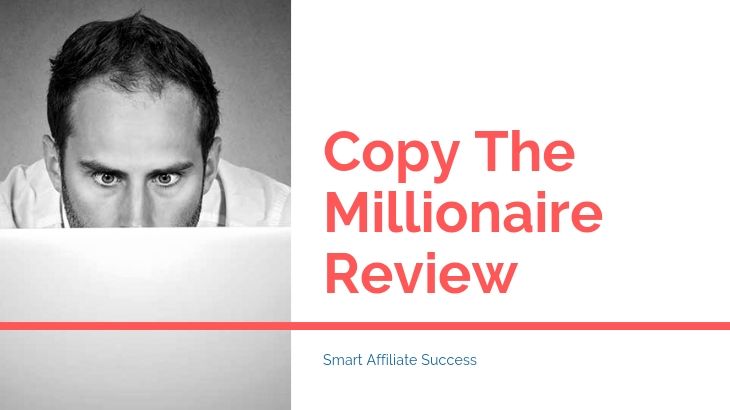 Copy The Millionaire Review – This Scheme Is Unlike ANY OTHER!
Welcome to my Copy The Millionaire review!
I received an email about this program not so long ago but didn't feel like reviewing it because there were other programs that needed my attention.
Then just recently, I received another email about this program but I noticed something different.
Intrigued, I opened the email and I was surprised at what I found!
This is Copy The Millionaire.
First of all, I must Congratulate you for taking your time to do your own research before buying into any "seemingly good" product.
That's the way to avoid scams and find the legitimate way to make money online!
Let me be completely transparent with you, I'm not associated with Copy The Millionaire in any form.
So, rest assured that I'm not here to pitch or sell anything to you.
Instead, I'm here to reveal what makes this scheme unlike any other and how it works!
Copy The Millionaire Review Summary
Product Name: Copy The Millionaire
Founder: Not disclosed
Product Type: Affiliate Marketing Sales Funnel
Price: $37 + $47 per month for the products, plus thousands of dollars for upsells!
Best For: No One!
Summary: Copy The Millionaire is a sales funnel for two high-ticket programs that are both questionable in their own rights. One of them even got shut down by the FTC! That's more than enough reason to stay away from this program and why it's not worth your time and money!
Rating: 1/100
Recommended: No!
More...
What is Copy The Millionaire?
My first impression of Copy The Millionaire is that it's a get-rich-quick scheme because of how the landing page is laid out.
It's a sales page with a video and a high-income claim of $3,245 per day. Again, it's a very accurate number so that's questionable.
Further research also led me to two pages (a .com and a .net address), and I thought that these pages were both used for the same program.
Both contained videos, but they're not exactly the same. Both were narrated by different men, but they use the same sales pitch.
This is what they have in common in both sales videos:
You don't need skills or previous experience
No need to create your own products
Potential to make thousands of dollars in commissions
Fool-proof, automated system
You get all the tools needed and a mentor
People who tried them have made thousands of dollars in a short period of time
It sounds too good to be true because they make it sound like it's easy to make money with affiliate marketing and that you don't need to lift a finger.
After watching both videos, I already have an idea on what these programs are all about, and I don't like the fact that there are things that they're not mentioning in the video or on their sales page.
Inside Copy The Millionaire
I don't know whether or not there's money to be made here with Copy The Millionaire and I'll tell you why in the next sections below.
But what I want you to know is that Copy The Millionaire is not the name of the program here. In fact, there's no program for Copy The Millionaire.
Both .com and .net websites are merely landing pages created to market other programs:
The .net funnels you to Aspire (Digital Altitude) by Michael Force
The .com funnels you into 6 Figure Business System by Jeff Lerner
Both programs are very similar and they're high-ticket affiliate marketing programs that use a MLM or multi-level marketing business model.
I'm Jerry!
I Created My Own 4-Figure Monthly Passive Income at just 21 Years Old!​
How Does Aspire work?
Aspire is actually the first and cheapest membership of Digital Altitude.
It costs $37 per month to join and provide you with digital marketing training.
However, the training only revolves around how you can sell the Digital Altitude membership levels and packages.
Their training does not encourage you to build your own site.
But in order to make real income here, you have to purchase all of the membership levels before you can start reselling them.
That totals to about $57,000 in total.
You read that right: you're going to spend thousands to earn thousands.
Their business model is the reason why they got shut down by the FTC, as they got flagged as a pyramid scheme.
You can read about the official press release by the FTC here as well.
How Does The 6 Figure Business System Work?
The 6 Figure Business System is similar to how Aspire works.
You'll have to cough up $49 for the initial set-up fee and includes a 7-day laptop lifestyle training, one-on-one coaching, and done-for-you sales and marketing.
To make commissions, you have to sell the program and other products of Jeff Lerner's.
The sponsor, or mentor, will not only help you close sales but will also help you purchase Lerner's products. My guess is that he'll give you his own affiliate links so he can earn off of you.
This is also a pay to play system, so you'll have to spend thousands to earn thousands.
What You Need To Know?
There are a few things that I need you to know about these two programs before you even decide to jump in.
Digital Altitude was shut down by the FTC and has been flagged as a pyramid scheme. I cannot stress this enough, so that's why I mentioned it again in this section.
Both programs don't market any automated system, and there's no legitimate automated affiliate marketing system as of this writing.
Affiliate marketing is a legitimate business model, but not just the way Aspire and 6 Figure Business System describe it.
Let me also tell you that majority of the people who join these programs fail at their business ventures.
Let's take a look at Lerner's 6 Figure Business System's earning disclaimer. You'll see the following statistics:
Insert Copy The Millionaire 6 Figure Business System Income
37.5% of active affiliates makes LESS THAN $100 a month. These are active affiliates. It doesn't count those who dropped off after a month.
People earning more than $100 drop to about 1% of all the active affiliates. Most likely these are the owners who're earning at the top level.
The truth is simple. Most people don't make the amount of money that they're promising you on their sales video!
Who's Copy The Millionaire For?
No one.
Both Aspire and 6 Figure Business System are not meant for anyone who wants to make a legitimate business online.
If you want to set up your own business based on your passions, come check out my step-by-step guide on affiliate marketing.
It's FREE!
It doesn't require you to sign up for anything.
Copy The Millionaire Ugly Truths Revealed!
#1 – The ACTUAL Programs Are Hidden From You!
Here's why I don't like sales funnels in disguise. The program doesn't tell you what it's actually selling until you fork over your money.
And then this is where the program starts to crumble since the actual programs marketed are now revealed!
#2 – The Program Promotes A "Pay To Play" Business Model!
They say nothing about how you have to spend thousands of dollars to earn thousands of dollars in return.
I find this very misleading because they say that you can make thousands of dollars per day, but don't go into the mechanics as to how that's actually done.
And from what I posted above, no one ever really earned thousands of dollars (except for the owners of these programs).
#3 – No Such Thing As Automated Systems!
There's no such thing as an automated system that's going to help you make a lot of money without lifting a finger.
At least there's no legitimate system that is.
But the programs promoted by Copy The Millionaire don't even provide you with any form of automation!
They just misled you into thinking that you're getting something, but in reality, you're only getting training programs to sell their products.
What I Like About Copy The Millionaire?
Nothing!
This program, and all the other programs associated with it, will not benefit anyone else except the owners.
You're better off with some other program, but stay away from this one.
Is Copy The Millionaire a Scam?
Copy The Millionaire may not be a scam, but it does funnel you into questionable programs.
These programs are both high-ticket programs that require you to spend thousands to earn thousands, and that's why this business model is never going to help you succeed!
They also market automated systems, but they actually sell you training programs on how to sell their products. It doesn't set you up with a foundation for affiliate marketing at all!
How I Make a Living Online?
I've personally created a 4-Figure Monthly Passive Income Stream and become financially independent at just 21 years old without any College degree or working experience!
Through my own hard work, I went from a broke restaurant waiter to living my dream laptop lifestyle in less than a year's time...
If you want to discover the secrets of how I did it at such a young age, click here!