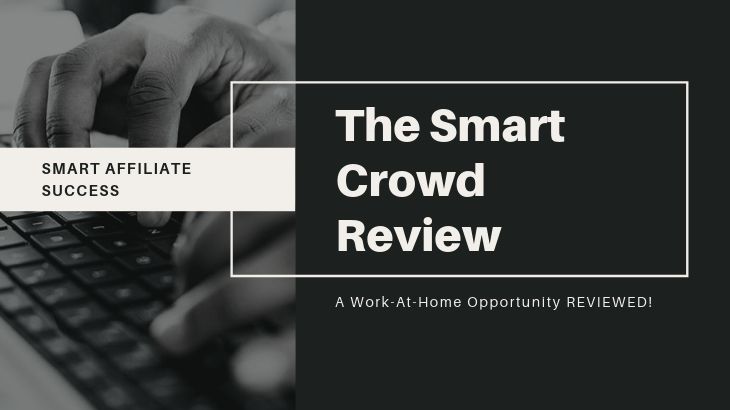 The Smart Crowd Review – A Work-At-Home Platform REVIEWED!
Welcome to The Smart Crowd review!
Work-at-home opportunities continue to grow in popularity because it allows people to work from the comforts of their own home and at any time of their choosing.
And I'm talking about opportunities such as paid surveys, get paid to programs, and even part-time odd jobs posted online by legitimate companies.
Today, we're going to talk about these odd jobs online and how you can make a decent living (if possible) out of these programs.
And one of those job providers is The Smart Crowd.
First of all, I must Congratulate you for taking your time to do your own research before buying into any "seemingly good" product.
That's the way to avoid scams and find the legitimate way to make money online!
Let me be completely transparent with you, I'm not associated with The Smart Crowd in any form.
So, rest assured that I'm not here to pitch or sell anything to you.
Instead, I'm here to reveal if they provide better job opportunities or not compared to their competitors and if they're worth the time and effort.
The Smart Crowd Review Summary
Product Name: The Smart Crowd
Founder: Lionbridge
Product Type: Work-At-Home Platform
Price: Free to join
Best For: Anyone who wants to do odd jobs online
Summary: The Smart Crowd is a work-at-home platform that links freelancers like you to companies such as Google and Apple. They provide listings for data-entry and other jobs to you for varied rates. However, it's not something I would recommend if you're looking for a source of full-time income due to its low income potential and scarce job opportunities. But if you don't mind the pay rate or just want to earn a few bucks online, then this might be worth checking out.
Rating: 50/100
Recommended: Yes and No!
More...
Smart Crowd, formerly known as Virtual Bee, acts as a middleman between companies such as Adobe, Canon, and Google and you (the freelancer).
These companies give tasks to Smart Crowd and you may be hired to complete these tasks as the freelancer.
The company is founded by Lionbridge, a publicly-traded company, and is featured as one of the top 100 employers by Forbes.
As of this writing, Lionbridge and Smart Crowd have employed more than 100,000 people around the world as part of their growing freelancing team.
The Smart Crowd jobs are available to almost anyone in the world, as long as they have a working computer, a decent Internet connection, and at least 18 years old at the time of signing up.
There are no qualification requirements, but you will be asked to fill up a questionnaire that asks for personal details.
Once you're done with the questionnaire, you'll then be asked to do a simple skills and placement evaluation.
Placement Evaluations
These are tests that you need to complete so companies can select participants based on their scores. The scores are from 0 to 100 for each test.
These tests comprise of:
Reading comprehension in English: 10 questions about an English article.
Business address matching: You're shown 2 addresses, and you need to determine whether they are the same or not.
Reading Comprehension in a second language: Chinese, French, German, Italian, Japanese, Koren, Polish, Portuguese, Russian and Spanish.
Before you can start applying for a job, you have to complete at least one of these tests. The more tests you take and the higher your score is, the more jobs will be made available to you.
The reading comprehension is quite easy, but the business address matching test can be tricky at times so it helps to pay attention to the details.
There's no time limit to complete these questions, and as far as I am concerned, there doesn't seem to be anything you need to download to take the test.
Don't rush the tests as well because you only have one chance to complete these evaluations.
Once you're done with the evaluations, you should keep checking your email for new work opportunities.
I'm Jerry!
I Created My Own 4-Figure Monthly Passive Income at just 21 Years Old!​
What Kind of Jobs Smart Crowd Offers? (And How Much Can You Earn)
You'll get emails for jobs opportunities as soon as you completed the profile questionnaire and their placement evaluations.
Don't be surprised if you don't get one immediately. Most of the time, they'll send you a few jobs per month.
The better your score is with the placement evaluations, the more job offers you'll get.
Most of the jobs you'll get from Smart Crowd are mainly data entry and translation jobs. These companies that work with Smart Crowd want to outsource these jobs that anyone can do but don't want to hire in-house employees for it.
The jobs listed are not complicated and requires very little to no training at all.
The most popular jobs include:
Ads Quality Rater
Internet Accessor
Interpreter/Translator
Search Engine Evaluator
Social Media Evaluator
Map Quality Analyst
Test Associate (testing games, apps etc.)
Transcriptionist/Validator
Voice Data Collection
Now, these are all freelance positions, so you're not exactly an employee of the company and they're not always hiring in your area.
Sometimes, they'll only have a few job postings available for certain countries. Again, this depends on how many companies want to outsource their jobs.
How Much Can You Earn?
If you get hired, your earnings may vary from one job to another.
Data entry jobs pay per 1,000 keystrokes at a rate of 0.20 cents to 0.60 cents.
This isn't that big, so you're more likely to earn less than your country's minimum wage (especially if you're living in the US, UK, or other Western countries).
Insert The Smart Crowd Sample Salary Rate
You can also earn money by doing translation jobs. These have higher rates compared to data entry jobs, but they're so rare and requires a little bit more skill than others.
You may get up to $50 per hour for these translation jobs, but other than that, you're going to be stuck with the low paying job opportunities.
Who's The Smart Crowd For?
The Smart Crowd is for people who want to look for a part-time work doing odd jobs from various companies.
The pay may not be great, so if you think this is a source of full-time income, think again.
But if you want a legitimate source of full-time income, check out my step-by-step guide on affiliate marketing.
It's free and doesn't require you to sign up for anything!
The Smart Crowd Ugly Truths Revealed!
#1 – Lack Of Jobs Available!
Job opportunities are scarce in The Smart Crowd, so there's no consistency in terms of quantity coming in every month.
This is also affected by your evaluation scores, so if you scored low in any of them, you're getting lesser invites compared to those who got higher scores than you.
Jobs are also available based on skills and demographics, further limiting your chances of getting invited to one.
#2 – Low Income Potential!
You may be working as a freelancer, but the rates offered by the companies are abysmal.
You're earning cents or close to a dollar for data entry jobs, and then a decent amount for translation jobs.
And because they don't offer job opportunities consistently, you can't make a lot of money here.
What I Like About The Smart Crowd?
#1 – Different Jobs For Different Skills!
Despite having low income potential and job availability, Smart Crowd offers different jobs for various skills.
If you have a wide skillset, then you increase your chances of landing more job opportunities than the next freelancer.
#2 – Flexible Work Schedule!
You can work a 9-to-5 job at the office and still have time to work on the projects offered by Smart Crowd.
You're not required to commit to any work schedule or how many jobs you need to complete in a month. You have freedom as to when to work and how many projects to work on.
Is The Smart Crowd a Scam?
The Smart Crowd is a work-at-home provider that links you as a freelancer to various companies. Listed as one of the top 100 employers by Forbes, Smart Crowd is as legitimate as it can be.
However, it's not a decent source for full-time income as the income potential is very low and job opportunities are scarce.
But if you just want to do some odd jobs here and there, then The Smart Crowd is a good place to start.
How I Make a Living Online?
I've personally created a 4-Figure Monthly Passive Income Stream and become financially independent at just 21 years old without any College degree or working experience!
Through my own hard work, I went from a broke restaurant waiter to living my dream laptop lifestyle in less than a year's time...
If you want to discover the secrets of how I did it at such a young age, click here!