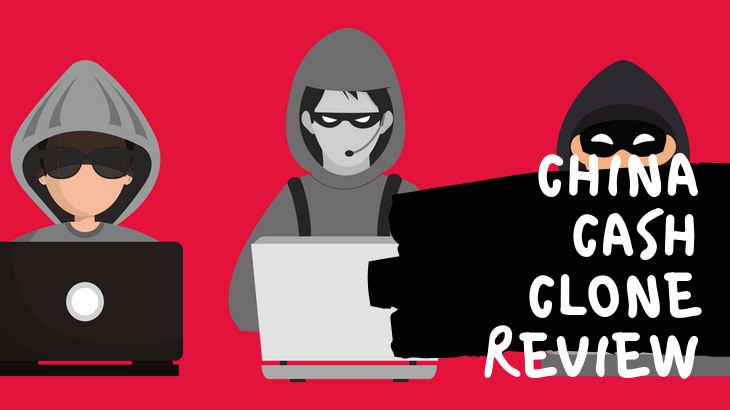 China Cash Clone Review – $700k in 6 Months? 100% BS!
Welcome to my China Cash Clone review!
Dropshipping is a legitimate business model, but scams like these give this business model a very bad name.
These scams make it look easy to get into and make it easy to make money from, but it takes a lot of hard work and patience to make this business model work for you.
One such dropshipping scam that we're going to expose today is called China Cash Clone.
First of all, I must Congratulate you for taking your time to do your own research before buying into any "seemingly good" product.
That's the way to avoid scams and find the legitimate way to make money online!
Let me be completely transparent with you, I'm not associated with China Cash Clone in any form.
So, rest assured that I'm not here to pitch or sell anything to you.
Instead, I'm here to reveal why you won't be making $700k with their program!
China Cash Clone Review Summary
Product Name: China Cash Clone
Founder: Daniel Barber
Product Type: Dropshipping Platform
Price: $9 + upsells
Best For: NO ONE!
Summary: China Cash Clone is a program that allows you to make money via dropshipping by exploiting a glitch that copies the successful dropshippers in China and what they do. However, this is far from being a legitimate program because it's an outright scam and I have proof! Fake owners, fake testimonials, and fake earnings are just some of the biggest red flags we uncovered here!
Rating: 1/100
Recommended: NO!
More...
What is China Cash Clone?
China Cash Clone is a program that supposedly makes you $5,000 a day through dropshipping. The creator of the program is Daniel Barber and he claims that he's able to do this because of a so-called "exploit" that allows you to copy the methods that successful dropshippers in China are using.
He explains that this glitch is the foundation of his revolutionary system and through his system, you only need to set up your own site and the system does it for you.
Daniel also claims that you can make as much as $700,000 in 5 months using his system and it only takes a few minutes to create everything.
Now if you're new to dropshipping, you need to know two things:
Dropshipping is a legitimate business model. There are platforms out there that are designed to help you build dropshipping sites.
Dropshipping courses also exist, and these will help you learn more about the business model.
Sadly, China Cash Clone isn't any of these things.
How Does Dropshipping Work?
In essence, dropshipping revolves around e-commerce where you can sell products straight directly from the manufacturer.
All you have to do is put the products up on your page, and the manufacturer ships these products to your customers.
You won't have to hold any physical inventory and you earn a commission every time you sell these products.
There are platforms such as Shopify and WordPress that you can work with and these will help you set up your business.
The member's area looks legit and upon further inspection, you actually get presented with a lot of upsells that aren't going to do anything for you.
Within the member's area, you're going to be asked to download 2 plug-ins and the actual software for your store.
Then you'll have to secure your own domain and hosting (China Cash Clone won't do this for you).
Then you get access to the training videos, which are absolutely BS because these are just information that you could get for free via Google.
Set up – 7.11 – Installing plug-ins and uploading the software.
Customization – 9.17 – Basic video on how to change a few things on the website like taking the standard phone number of it, changing in the logo, etc.
Woocommerce – 2.38 – I know absolutely nothing about Woocommerce and that still stands after watching this video
AliExpress – 6.08 – This video covers how to add products and change the pricing and import reviews.
Manage orders – 1.32 – Very rudimentary video that tells you very little.
These videos are less than 10 minutes in total, and you're paying $9 for these videos. You could watch better videos on YouTube at no cost!
I'm Jerry!
I Created My Own 4-Figure Monthly Passive Income at just 21 Years Old!​
The Upsells!
I don't like upsells. When products are listed as upsells, it means that they're not going to do anything for the business.
Here's my logic:
If another product is useful for the main product, then it should be included in the package. People won't mind paying for extra if it means that there's value to be had.
But adding another product after the fact just means that the owner just wants to milk more money from you.
Here are the upsells that you get after you login to the Member's Area:
OTO #1 – $197- Cash Clone X – This is a collection of 8 courses that include how to use Clickfunnels, trouble is Clickfunnels ranges from $97 a month to $297 to use.
OTO #2 – $147 – 3 Ready Made Profit Sources – Increase profits up to 785%
OTO #3 – $177 – Targeted Traffic Booster – Sources of targeted traffic
Who's China Cash Clone For?
China Cash Clone is not meant for anyone at all, and I am about to prove to you why this is nothing more than just a complete scam!
China Cash Clone Ugly Truths Revealed!
#1. Fake Earnings On Their Landing Page!
Here's what's actually funny on their landing page, and you'll still see them around!
On their landing page, they posted their top earners for the year where they post their total earnings.
Sadly, these are all fake.
As you can see, the members mentioned that they joined in 2018. But doing a WhoIs check for China Cash Clone's site shows that the site was created on March 2019!
How is that even possible, right? Unless these are time travelers, there's just no way that these claims are true.
#2. Fake Owner. I'm Not Surprised!
For someone who claims to have made a lot of money from dropshipping, it's difficult to find anything about Daniel Barber other than him being linked to this program.
But he doesn't really show his face or tell us anything about him in any of his sales videos.
This means only one thing. Daniel Barber is not a real person and he doesn't really exist. This is a typical Modus Operandi for scams like these because they wouldn't want anyone from their team to be legally liable for scamming their customers!
#3. Fake Testimonials!
Another red flag here is that the site uses fake testimonials in the hope of driving more hype towards the program.
These people are nothing more than paid actors from a site called Fiverr, a freelance marketplace for content creators.
You can pay like $5 to $10 for a decent and professionally-made testimonial that will look and sound legitimate!
What I Like About China Cash Clone?
China Cash Clone is not something I would praise because it's clearly an outright scam!
Is China Cash Clone a Scam?
Yes, definitely. China Cash Clone is an outright scam and all the red flags that prove that it's a scam are on its landing page.
Fake owners, fake testimonials, and fake earnings are the biggest red flags that we uncovered that prove that it's a scam, and everyone should just stay away from this program!
How I Make a Living Online?
I've personally created a 4-Figure Monthly Passive Income Stream and become financially independent at just 21 years old without any College degree or working experience!
Through my own hard work, I went from a broke restaurant waiter to living my dream laptop lifestyle in less than a year's time...
If you want to discover the secrets of how I did it at such a young age, click here!