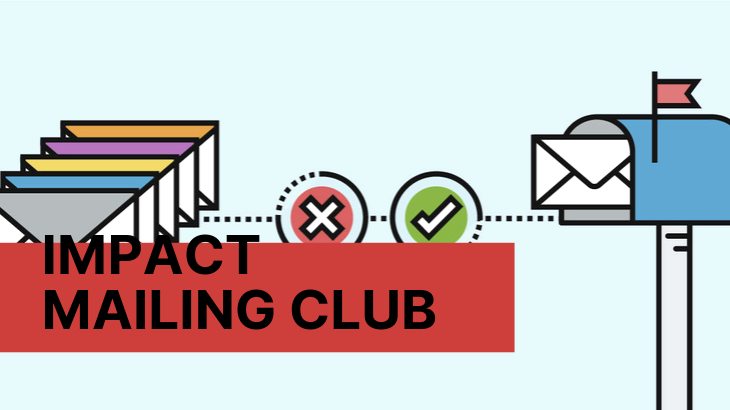 Is Impact Mailing Club a Scam? – Make Money By Mail? NO WAY!
Welcome to my Impact Mailing Club review!
Sending letters to make money?
I know what you're thinking. It's crazy and absurd, right? There's no way something like that is legitimate, you think.
Believe me when I tell you that this company has been doing this for quite some time now and I think it's time we shed light on what this scheme is all about.
This is Impact Mailing Club.
First of all, I must Congratulate you for taking your time to do your own research before buying into any "seemingly good" product.
That's the way to avoid scams and find the legitimate way to make money online!
Let me be completely transparent with you, I'm not associated with Impact Mailing Club in any form.
So, rest assured that I'm not here to pitch or sell anything to you.
Instead, I'm here to reveal how you're not going to  make any money from this program.
Impact Mailing Club Review Summary
Product Name: Impact Mailing Club
Founder:  Rose Alameda
Product Type:  Direct Mail Gifting System
Price:  $100 - $2,000
Best For:  No one
Summary:  Impact Mailing Club is a direct mail gifting system and claims that you can make money by sending letters. However, the business opportunity is kind of sketchy for a number of reasons. I am going to show you the math on why you're not going to make any money at all!
More...
What is Impact Mailing Club?
Technically, when you buy into Impact Mailing Club, you're buying into the opportunity to earn commission and build a team.
But why do you need to build if all you have to do is send mail, right?
This is where the system starts to fall apart.
Inside Impact Mailing Club
Joining Impact Mailing Club requires you to buy into one of four levels:
Level 1 – Emerald Cost: $100 (plus 2 books of stamps)
What You Get: Welcome Package, 100 Leads, 1st Tier Commission $65, 2nd Tier Commission $20
Level 2 – Ruby Cost: $250 (plus 4 books of stamps)
What You Get: Welcome Package, 200 Leads, 1st Tier Commission $150, 2nd Tier Commission $50
Level 3 – Sapphire Cost: $500 (plus 4 books of stamps)
What You Get: Welcome Package, 400 Leads, 1st Tier Commission $300, 2nd Tier Commission $100
Level 4 – Diamond Cost: $2000 (plus 5 books of stamps)
What You Get: Welcome Package, 1000 Leads, 1st Tier Commission $1000, 2nd Tier Commission $500, 2 Invites to Company Mastermind Event
That's pretty much what you get, so basically the more you pay, the bigger the opportunity for you to earn from your team.
So if you buy into the Diamond Tier, you earn $1000 on your 1st tier commissions and $500 on 2nd tier commissions, guaranteed.
This puts people who bought into the lower levels at a disadvantage because if their recruit buys into Diamond, they only get the commission that they bought into.
What They Don't Tell You About Additional Expenses?
What Impact Mailing Club doesn't tell you is the operating expenses associated with keeping your business up and running.
These are:
Travelling costs
Material costs
Printing costs
Postage costs
Did you really think that you were going to be able to print and send mail for free?
Hell, no!
In fact, this is the three-page letter that you'll be mailing:
Now printing costs may vary, but you're printing for the number of people that the level you bought into.
For example, if you bought into Sapphire, you get 400 leads, which is 400 people to send to. Now, 400 x 3 pages means 1,200 printed pages.
The costs just continue to increase because you now have to pay for postage to send each letter.
Can You Make Money With Impact Mailing Club?
When you add up all the expenses, including the costs to join this program, Impact Mailing Club is not a light investment. But are you really going to get your money back?
Short answer: YES.
But it doesn't mean that you will.
There's no guarantee with direct response mail and you have to consider the product that you're marketing to your audience. You're basically spamming people offline. That's about it.
What do you think people will do when they see mail from someone they don't really know?
What makes you think that people will be opening and responding your email?
Impact Mailing Club Compensation Plan
Their compensation plan is simple. You earn commissions at the level you buy in, or lower. You can't earn anything if your recruit buys into a higher level.
The commissions for recruiting people into a higher level go to the company.
Who's Impact Mailing Club For? 
No one. There are several reasons why this program isn't for anyone. 
Impact Mailing Club Ugly Truths Revealed!
#1. Is the Business Model Even Legal?
I don't think that there's something legal about the way they do business. In fact, they almost work like a pyramid scheme because of the intense focus on recruitment.
It's easy for me to understand why it would be difficult to recruit people into this scheme. As long as a program doesn't have a product or service to sell, I wouldn't consider them a legitimate business.
#2. Unsustainable
The only income stream coming into the business is when their members recruit people, so what happens when there's no one joining anymore?
There's no profit-generating system going on here other than recruiting. Even if you recruit people into the business, the company doesn't profit from any of it.
#3. High Risk, Low Profits
You have to spend money to make money with this business. Let's do some quick math, shall we?
Let's say you bought into the Emerald level, which gets you 100 leads or 100 people to send to.
Printing 100 letters at 3-Pages for$0.07 per page or $0.21 per letter: $21 to print 100 letters
Cost to mail each letter via USPS is $0.50: $50 to ship 100 letters
Pack of 100 Mailing Envelopes at Amazon is $4.99: $4.99 per 100 envelopes
To send everything, you'd have to spend $75.99. Your initial investment is $100 due to the sign-up, so you have to recoup the total expense of $175.99.
Because you're at the lowest level, your 1st tier commission is $65. So you'd have to recruit 3 people to get back the initial expense. And anything past that is profits.
But wait. You forgot to consider something that in order for you to get back the money from here on out, you need to recruit 2 people. You're now spending $75.99 per 100 letters to print and send.
Now, imagine the costs for going up a level.
What I Like About Impact Mailing Club?
There's nothing about this scheme that I like. It's just an income opportunity with everything that you don't want in it.
Is Impact Mailing Club a Scam?
Impact Mailing Club appears to be a legitimate program, but it's far from what I would recommend as a source of any income.
I wouldn't even tell anyone to give this program a chance. There's just too much money flying around that none of them will ever land on your pockets.
The program's a high risk, low profit opportunity and based on the math I showed you above, there's no way for you to make money consistently.
How I Make a Living Online?
I've personally created a 4-Figure Monthly Passive Income Stream and become financially independent at just 21 years old without any College degree or working experience!
Through my own hard work, I went from a broke restaurant waiter to living my dream laptop lifestyle in less than a year's time...
If you want to discover the secrets of how I did it at such a young age, click here!