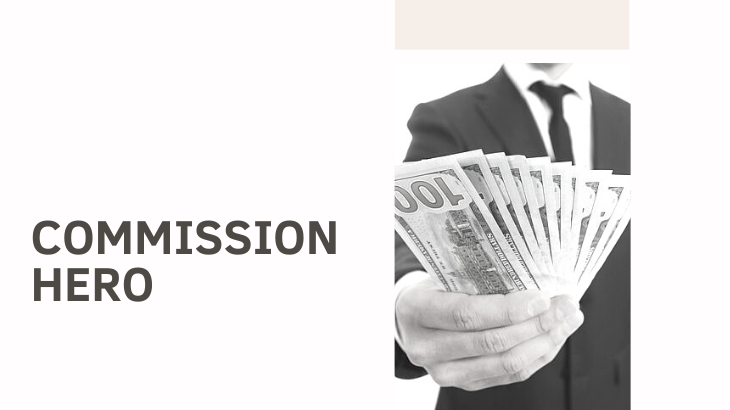 Commission Hero Review – An Expensive Way To Get Funnels!
Welcome to my Commission Hero review!
In order to develop a steady stream of income online, one needs to know how to build a sales funnel. These sales funnels are your ticket to casting a wider net and earning more money online.
Commission Hero claims that it can show you how to build sales funnels, but is it worth the money?
Let's find out.
First of all, I must Congratulate you for taking your time to do your own research before buying into any "seemingly good" product.
That's the way to avoid scams and find the legitimate way to make money online!
Let me be completely transparent with you, I'm not associated with Commission Hero in any form.
So, rest assured that I'm not here to pitch or sell anything to you.
Instead, I'm here to reveal what this program has in store for those who don't know anything about sales funnels.
Commission Hero Review Summary
Product Name: Commission Hero
Founder: Robby Blanchard
Product Type: Sales Funnel Training Program
Price: $997 plus advertising costs
Best For: People who want to build sales funnels for their money-generating websites
Summary: Commission Hero is a training program that teaches you how to make sales funnels and make money through these funnels. As much as the program is intended for beginners, it's quite the contrary. It's an expensive program to get into, and the recurring costs can empty your wallet if you don't have any money-generating website yet. This isn't something that beginners aren't going to appreciate or put to good use.
Rating: 50/100
Recommended: No!
More...
Commission Hero is the latest make money online product from ClickBank super affiliate Robby Blanchard.
This system promises a 3-step process that uses Facebook to advertise your products so you can earn big commissions.
It sounds simple enough, but what do you mean by big commission? These are commissions from products on ClickBank with rates higher than 50%. Ergo, if you earn more than 50% commission for selling a product, then that's big commission.
According to Commission Hero, there are three big secrets to the program.
#1. Find high paying offers
#2. Use Facebook to run ads for these offers
#3. Use Psychology to make people buy the products
Who Is Robby Blanchard?
Robby Blanchard claims that he's the #1 ClickBank affiliate in the world. If you don't know what ClickBank is, it's a marketplace for affiliate marketers and vendors to get together to form a business venture.
Vendors put up their products for sale on ClickBank, and affiliate marketers sell these products for a commission.
And yes, this is a legitimate platform and there are several people on ClickBank earning 6 to 7 figures a year!
As it turns out, Robby Blanchard is the #1 marketer on the ClickBank Leaderboard. Or at least, he was on top.
January of 2019, he claimed the top spot on ClickBank's Leaderboard and this is not an easy feat!
I would say that he's the real deal and he's as legitimate as it can be.
As I mentioned earlier, Commission Hero gives you step-by-step instructions on how to set up your sales funnels and sending traffic to your pages via Facebook ads.
This is the course outline as follows:
Getting Started
What is Affiliate Marketing
Ad Accounts
ClickFunnels
ClickBank
MaxWeb
Choosing The Right Offers
Finding The Right Offers on ClickBank
Finding The Right Offers on MaxWeb
Finding The Right Offers on A4D
Offer Spotlight: Flat Belly Fix
Offer Spotlight: Lean Belly Breakthrough
Finding Your Ad Image
What an Image Should Contain
Finding The Right Designer on Fiverr
Setting Up A Landing Page
Register For ClickFunnels
Setting Up Your Affiliate Links
Setting Up Your Domain
Setting Up Your PHP Landing Page
Setting Up Facebook
Setting Up FB Business Manager
Setting Up Your Fan Page
Setting Up Your Facebook Campaign and Adset
Setting Up Your Ads
Creating a Custom Audience
Bonus: Inside Look at a Successful Campaign
Setting Up Facebook Pixel
How to Install FB Pixel
Placing Your FB Pixel in Your ClickBank Acct
Understanding Your Pixel Analytics
Tracking Your Campaign
Tracking Spreadsheet
How To Install Tracking Links
Scaling
Ninja Tactics
Reaching Out To Other Affiliates
Amex Card
Spying on Facebook Ads
Dealing With Account Shutdowns
Bonuses
Million Dollar Landing Page Swipes (ClickFunnels)
Million Dollar Landing Page Swipes (PHP)
Mindset
Images
CPA
Contacts
As you can see, the program is intended for beginners since he does explain how to set up various elements meticulously. Some training programs we reviewed just provide supplemental information about affiliate marketing.
I'm Jerry!
I Created My Own 4-Figure Monthly Passive Income at just 21 Years Old!​
Commission Hero Pricing and Payments
You're going to pay $997 to get the program, and it's a one-time payment.
How Do You Pay For Facebook Ads?
This is completely up to you. Commission Hero teaches you how to do Facebook advertising, but you'll have to shoulder the costs of advertising.
This means that you'll have to spend a lot of money on trial and error because Facebook advertising is not a 1-time thing.
Explaining how paid advertising works requires an entirely different article so I'll just sum it up for you.
Majority of your campaigns will be losers. A few will break even. And one or two will be able to give you the profits that you need.
If you run 10 campaigns, 6 or 7 of them will be losers. There's no secret juice or power here that you can use to make paid advertising work for you.
This is because paid advertising relies on another factor: the human factor. Just because someone sees your ad doesn't mean they'll buy it from you.
Other Expenses...
So in the other modules, you'll notice that Commission Hero will teach you how to use ClickFunnels, which is what Robby recommends to build and launch funnels.
Now this program costs $97 per month, but he does recommend cheaper alternatives if you're completely new to the game.
He also recommend Fiverr for your images, and while it's cheap and easy to use, you're still spending a few bucks to get those images.
Lastly, there's also the problem of managing your lists, which requires you to subscribe to an email autoresponder software and these run anywhere between $15 to $100 a month, depending on the size of your list.
Is There a Money Back Guarantee?
$997 is a big investment, so it's only fair that people want that money back if the program doesn't work for them.
However, there's something that Commission Hero offers that makes it difficult to get your money back.
Their official policy is that you have to take the course and put it to the test for 12 months and if you don't get the results that you want, you get a refund. But not before.
Technically you can get your money back, but you'd have to wait a whole year and that you'd have to spend a lot of money on ads to determine whether or not the system works.
Who's Commission Hero For?
Commission Hero may be intended for beginners, but it's only for those who are serious about making a huge investment into selling affiliate products.
Commission Hero Ugly Truths Revealed!
#1. Only Works for ClickBank Products
The training they provide only shows you how to promote ClickBank products, so that falls a little bit short of taking advantage of other affiliate opportunities such as Amazon.
ClickBank isn't also the best marketplace for affiliates nowadays because of the quality of the products being sold.
A lot of the products you'll find that are hyped up are mostly scams or just useless programs from vendors.
#2. Paid Traffic Is Not Easy!
Despite being marketed as a system for beginners, the concept of paid traffic can be too much for some people.
Paid traffic is high risk and needs to be done when you've already had a steady stream of income from your site.
#3. $997 Is Still Expensive!
There are far better products out there that can help you get to where you want for making money online, and they cost less than $997.
Plus let's not forget the individual expenses for advertising on Facebook.
What I Like About Commission Hero?
#1. Robby Blanchard Is The Real Deal!
Unlike most gurus who claim to be the best, Robby Blanchard does have the reputation and products to prove that he's one of the best in the business.
You're getting quality lessons from someone who knows the industry and who knows how to succeed in it.
Is Commission Hero a Scam?
Commission Hero is a legitimate training course for building sales funnels, but it's far from what I would consider to be something useful and valuable to beginners.
The program's expensive and it requires a lot more money to really make this work, so you're going to have to lose money to make money here.
And that's why it's not intended for people with no solid stream of income online yet.
How I Make a Living Online?
I've personally created a 4-Figure Monthly Passive Income Stream and become financially independent at just 21 years old without any College degree or working experience!
Through my own hard work, I went from a broke restaurant waiter to living my dream laptop lifestyle in less than a year's time...
If you want to discover the secrets of how I did it at such a young age, click here!