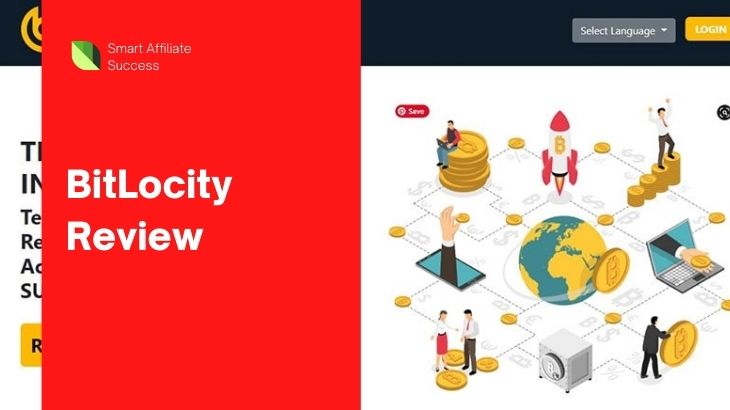 BitLocity Review – A Gifting Scheme / Forsage Ponzi Reboot!
Welcome to my BitLocity review!
Cash gifting schemes never work out the way they want to, and that's because they often get caught faster than Ponzi schemes. By default, MLM companies who offer cash gifting opportunities are almost always illegal by nature.
This program we're about to review is a good example of that. This is BitLocity.
First of all, I must Congratulate you for taking your time to do your own research before buying into any "seemingly good" product.
That's the way to avoid scams and find the legitimate way to make money online!
Let me be completely transparent with you, I'm not associated with BitLocity in any form.
So, rest assured that I'm not here to pitch or sell anything to you.
Instead, I'm here to reveal what this scheme is about...
BitLocity Review Summary
Product Name: BitLocity
Founder: Not disclosed
Product Type: Cryptocurrency Cash Gifting Scheme
Price: $25 to $100,000 investment
Best For: NO ONE!
Summary: BitLocity is a clone of another Ponzi scheme called Forsage and it has all the similar features of this Ponzi scheme. There's nothing good about this program, from the recruitment-based incentives to the way it just operates.
Rating: 1/100
Recommended: No!
More...
BitLocity is a MLM or multi-level marketing company that operates some sort of crowdfunding or gifting type income opportunity. This allows you to earn commissions on multiple levels.
On their landing page, they don't tell you who owns or runs the program. Their WhoIs information shows that the company was registered privately on October 2020. This program is only a few months old as of this writing. Its main traffic source comes from the USA.
Their website does have some of their marketing videos, so we get to see some familiar faces on there.
First, we have Mark Hamlin, who talks about their involvement with Qtrex, which was another bitcoin Ponzi scheme that launched earlier in 2020. He says in the video that Qtrex has collapsed and he's now in charge of BitLocity's webinars.
Now we don't know if he owns the company or is just actively promoting it, but we do know that he's been in other Ponzis such as Forsage and WeShare Crowdfunding.
BitLocity Product Line
BitLocity offers no retail products or services despite being a MLM company. The only thing it has to offer is membership into their income opportunity, which you can join by investing into the program.
I'm Jerry!
I Created My Own 4-Figure Monthly Passive Income at just 21 Years Old!​
I'm Jerry!
I Created My Own 4-Figure Monthly Passive Income at just 21 Years Old!​
Does The Product Work?
BitLocity is just like any of the cash gifting models that we've reviewed over the last 2 years. It also runs a pyramid recruitment scheme that receives payment in Bitcoin just so it can avoid regulators.
And the reason they are dodging these regulators is because their business model is illegal. Mark Hamlin is from Richmond, Virginia, so it's safe to say that BitLocity is being actively promoted in the USA.
There's no proof that they're generating income from any other source outside of recruitment. Once the recruitment stops, the money stops coming in too.
They're going to get the attention of the FTC and SEC sooner or later, but until then, there's nothing of value here.
How To Make Money with BitLocity?
There's only one way to make money from BitLocity and that's through recruiting people. You make money by earning commissions when you build your team.
How To Get Started with BitLocity?
BitLocity's membership starts at $25 for Bronze tier.
Bronze – $25
Silver – $50
Gold – $75
Platinum – $100
Pearl – $200
Amber – $500
Ruby – $750
Sapphire – $1000
Emerald – $2000
Diamond – $5000
Double Diamond – $10,000
Blue Diamond – $20,000
Ambassador – $50,000
Crown Ambassador – $100,000
All payments made within the program are paid out in Bitcoin.
BitLocity Compensation Plan
BitLocity members purchase these tiers to take advantage of commissions earned by recruiting people.
Of course, the more money you throw in, the more money you make (in theory).
Bronze and Silver Gifting
BitLocity's Bronze and Silver gifting is a straight-line gifting cycler. Once you purchase any of these tiers, a position is created in queue. 100% of the Bronze or Silver membership paid out by the next two members are gifted.
The first $25 gifted is kept
The second $25 gifted is used to fund another gifting payment to another BitLocity member. This second payment will create a new position at the end of the queue.
Gold and Higher Recruitment Payments
BitLocity's Gold and higher membership tiers are paid to recruiting members, minus a $10 admin fee.
Recruitment commissions are generated by fee payments made by the member's third and tenth recruits, which are used to pay the recruiting members or upline.
Gold and Higher 3×1 Cycler Commissions
BitLocity uses the other half of the Gold and higher member commissions to fund a 3x1 matrix pyramid cycler.
This pyramid places you at the top and opens three positions below you. These positions are filled when you recruit three other people to join in.
The first 2 positions filled generate commissions for the member at the top of the pyramid.
The third position generates a commission for the upline member (the member who recruited the member at the top of the pyramid).
Top Recruiter Pool
BitLocity takes $5 out of ever $10 admin fee collected and places it into a Top Recruiter Pool. Every month, the Top Recruiter Pool balance is divided between the company's top ten recruiting members.
the top recruiter in BitLocity for the month receives 20%
the second and third top recruiters each receive 15%
the fourth to sixth top recruiters each receive 10%
the fifth to tenth top recruiters each receive 5%
BitLocity Ugly Truths Revealed!
#1 Gifting and Recruiting!
There's no doubt here that the program is highly illegal and all because of their income opportunity. This is nothing more than a pyramid scheme running a gifting scheme.
A legitimate business would never give cash out when someone pays in.
Qtrex and Forsage were built the same way and had you doing the same things to make money. They were shut down and were chased by the authorities.
#2 Hamlin Is Bad News!
Forsage and Qtrex were just some of the Ponzi schemes that Mark Hamlin was part of. We know that he was promoting these programs, but we think that he was also part owner of these programs. Otherwise, why would he bother putting his ass on the line for something that didn't have a big payout?
What I Like About BitLocity?
There's absolutely nothing to like about BitLocity and its sister programs. They offer get rich quick schemes but it's only intended for the owners of the program.
You're not making any money here with BitLocity. They're just one big Ponzi scheme hiding behind a cash gifting income opportunity. Their business opportunity is illegal in the USA and in different parts of the world.
There's only one way to make money here and that's through recruitment. Unless you belong to the management team of BitLocity, you're not going to make any money with this program.
How I Make a Living Online?
I'm not a fan of MLM, not because it's illegal or not profitable, but because of all the restrictions and the expensive costs involved.
Instead, Affiliate Marketing is my top recommended business model for anyone to make money online.
The reason is simple...
You don't have to recruit anyone to make money
You have the freedom to promote any products you want and not being restricted to only promote the products from one MLM company
It's Free to get started
In fact, with affiliate marketing...
I've personally created a 4-Figure Monthly Passive Income Stream and become financially independent at just 21 years old without any College degree or working experience!
Through my own hard work, I went from a broke restaurant waiter to living my dream laptop lifestyle in less than a year's time...
If you want to discover the secrets of how I did it at such a young age, click here!