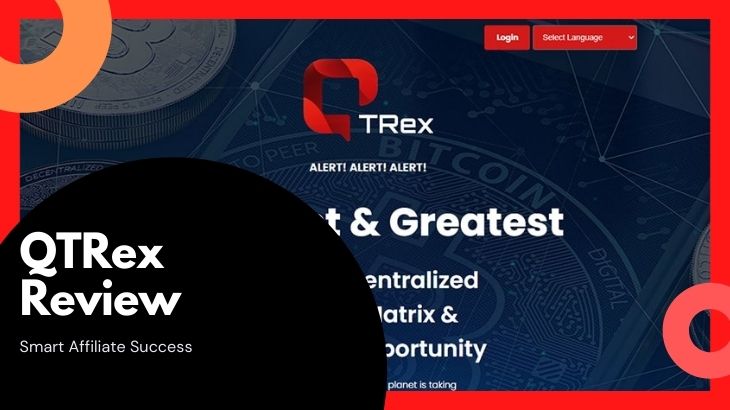 Is QTRex a Scam? It's Another Cryptocurrency Cycling Ponzi!
Welcome to my QTRex review!
Cryptocurrency MLM are quite common and all for the wrong reason. Majority of them end up being Ponzi schemes.
The reason why scammers use cryptocurrency is that not a lot of people know about the industry or how it works. All they market is that this is the quickest way to get rich, and it's wrong.
Today, we're looking at a MLM company that doesn't even try hard to hide their tracks. This is QTRex.
First of all, I must Congratulate you for taking your time to do your own research before buying into any "seemingly good" product.
That's the way to avoid scams and find the legitimate way to make money online!
Let me be completely transparent with you, I'm not associated with QTRex in any form.
So, rest assured that I'm not here to pitch or sell anything to you.
Instead, I'm here to reveal what this scheme is trying to get you with...
QTRex Review Summary
Product Name: QTRex
Founder: Not disclosed
Product Type: Cryptocurrency Cycling Ponzi Scheme
Price: $50 minimum investment
Best For: No one!
Summary: QTRex is a cryptocurrency cycling Ponzi scheme and they don't even try hard to hide their actual MO. The compensation plan is solely focused on recruitment, so if you don't recruit, you're not making money. Well, it's not like people are actually making money here anyways.
Rating: 1/100
Recommended: No!
More...
QTRex is a MLM company that claims to provide "100% decentralized Bitcoin Matrix and Unilevel opportunity".
In other words, it's a Bitcoin MLM program. It's not a mining service similar to Mining City and Mining Up. Just like most Ponzi schemes, QTRex is not transparent about who owns the company and who runs it. You can also forget about the domain registration because that was done privately. No names or locations were uncovered when we retrieved a WhoIs info.
All that we know is that the domain was founded in June 2020, so it's a relatively new setup.
We also believe that this might be a reincarnation of an old Ponzi scheme but we don't know which.
QTRex Product Line
QTRex is expected to have retail products or services because they're a MLM company. Without those, it'd mean recruitment is the only way to make money and that's a huge red flag.
The only thing you're paying for QTRex is their income opportunity, which we'll dissect in the Compensation Plan section.
I'm Jerry!
I Created My Own 4-Figure Monthly Passive Income at just 21 Years Old!​
Does The Product Work?
Without any products or services, there's no other way for QTRex to generate income other than through recruitment. That's why it's a Ponzi scheme.
The nature of their business has members signing up and paying membership fees.
50% of the membership fees are paid out to whoever recruited them and other portions of the upline. The remainder 50% is used to fund the twelve-tier Ponzi scycler.
This ROI per cycler is about 200%.
In simpler terms, it keeps itself afloat when new members invest and reinvest into the program. There's no other verifiable source of income that could keep the company alive.
Like most Ponzi schemes, once the recruitment stops, the money stops coming in too. Because we don't know where they operate, only time will tell as to when they'll get caught by the regulatory agencies that govern MLM companies. For the USA, it's the FTC.
How To Make Money with QTRex?
There's only one way to make money from QTRex and that's through recruitment.
How To Get Started with QTRex?
QTRex's membership is tied to a minimum $50 Q1 membership fee. To participate fully in their compensation plan, it'll cost you a whopping $89,750.
QTRex Compensation Plan
QTRex's comp plan is a combination of pyramid and Ponzi scheme elements. QTRex members will sign up across different membership tiers.
Fees vary according to the tiers you signed up for.
Q1 – $50
Q2 – $75
Q3 – $125
Q4 – $250
Q5 – $500
Q6 – $750
Q7 – $1000
Q8 – $2000
Q9 – $5000
Q10 – $10,000
Q11 – $20,000
Q12 – $50,000
Recruitment Commissions
QTRex pays out 50% of fees paid into the tier as recruitment commission. Your third and tenth recruitment commission is generated on any tier and is passed upline.
You get this fee from all your recruited members and when they recruit their 3rd and 10th member.
Cycler Commissions
The cycler follows a 3x1 matrix position and is quite simple. It only requires you to fill up three positions to generate a new cycle. One cycle will have 3x1 positions.
These are filled out when new and existing members buy into any of the membership tiers.
50% of the buy-in is used to pay into the matrix position. Each membership tier also operates as a separate cycler tier.
Commissions are paid out on twelve tiers and they look like this:
Q1 – $50 cycler commission and creates a new Q1 tier matrix position
Q2 – $75 cycler commission and creates a new Q2 tier matrix position
Q3 – $125 cycler commission and creates a new Q3 tier matrix position
Q4 – $250 cycler commission and creates a new Q4 tier matrix position
Q5 – $500 cycler commission and creates a new Q5 tier matrix position
Q6 – $750 cycler commission and creates a new Q6 tier matrix position
Q7 – $1000 cycler commission and creates a new Q7 tier matrix position
Q8 – $2000 cycler commission and creates a new Q8 tier matrix position
Q9 – $5000 cycler commission and creates a new Q9 tier matrix position
Q10 – $10,000 cycler commission and creates a new Q10 tier matrix position
Q11 – $20,000 cycler commission and creates a new Q11 tier matrix position
Q12 – $50,000 cycler commission and creates a new Q12 tier matrix position
QTRex Ugly Truths Revealed!
#1 No Owner Information
Just because they operate in the cryptocurrency industry doesn't mean they have to be anonymous. On the contrary, they're a MLM company and so they need to be transparent with the leadership or management aspect of their company.
The fact that there's no leadership or owner information means that they don't want to be caught or liable for anything at this point. This also gives them the ability to reboot the scheme when needed.
#2 Typical Ponzi Scheme!
At the heart of it all, QTRex is your typical Ponzi scheme. There's just nothing legitimate going on around here.
The incentives are all focused on recruitment, and you won't be making money if you don't recruit people.
As if you could actually make money here is another story.
#3 Possible Incarnation of Another Ponzi Scheme!
QTRex might be a possible reincarnation of another Ponzi scheme, but it's difficult to pinpoint which one due to the fact that there's just a whole lot of them.
For all we know, their predecessor used a different cryptocurrency but had the same compensation plan.
QTRex is far from something we'd recommend here at Smart Affiliate Success. It's just one big Ponzi scheme and will absolutely do nothing for you.
QTRex is a Ponzi as far as we're concerned, and all the red flags of it being a scheme are there. It's safe to assume that this is another iteration of an old Ponzi scheme that died before.
The compensation plan is focused on recruitment and you won't be making money if you don't recruit. Well, it's not like you're going to make money from the program either way.
Stay away from this program!
How I Make a Living Online?
I'm not a fan of MLM, not because it's illegal or not profitable, but because of all the restrictions and the expensive costs involved.
Instead, Affiliate Marketing is my top recommended business model for anyone to make money online.
The reason is simple...
You don't have to recruit anyone to make money
You have the freedom to promote any products you want and not being restricted to only promote the products from one MLM company
It's Free to get started
In fact, with affiliate marketing...
I've personally created a 4-Figure Monthly Passive Income Stream and become financially independent at just 21 years old without any College degree or working experience!
Through my own hard work, I went from a broke restaurant waiter to living my dream laptop lifestyle in less than a year's time...
If you want to discover the secrets of how I did it at such a young age, click here!