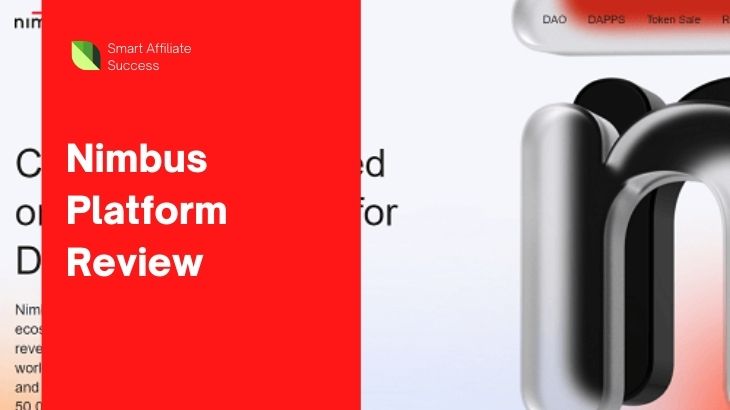 What Is Nimbus Platform? A Crowdfunding Cryptocurrency Ponzi Scheme!
Welcome to my Nimbus Platform review!
Cryptocurrency MLM companies are hit or miss, but mostly miss. This is due to the fact that they're built as pyramid schemes and Ponzi schemes, so much so that they don't even try hard to fool the people they want to lure into their program.
They promise massive ROI's and easy money, but there's just no proof of that ever happening.
Today, we're looking at another shitcoin Pyramid scheme called Nimbus Platform.
First of all, I must Congratulate you for taking your time to do your own research before buying into any "seemingly good" product.
That's the way to avoid scams and find the legitimate way to make money online!
Let me be completely transparent with you, I'm not associated with Nimbus Platform in any form.
So, rest assured that I'm not here to pitch or sell anything to you.
Instead, I'm here to reveal what this scheme is trying to get out of you...
Nimbus Platform Review Summary
Product Name: Nimbus Platform
Founder: Andrea Zanon
Product Type: Cryptocurrency Ponzi Scheme
Price: $350 minimum investment
Best For: No one!
Summary: Nimbus Platform is a cryptocurrency crowdfunding scheme that's been around for quite some time. We have reason to believe it's a reboot of an older Ponzi scheme that ran the same scheme. All the red flags of a Ponzi scheme are here, not to mention you could get sued for securities fraud.
Rating: 1/100
Recommended: No!
More...
Nimbus Platform is a MLM company that operates in the cryptocurrency niche, with Andrea Zanon as the CEO and founder.
Zanon's LinkedIn profile is linked to the Nimbus Platform's website, but Nimbus Platform isn't linked on his profile.
In a marketing video, Zanon claims to be a global financial executive with 20 years experience and goes on about how he's from Italy but currently traveling between the USA, Europe, and Middle East.
The background of the marketing video clearly shows Italy but its website shows an incomplete address of Malta.
Needless to say, Zanon and Nimbus Platform are all over the place for whatever the reason. But we do believe that the reason Nimbus Platform is in Malta is for pseudo-compliance only, meaning that he has shell companies there for banking and all.
We have not been able to find digital footprints of Zanon's MLM history so it's safe to say that this is his first MLM rodeo.
As of September 2020, Zanon stepped down and was replaced by Fernando Martinho as CEO. He is currently based in the UK.
Martinho's MLM history isn't as blank as Zanon's he was the founder of Naoris, another MLM company that was marketed as the world's first cybersecurity blockchain-based ecosystem.
Nimbus Platform Product Line
Nimbus Platform does not offer any retail products or services, and that's a red flag because it's a MLM company.
Rather, you're signing up for the investment opportunity.
I'm Jerry!
I Created My Own 4-Figure Monthly Passive Income at just 21 Years Old!​
Does The Product Work?
Nimbus Platform markets itself as a fintech crowdfunding platform, but it's nothing more than a Ponzi scheme.
Their tokens, called NMBT, are generated on demand, meaning it has little to no value to the public market. That's why it's able to provide 225% residual commissions on returns.
These advertised returns, together with commissions earned, are just numbers on a screen until it's time to withdraw.
They also claim to generate external revenue through something called Avalon App, which is in charge of their arbitrage trading algorithm.
But let me just say that there's no proof anywhere that Nimbus Platform or Avalon is engaged in arbitrage trading.
Another thing to note is that because they're offering passive income through investments, they have to be registered with financial regulatory agencies. But because they're not, they're committing securities fraud at a bare minimum and operating illegally as a MLM company.
What surprises me here is that Zanon lists himself as an investment banker on his LinkedIn profile. So why is he blatantly ignoring this one simple act of registering then?
It just doesn't make sense at all.
As it stands, the only way to make money here is through recruitment. Once the recruitment stops, the money stops coming in too.
How To Make Money with Nimbus Platform?
Nimbus Platform only offers you the chance to make money when you recruit people into the program. There's no proof here that people are making money via investing.
How To Get Started with Nimbus Platform?
Membership into the program is free. But in order to take advantage of their income opportunity, you'd need a minimum investment of $350, which is then converted into their NMBT shitcoin.
Nimbus Platform Compensation Plan
Their compensation plan is simplistic and doesn't really try hard enough to not make itself look like a Ponzi scheme.
Daily ROI
You invest NMBT tokens at a rate of $1 to 1 NMBT.
Once tokens are acquired, your funds are parked using the currency on the promise of the advertised returns below:
invest $350 to $1000 in NMBT and receive 0.25% a day
invest $1001 to $5000 in NMBT and receive 0.3% a day
invest $5001 to $30,000 in NMBT and receive 0.4% a day
invest $30,001 or more in NMBT and receive 0.5% a day
Once you reach 225%, you'll be able to withdraw your cash or cycle it through another round.
ROI Residual Commissions
Nimbus Platform's residual commissions follow a unilevel compensation structure.
Your direct recruits, or personal recruits, are placed under you and labeled as your level 1.
Any time your level 1's recruit, these are placed under them, making these new recruits their level 1 and your level 2.
This goes on infinitely in theory, but Nimbus Platform caps it out at 25 levels and you earn commission percentage on investments made as follows:
level 1 – 50%
level 2 – 25%
level 3 – 20%
level 4 – 15%
level 5 – 14%
level 6 – 13%
level 7 – 12%
level 8 – 11%
level 9 – 10%
level 10 – 9%
level 11 – 8%
level 12 – 7%
level 13 – 6%
level 14 – 5%
level 15 – 4%
level 16 – 3%
levels 17 to 20 – 2%
levels 21 to 25 – 1%
All residual commissions are paid out in NMBT
Nimbus Platform Ugly Truths Revealed!
#1 Securities Fraud Anyone?
It goes without saying that this program is promoting securities fraud and I pity the members who joined the program with no idea of what they're getting into.
The program promises passive income, which constitutes securities. But they are not registered to carry out transactions for their clients so they're committing securities fraud.
If the program was sued and the agencies went after people who made money from this program, be it the founders or the other members, they're looking at some serious jail time.
#2 BitConnect Reboot!
It looks like an awful reboot of another scheme we exposed called BitConnect. The program was shut down back in 2018 and the founders are now in jail or being sued.
BitConnect operated like a crowdfunding platform with lending services in between. Needless to say, Nimbus Platform operates similar to BitConnect.
#3 Ponzi Scheme!
The heart and soul of their compensation plan is recruitment and there are no other incentives or ways to make money apart from it.
This makes this program a double whammy. You're committing securities fraud and promoting a Ponzi scheme when you join the program, and combining those could land you serious jail time.
What I Like About Nimbus Platform?
There's just nothing to like about Nimbus Platform. It's a Ponzi scheme when you get right down to it.
Is Nimbus Platform a Scam?
Nimbus Platform is definitely a Ponzi scheme and a program that promotes securities fraud. There's nothing on their landing page or program that lets us know they're legitimate.
Their compensation plan has you recruiting people to make money, or none at all. Then there's the fact that they are not registered to carry out financial transactions in behalf of clients.
You're not getting your money back with this program!
How I Make a Living Online?
I'm not a fan of MLM, not because it's illegal or not profitable, but because of all the restrictions and the expensive costs involved.
Instead, Affiliate Marketing is my top recommended business model for anyone to make money online.
The reason is simple...
You don't have to recruit anyone to make money
You have the freedom to promote any products you want and not being restricted to only promote the products from one MLM company
It's Free to get started
In fact, with affiliate marketing...
I've personally created a 4-Figure Monthly Passive Income Stream and become financially independent at just 21 years old without any College degree or working experience!
Through my own hard work, I went from a broke restaurant waiter to living my dream laptop lifestyle in less than a year's time...
If you want to discover the secrets of how I did it at such a young age, click here!