10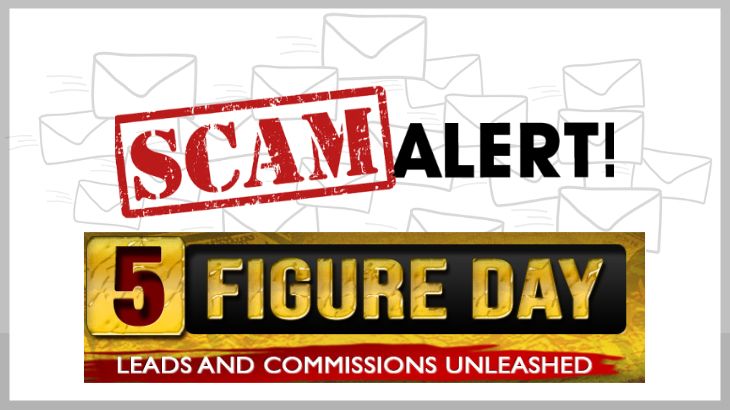 5 Figure Day Review (What a Pyramid Scheme in Disguise!)
5 Figure Day claims that their ready-made websites can automatically suck in hungry leads and potential income up to 500% faster than your outdated one. Not only that, they are willing to give you this website for FREE.
First of all, I'm pretty skeptical of this program by judging on its name - "5 Figure Day". Really?
Next, looking at their bold claims, I'm pretty sure it's just their marketing strategy. Well, let's find out whether this is legit in this 5 Figure Day review...
5 Figure Day Review Summary
Product Name: 5 Figure Day
Founder: Bryan Winters
Product Type: Pyramid Scheme in disguise
Price: $7 Trial (7 days) then $97/Month
Best For: Nobody except Bryan
​​​​Summary: 5 Figure Day is a scam because it doesn't have any real product and it's working like a MLM or even a pyramid scheme. All you need to do to make money with this program is to recruit new members.
Rating: 10/100
Recommended: No
More...
5 Figure Day is a platform created by Bryan Winters with the goal to help people build their Email lists fast and monetize them.
There's a old saying that said...
This is true. If you manage your Email list properly, you can make a lot of money by just giving value to your subscribers and sell them something occasionally.
However, building a successful list is not that easy and that's when 5 Figure Day comes in.
5 Figure Day provides you with a FREE website every month to help you build your list. At the same time, they also have some training and resources to help you drive traffic to your website.
You can make money during the process by promoting 5 Figure Day membership. However, the catch is that you also need to pay a monthly membership fee of $97 in order for you to make money from your referrals.
How Does 5 Figure Day Work?
Here's a video walk-through by Bryan Winters where he'll show you the members area and how this whole thing works:
Let me break it down for you...
Lead Generation
Basically, they'll provide you with Free landing pages for you to collect Emails. But these landing pages have your affiliate links included. So whenever your referral purchases 5 Figure Day membership, you'll earn commission.
Traffic Generation
Apart from the free landing pages, you're provided with resources to help you generate traffic to your landing page.
The traffic generation method they focus on is called Solo Ads, which you'll need to spend money and pay someone with a huge Email list for you to send promotional Emails to his or her list.
Other types of traffic generation they mentioned about include banner ads, ad swaps, forum marketing, social media marketing, etc...
They've included quite a number of methods and resources but they didn't go deep into each one. All the information can be found online for FREE!
List Building
​​​​​By default, the Emails you've collected from your landing page will be automatically saved in your 5 Figure Day account. You can download your list in a spreadsheet and proceed with your own Email marketing.
Apart from that, 5 Figure Day can be connected with AWeber and GetResponse, two popular Email Service Providers (ESP).
If you have any of these accounts (they are paid services), you can directly import your list into your own ESP and follow-up with your subscribers.
Also, 5FD has some training on how to monetize and follow-up with your list. But again, those information can be easily found online for FREE.
You can do a simple search on YouTube and there will be very detailed video teaching you step-by-step on how to proceed with that.
Traffic Forwarding System
5 Figure Day has a unique system called the traffic forwarding system. Basically, it means that the first 5 Emails you get goes to the person who refers you to 5FD.
After the first 5, you get all the leads from that point onward. AND you get the first 5 leads generated by people you refer to 5FD.
According to them, this allows you to generate your list 5 times faster than the traditional way.
I think this is a pretty cool system but you are still required to promote 5 Figure Day after all. It won't work if you want to build your list for other purposes apart from promoting 5FD.
I'm Jerry!
I Created My Own 4-Figure Monthly Passive Income at just 21 Years Old!​
7 Ugly Truths Behind 5 Figure Day
1. Unknown Business Model
5 Figure Day seems to be in the Email Marketing business at the first glance because it is helping people to generate leads and monetize them.
However, you can only promote 5 Figure Day membership and recruit new members to make money. This becomes something like a Multi-Level Marketing (MLM) business.
What's even worse is that 5FD doesn't seem to have any real product to offer. This makes them more like an illegal pyramid scheme.
The story doesn't end there...
For the Free landing pages you're provided with, they are tracked by affiliate links so that they know exactly which subscriber is generated by which member. So, there's affiliate marketing involved as well.
What a messy system!
2. Fake Website
5 Figure Day's main selling point is that they keep emphasizing you'll be provided with "FREE Fully Hosted Website".
But I'm sure it's pretty clear by now that the "websites" they are providing you are just landing pages with your affiliate links included.
How dare they call it a FREE FULLY HOSTED WEBSITE! Such a shameless claim!
Take a look at these landing pages:
They are just ordinary lead generation pages (not your website at all!) which can be easily built by anyone.
Some Useful Resources for You 🙂
If you want to build your own website for FREE in just a couple of minutes, check out Wealthy Affiliate.
If you want to purchase a real ready-made niche website that is professional, instead of a "landing page", check out Human Proof Designs.
3. No Real Product
5 Figure Day does not offer any real product or services. What they are offering is just a membership platform to recruit members.
That's why it's very similar to MLM or pyramid scheme.
4. Poor Support
There's no easy way for you to get help. Not even a FAQ page is provided. All they have is a support ticket hosted by Kayako, a customer service software.
5. Poor Training Resources
There's no systematic or step-by-step guide provided for any of the topics - Email marketing, list building, traffic generation...
What hey have is just a page full of random information which can be easily found online for FREE.
6. Ineffective Marketing Method
5 Figure Day is using solo ads and banner ads heavily. In the members area, there are a lot of Email swipes and banner ads available for you to use.
However, can you imagine what will happen if all the members are using the exact same landing page, Email templates, Banners, etc...?
What's even worse is that the methods they use can be really costly yet ineffective.
For example, your solo ads can end up in people's junk folder or even blocked out completely by the Email service provider despite you've spent a lot of money advertising it.
There's a high chance that you'll become a spammer, literally.
7. Unreasonable Cost
Let's recap what you'll get as a 5 Figure Day member:
Cloned landing pages with your affiliate link
Some low-quality training resources which can be easily found online for FREE
Marketing materials such as Email swipes, banner ads and social media posts
AND the ability to earn commission!
That's pretty much everything you'll get. And in order for you to continue receive commissions, you have to keep paying the monthly membership fee of $97.
Are you even kidding me?
P.S. This program that has enabled me to generate a 4-Figure Monthly Passive Income at just 21 years old is FREE to get started and only cost $49/month fee to go full-time!
What I Like about 5 Figure Day
1. Free Trial
There's a 7-day trial which costs $7 but I managed to take a look at their members area for Free. It's because I saw a button which said "Proceed with FREE Members Area".
In order for you to make money from 5FD, you eventually have to pay for their membership. But the good thing is that you can browse their members area for free first before you decide whether you want to continue.
I love free trials and I think free trial is an essential component of a good program/platform. If you're confident with your own product or services, it's a no-brainer to offer a free trial.
That's exactly the case for My Top Recommended Program which allows me to have the opportunity to build this website and share my knowledge with you.
I took advantage of their free membership. When I see the value in it, I upgraded to their Premium membership.
2. 60-Day Money-Back Guarantee
5 Figure Day is a ClickBank product and it offers a 60-Day Money-Back Guarantee.
However, you need to be prepared that you may not be able to get your refund. That's just how ClickBank works.
Unless you have some good reasons, they won't give you a refund easily.
YES, 5 Figure Day is a scam!
First of all, it's not a legit business in which your job is to keep recruiting people into the system. That's an illegal pyramid scheme.
Secondly, 5FD is charging you a very huge amount of monthly fee but they offer you very little value. All they give you are some low-quality training and free affiliate landing pages. (But they lie to you and call them your FREE WEBSITES!).
What a joke!
How I Make a Living Online...
Affiliate Marketing is my top recommended business model for anyone to make money online.
The reason is simple...
You don't have to recruit anyone to make money like what people usually do in MLM
You are building your own passive income stream for your financial freedom
It's Free to get started
In fact, with affiliate marketing...
I've personally created a 4-Figure Monthly Passive Income Stream and become financially independent at just 21 years old without any College degree or working experience!
Through my own hard work, I went from a broke restaurant waiter to living my dream laptop lifestyle in less than a year's time...
If you want to discover the secrets of how I did it at such a young age, click here!