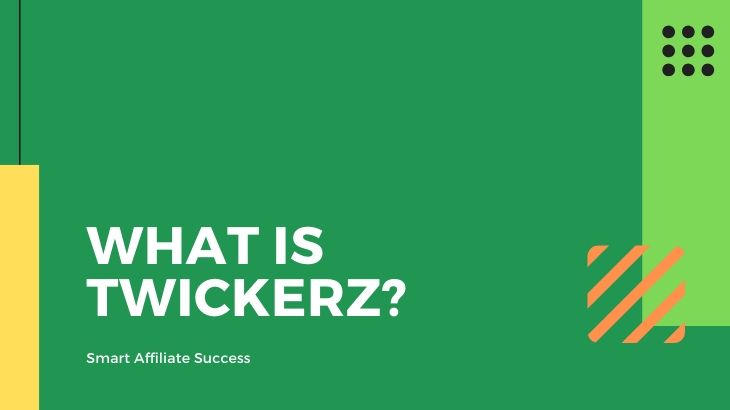 What Is Twickerz? It's a Legitimate GPT Site Reviewed!
Welcome to my Twickerz review!
We've reviewed a number of PTC sites over the past year that we've only managed to come up with a few picks of our own that we deem worthy of our time if we're talking about making money online.
These PTC or GPT sites don't really have much to offer because if they did, people would be doing them all the time.
Today, we're going to check out Twickerz and we're going to find out if it makes you money or not.
First of all, I must Congratulate you for taking your time to do your own research before buying into any "seemingly good" product.
That's the way to avoid scams and find the legitimate way to make money online!
Let me be completely transparent with you, I'm not associated with Twickerz in any form.
So, rest assured that I'm not here to pitch or sell anything to you.
Instead, I'm here to reveal what this GPT site is all about...
Twickerz Review Summary
Product Name: Twickerz
Founder: Not disclosed
Product Type: Get Paid To Program
Price: Free to join
Best For: People who want to make a few cents every day.
Summary: Twickerz is a GPT site that's been around for 9 years now. It's one of the oldest sites we've reviewed, and it's one of the most established sites out there. But being 9 years old doesn't mean that there's serious money to be made here. The income potential is low because of Twickerz's business model. We'll explain more about their business model in this article.
Rating: 50/100
Recommended: No!
More...
Twickerz is a GPT or Get-Paid-To site that provides you with different opportunities to earns ome extra cash. These opportunities include surveys, offers, and so much more. We'll go into more detail in the next section below.
Twickerz has been around since 2011 with more than a hundred thousand members and paying out more than that since they started. Their minimum threshold also makes it easy to cash out, so no wonder people actually like to run with this program.
Twickerz is a GPT site that provides you with 10 ways to make money from. Each of them will pay out different amounts and will have different availabilities.
Some of them might be more frequent than others, so there's no consistency in terms of how much you can make at any given time.
How To Make Money with Twickerz?
Paid Offers
These are offers that come from third-party sites where you complete them to earn money. They include various tasks such as:
Filling out forms
Taking quizzes
Signing up for newsletters
Downloading apps
And so much more.
Because these tasks are easy, you don't make a lot of money but there's a lot of them so quantity over quality, I guess.
Paid Surveys
Twickerz offers paid surveys as long as you fit in the demographic that the surveys require. Like offers, the surveys come from third-party sites so Twickerz doesn't really have full control over them in terms of liability and so on.
Surveys from Twickerz often pay out less due to the fact that they're merely giving you a commission for completing these surveys from their vendors. If Twickerz created their own surveys, payout would be much higher.
I'm Jerry!
I Created My Own 4-Figure Monthly Passive Income at just 21 Years Old!​
Answering Quizzes
Just like surveys, quizzes are also from third-party sources and you earn commissions from doing them.
I don't know what differs them from surveys in terms of content, but I guess it would be something similar to what Buzzfeed or other sites have (e.g. what kind of Marvel Superhero are you?).
Viewing Ads
You can also make money when you view ads. This is one of the most common income opportunities provided by a lot of GPT sites. Vendors working with Twickerz will pay you to watch their ads (usually within a minimum set period of time).
This pays out very little compared to doing surveys and quizzes, but there are no restrictions on who can view them so you make up for it in volume.
Twickgrid
This is a game where you pick a grid and you have a chance to win a prize after watching the ad. This game has a lot of PTC sites partnered with it.
Partner sites include OptimalBux, Ojooo Wad, and PTCShare just to name a few.
​Paid To Sign Up
PTSU is one of the more lucrative ways to make money here with Twickerz. To make money, you just have sign up for different websites partnered with Twickerz and then complete its associated tasks.
Point Contests
This is a monthly contest that Twickerz holds where the top 10 members win prizes based on how much points they earned (based on ads watched).
Prizes may range anywhere from $1 to $300.
Flip The Coin
A high-stakes game where you bet your earnings on a coinflip. You can bet your earnings up to $50 and turn it into $100. If you win, you win big. If you lose, well, you lose big.
Referral Program
Referral programs are common with most GPT sites. You get a unique link to a sign-up page that has you earning when everyone signs up using your link. You then get commissions based on their activity.
Like most GPT programs, you don't make a lot of money from referrals unless your members are very active.
Renting Or Buying Referrals
Some people will sign up for Twickerz without signing up through referral links. These are the people you rent referrals from. You can buy or rent them and earn commissions based on their activity.
This is risky because if the referral you bought or rented didn't do anything, you lose out on money.
How Much Money Can You Make?
GPT sites rely on how active you are in doing the tasks available at any given day. As long as you're consistently active, Twickerz will always pay you for doing something.
The amount of money you get average at about a few cents. Very rarely will a GPT site pay out more than $1 for a task.
Twickerz offers something that could help you make more money. You'd have to upgrade your membership to get certain benefits.
Your earnings are increased based on membership levels, and you enjoy other benefits associated with certain levels as seen below.
This is the selling point of their membership plans. In my opinion, this defeats the purpose of joining for free because you're now paying money to make more money.
Twickerz is meant for people who just want to earn a few cents every now and then when they're bored online. This isn't meant to replace a full-time job, nor can you do it full-time either.
Twickerz Ugly Truths Revealed!
#1 Low Income Potential
You're earning in cents for most part, so you're not going to quit your day job for doing this full-time. Realistically, you should be earning more than minimum wage per hour if you want to do this full-time but that's close to impossible with their payout rates.
#2 Third Party Surveys and Offers
GPT sites don't have full control over their third-party offers and surveys, so you're more than likely to deal with spams and other nuisances because Twickerz is not liable for anything that happens outside their jurisdiction.
They are just there to provide the tasks and you do them at your own risk.
#3 Hard To Navigate!
Looking at Twickerz's site, it's reminds me of how websites used to look back when Internet was still new. It's not exactly easy to navigate nor is it that intuitive enough to help you get to where you want to go.
The site is also riddled with ads so they might get mistaken as being part of the navigation bar or as part of their tasks.
What I Like About Twickerz?
#1 Free To Try
You can try out their program at no cost whatsoever. Their pay-to-win model isn't that significant so there's barely any incentive to pay for a membership.
#2 9 Years and Counting!
Some GPT sites don't last a long time but with Twickerz, they've been around for 9 years now and they're still going head-to-head with some of the more modern and newest GPT sites out there.
The fact they've been around this long means that people value what they have to offer and that they're continuing to get more members and provide more tasks.
Twickerz is a legitimate GPT site as far as we're concerned. There doesn't seem to be anything suspicious going on around as well, so you're practically safe. However, we don't recommend this program if you're looking for a source of full-time income.
The income potential is quite low. You're looking at earning a few cents per hour, so it isn't that much of a financial gamechanger if you add this to your online routine.
The third-party surveys and offers have some security issues such as spam but we're confident that Twickerz doesn't just get partners right off the bat. We assume they have a screening process that allows them to pick out their partners.
If you just want something to do online to make money, you could give this site a try.
How I Make a Living Online?
I've personally created a 4-Figure Monthly Passive Income Stream and become financially independent at just 21 years old without any College degree or working experience!
Through my own hard work, I went from a broke restaurant waiter to living my dream laptop lifestyle in less than a year's time...
If you want to discover the secrets of how I did it at such a young age, click here!