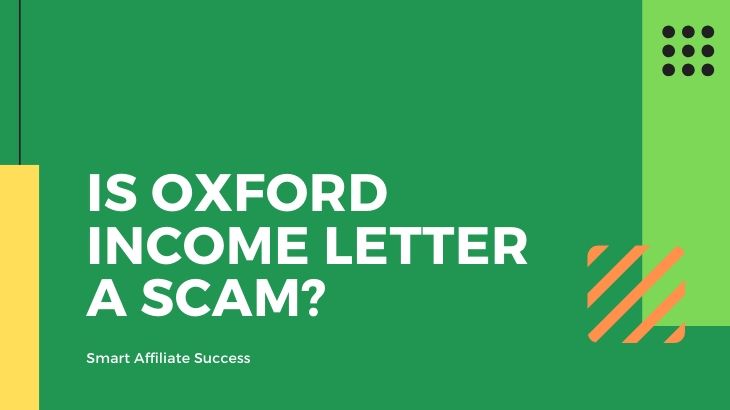 Is Oxford Income Letter a Scam? Check This Out If You're Trading!
Welcome to my Oxford Income Letter review!
One of the most lucrative income opportunities is trading, be it in stocks, forex, or commodities. If you do it right, it's going to turn into a form of passive income. But the capital needed to make the gains is quite high.
This is where this newsletter comes in.
This is Oxford Income Letter.
First of all, I must Congratulate you for taking your time to do your own research before buying into any "seemingly good" product.
That's the way to avoid scams and find the legitimate way to make money online!
Let me be completely transparent with you, I'm not associated with Oxford Income Letter in any form.
So, rest assured that I'm not here to pitch or sell anything to you.
Instead, I'm here to reveal what this newsletter can do for you if you're going to be a trader...
Oxford Income Letter Review Summary
Product Name: Oxford Income Letter
Founder: Marc Lichtenfeld
Product Type: Financial Investment Newsletter.
Price: $79 to $249 (discounted) a year
Best For: People who want to take their trading to a different level
Summary: Oxford Income Letter is a financial investment newsletter that provides you with weekly and monthly updates containing strategies, news, and techniques that will help you carry out trades better. There's so much value packed on their annual subscription that it would be a shame if you'd pass on this offer. Plus if you don't like it, there's a 90-day money-back guarantee too.
Rating: 80/100
Recommended: Yes
More...
What is Oxford Income Letter?
Oxford Income Letter is a finance newsletter subscription run and headed by Marc Lichtenfeld, who's the chief income strategist for a publisher called The Oxford Club.
This is a monthly publication within the investment niche and the world of finance where the author shares his tips on how to increase your trading volume.
Initially, he'll be talking about his strategies and his techniques – primarily, his area of expertise which is the dividend paying shares. There are other strategies covered on the newsletter including his 10-11-12 technique where he credits most of his financial success.
When you subscribe to Oxford Income Letter, you get full access to his system (which we'll discuss below) that's designed to give you different investment opportunities and offer you a high ROI.
It may look like the Oxford Income Letter is for everyone, but it's actually towards people who're soon to retire and looking to seek profitable ventures during retirement.
To get started with Oxford Income Letter, you need:
Investment capital
4 hours or so per week
Fast internet connection
Inside Oxford Income Letter
Who Is Marc Lichtenfeld?
Oxford Income Letter's founder is Marc Lichtenfeld, who graduated from the University of Albany. He's currently the Chief Income Strategist for Oxford Club and Senior Editor for Oxford Income Letter. He's the Editor of Chairman's Circle Breakout Alert and his own publication named Marc Lichtenfeld's Stock Sequence Trader.
His trading career started out with Carlin Equities before he moved on to become a senior analyst for Avalon Research.
His commentaries have been featured in several outlets such as US News, World Report, and even The Wall Street Journal just to name a few. He's also been a guest of CNBC, Fox Business, and even on Bloomberg.
So yeah, I'd say that he's as legit at it can be.
You can check out a short snippet of Marc from this YouTube video:
I'm Jerry!
I Created My Own 4-Figure Monthly Passive Income at just 21 Years Old!​
What Is Oxford Income Letter?
There are three parts to the Oxford Income Letter, and all are digitally delivered:
A Monthly Newsletter
This is the main phase or section of Oxford Income Letter, and is what the whole system is centered on. This monthly newsletter talks about the new opportunities for investing and talks about his recommendations based on his own research and analysis.
This is the ultimate goal of Oxford Income Letter: to provide you with quality investment advice and opportunities that you can take action on.
Weekly Updates
On top of the monthly newsletter, you also get weekly updates on investment opportunities talked about on the Monthly Newsletter.
This is more on providing you with continuous updates from the industry that are considered important within the week as opposed to waiting for a month to let people know about them.
Urgent Email Updates
Email Blasts are similar to the weekly updates, except that these are updates that are required for you to know immediately. These are updates that don't need to wait 5 or 6 days before you need to know about them.
Information belonging to email updates are sent to you right away. I would consider this a bonus because you're being fed the hottest and most relevant news in the industry that Marc deems important for its members to know.
How To Get Started with Oxford Income Letter?
There are different price points and packages for the Oxford Income Letter:
Premium One Year US$79 (Discounted from US$249)
Standard One Year Subscription US$129
Basic One Year Subscription US$49
The best bang for your buck right now would be the Premium One Year, which is discounted at $79 as opposed to the Standard One Year Subscription priced at $129. Just head on over to their sales page and the discount should be reflected.
Note that Oxford Income Letter has an auto-renew feature, which renews your sub every year. If you don't want to renew after a year, you can always cancel it the day or week before it auto-renews. Just be sure to review the email you get after subscribing.
What I Like About Oxford Income Letter?
#1 Affordable Newsletter Subscription
$79 a year for investment advice coming from a renowned financial expert is too much value to pass on to. Most of the finance newsletter that reviewed hovered somewhere around a couple of hundred bucks a month or a year, and thankfully, Oxford Income Letter is the cheapest among them.
If you're considering to add more value to your portfolio, I would get started with Oxford Income Letter.
#2 Valuable Experience Provided By Marc
Marc's expertise and experience in the trading industry is so valuable that it's quite a surprise that he's offering his recommendations, advice, and guides for that price you're paying. It's the equivalent of hiring Michael Jordan to be your coach for a year for a small fee.
#3 90-Day Refund Policy
If you don't really fancy what Oxford Income Letter is providing you, you can always get your money back no questions asked.
Oxford Income Letter Ugly Truths Revealed!
#1 Large Capital Required For Significant Gains
As required in trading opportunities, you need to have a large capital to make the most out of the opportunity. While it's possible to turns your hundreds into thousands, it doesn't happen overnight.
Trading requires a lot of work to really make it worthwhile, and so once you get started, you can't stop it.
#2 Not Meant for Everyone
Oxford Income Letter is meant for people who're looking to secure different forms of income, preferably those who're looking to retire while still making money.
However, it's worth noting that the advice and strategies provided aren't designed that way. You can still use the materials and techniques provided in your own trading ventures.
Is Oxford Income Letter a Scam?
Oxford Income Letter is a legitimate newsletter that tells you how to do trades the right way, as well as provide you with valuable industry information and news.
Marc Lichtenfeld's reputation and experience in trading is far too valuable to pass on to for a small price.
There's quality in the materials that you receive in terms of information, updates, and other educational tidbits.
You can always get your money back in 3 months if you don't really like the publication.
Oxford Income Letter is something worth checking out if you're thinking about expanding your portfolio.
How I Make a Living Online?
I've personally created a 4-Figure Monthly Passive Income Stream and become financially independent at just 21 years old without any College degree or working experience!
Through my own hard work, I went from a broke restaurant waiter to living my dream laptop lifestyle in less than a year's time...
If you want to discover the secrets of how I did it at such a young age, click here!