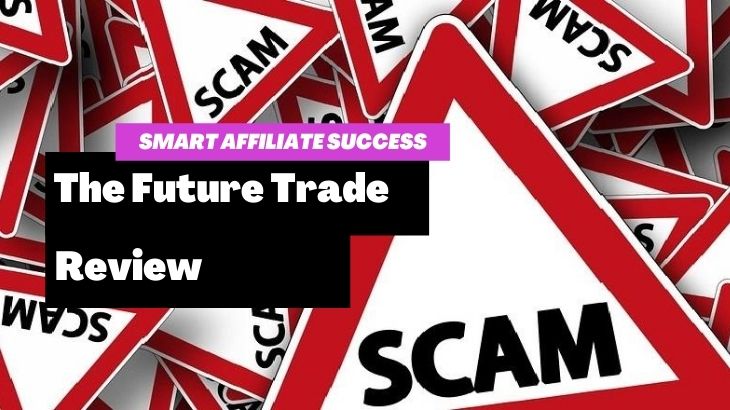 What Is The Future Trade? A Not-So-Futuristic Ponzi Scheme!
Welcome to my The Future Trade review!
Let me start off by saying that their marketing video is one of the corniest we've ever seen. It wouldn't surprise us that this video could trick people into investing into the program.
But with due diligence, the video and program are easily debunked.
Let's start this review on The Future Trade.
First of all, I must Congratulate you for taking your time to do your own research before buying into any "seemingly good" product.
That's the way to avoid scams and find the legitimate way to make money online!
Let me be completely transparent with you, I'm not associated with The Future Trade in any form.
So, rest assured that I'm not here to pitch or sell anything to you.
Instead, I'm here to reveal what the program is all about...
The Future Trade Review Summary
Product Name: The Future Trade
Founder: Merril Rid (Fake Person)
Product Type: Investment MLM
Price: $50 minimum investment
Best For: No one. It's a pyramid scheme!
Summary: The Future Trade is an investment MLM company of sorts that's nothing more than a pyramid scheme. There are so many red flags, such as a recruitment-heavy incentive and a fake owner. There are a lot of things wrong here with the program.
Rating: 1/100
Recommended: No!
More...
What is The Future Trade?
The Future Trade is a MLM or multi-level marketing company that offers an investment program for its members.
The company was founded by someone named Meril Rid, and he also hosts the company's marketing video.
Donning a British accent, Meril Rid talks about the company that's quite similar to The Office. You know, the popular British and US TV mockumentary about the office staff of Dunder Mifflin, a paper company. You'll probably have seen their memes all over social media.
But their marketing video, as corny as it is, has some noticeable flaws. For example, the doll vendor who appears on the video is also the same guy who plays the seated extra during the first few minutes of the video.
They also try to make themselves look legitimate by making use of shell corporations and documents from The Marshall Islands, Seychelles, and Singapore on their website. But within the MLM context, these documents are worthless.
The Singapore incorporation of Future Trade INT PTE LTD lists Meril Rid as being British and with a UK Address. But let me tell you that neither Rid nor his video marketing team were in the UK at all when the videos were shot.
His driver was shown driving on the left-hand side in the marketing videos. People in Europe drive on the right-hand side, regardless of the make of the car.
To verify if Meril Rid is a real person to begin with, we did a quick Google search and to no one's surprise, he does not exist outside of The Future Trade.
The domain name was initially registered in July 2018 and was just updated October 2020. Long story short, the domain name is privately registered so we don't know who owns it. We're pretty sure it's not Meril Rid either. Meril Rid and the other people who appear in the marketing video are all actors.
The Future Trade Product Line
The Future Trade does not offer any retail products or services, which is unusual because they're a MLM company.
Because they don't have any retail products to offer, this is a red flag.
I'm Jerry!
I Created My Own 4-Figure Monthly Passive Income at just 21 Years Old!​
Does The Product Work?
Corny marketing video aside, we are confident that The Future Trade is nothing but a nasty pyramid scheme with high-end marketing efforts. If there was going to be an award for "most legitimate-looking sales video", then they'd win the award hands down.
When we dissected their compensation plan, there's no proof that there's external revenue generated outside of recruiting members. There's also no proof that investments and trading are being done to generate individual member profits.
Speaking of investments and trading, they'd also need to be registered with the SEC or its counterparts in the country they are operating. And no, we're not talking about registering a business name with the SEC. We're talking about being registered to carry out financial transactions on behalf of their consumers.
At the bare minimum, they're committing securities fraud on top of the violations they've made against the FTC too (or its counterparts).
Just like most Ponzi schemes, the company will die once the recruitment stops.
How To Make Money with The Future Trade?
There's only one way to make money from The Future Trade and that's through recruitment.
How To Get Started with The Future Trade?
The membership into their compensation plan is free, but to enjoy its benefits, you need to invest a minimum of $50. There's no mention of how much you can invest at maximum.
The Future Trade Compensation Plan
The main source of income for The Future Trade members is through the promised ROI. Your advertised return is dependent on how much you invested.
Basic 1 – invest $50 to $1000 and earn 5% a week for 40 weeks (200%)

Basic 2 – invest $1001 to $10,000 and earn 6% a week for 40 weeks (240%)

Moderate 1 – invest $10,001 to $25,000 and earn 8% a week for 30 weeks (240%)

Moderate 2 – invest $25,001 to $50,000 and earn 9% a week for 30 weeks (270%)

Classic 1 – invest $50,001 to $100,000 and earn 10% a week for 25 weeks (250)

Classic 2 – invest $100,001 or more and earn 12% a week for 23 weeks (276%)
Note that The Future Trade charges a 6% withdrawal fee.
Referral Commissions
The Future Trade pays out a 7% referral commission on funds invested by their personally recruited members.
Residual Commissions
Residual commissions follow a binary compensation structure. This places a member at the top of the team, with positions split into two sides for the left and right leg.
The first level of the team houses two positions. The second level splits these first two positions into 2 more positions, giving you 4 new positions. And subsequent levels of the binary team are generated when required.
Each new level houses twice as many positions as the higher level.
Members are paid 9% of the funds invested on their weaker binary team side, and is capped per pay based on how much the recruits invested.
Basic 1 tier members are capped at $500

Basic 2 tier members are capped at $1000

Moderate 1 tier members are capped at $2000

Moderate 2 tier members are capped at $3000

Classic 1 tier members are capped at $5000

Classic 2 tier members are capped at $7500
The Future Trade does not specify the duration of this pay period, but we assume that it's either daily or weekly.
The Future Trade Ugly Truths Revealed!
#1 Bread and Butter Ponzi Scheme
As you guessed it, The Future Trade is nothing more than your typical Ponzi scheme. It's a recruitment-heavy program that only pays you for bringing in more members.
Your investment is actually used to pay off those members who're at the higher tiers of the pyramid. You're not earning a single cent for as long as you're at the bottom of the pyramid.
#2 Hello? Securities Fraud Calling!
And speaking of their compensation plan, they are not registered to carry out financial transactions on behalf of their members. This is clearly securities fraud and their owners could go to jail for it.
Other people who've marketed the company and made money out of it are also liable for some jail time.
#3 Merril Rid? More like Merril Lied!
The owner of the company is non-existent. Merril Rid is a paid actor who went above and beyond to produce a very convincing sales video. We don't know who's the owner of the company, and we're never going to know who it is.
What I Like About The Future Trade?
Honestly, what's the point of liking The Future Trade? They don't have anything decent or legitimate to offer.
Is The Future Trade a Scam?
The Future Trade is a Pyramid scheme, or Ponzi scheme, however you'd like to call it. We're 100% confident about our conclusion.
They literally have nothing to offer from a MLM standpoint. Their compensation plan rewards recruitment heavily, and that's something that violates any regulatory agencies' guidelines for MLM companies.
They're not even properly registered with financial regulatory agencies to carry out financial transactions such as investments. You could land some serious jail time if you promoted this company and made money out of it. That's how serious the implications of securities fraud are.
How I Make a Living Online?
I'm not a fan of MLM, not because it's illegal or not profitable, but because of all the restrictions and the expensive costs involved.
Instead, Affiliate Marketing is my top recommended business model for anyone to make money online.
The reason is simple...
You don't have to recruit anyone to make money
You have the freedom to promote any products you want and not being restricted to only promote the products from one MLM company
It's Free to get started
In fact, with affiliate marketing...
I've personally created a 4-Figure Monthly Passive Income Stream and become financially independent at just 21 years old without any College degree or working experience!
Through my own hard work, I went from a broke restaurant waiter to living my dream laptop lifestyle in less than a year's time...
If you want to discover the secrets of how I did it at such a young age, click here!