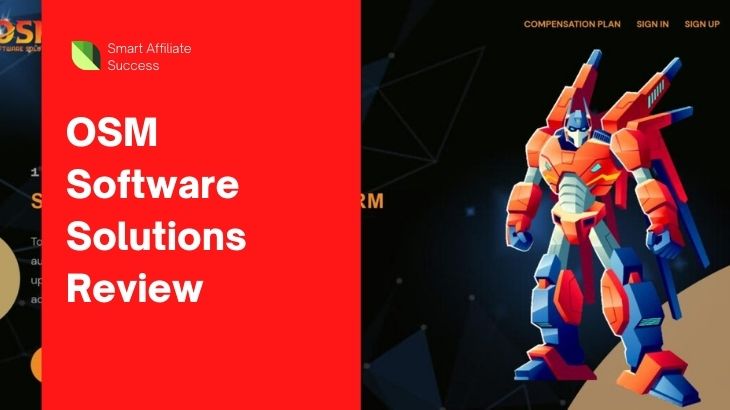 What Is OSM Software Solutions? A Ponzi Gaming Platform!
Welcome to my OSM Software Solution review!
Some Ponzi schemes don't really try their best to make themselves look legitimate. In fact, they just try to put up a front and lure you into thinking that they're legitimate. But we've caught numerous Ponzi schemes here at Smart Affiliate Success for doing that kind of BS.
This is OSM Software Solutions, and no, don't be misled by their name. They're not as legit as you think.
First of all, I must Congratulate you for taking your time to do your own research before buying into any "seemingly good" product.
That's the way to avoid scams and find the legitimate way to make money online!
Let me be completely transparent with you, I'm not associated with OSM Software Solutions in any form.
So, rest assured that I'm not here to pitch or sell anything to you.
Instead, I'm here to reveal what this scheme is actually about...
OSM Software Solutions Review Summary
Product Name: OSM Software Solutions
Founder: Prashant Ramchandra Roundale, Avinash Shankar Asabe, and Vijay Baburao Mahajan
Product Type: Investment and Gaming Ponzi
Price: $32 cycling investment
Best For: No one!
Summary: OSM Software Solutions is an investment Ponzi scheme that hides behind a gaming platform. There's nothing of value to be had here, and we're going to break apart their compensation plan in this article.
Rating: 1/100
Recommended: No!
More...
What is OSM Software Solutions?
OSM Software Solutions or OSM Techno is a MLM or multi-level marketing company that operates in the investment niche. You invest money into the program and get ROI back in 120 days.
The landing page doesn't really contain a lot of information, but the WhoIs info shows that the domain was privately registered in October 2020. This means that we won't know who's operating the site.
But they do have a YouTube channel called Osmose Technology Pvt Ltd. but no information can be found on who owns the channel too.
There is publicly available records on who owns Osmose Technology Pvt Ltd; Prashant Ramchandra Roundale, Avinash Shankar Asabe, and Vijay Baburao Mahajan.
Every information I could find on these three were not in English so it's difficult to determine any form of verifiable information. We only know that Asabe is a real person, Mahajan is on the run, and Roundale is not mentioned anywhere else. These three appear to be operating OSM Software Solutions from Maharashtra, India.
OSM Software Solutions Product Line
OSM Software Solutions offers no retail products or services through their MLM program. You're only investing into the income opportunity.
This investment also gets you access to a "social and gaming platform".
I'm Jerry!
I Created My Own 4-Figure Monthly Passive Income at just 21 Years Old!​
Does The Product Work?
OSM Software Solutions's front is that of a gaming platform. It promises you daily returns through the platform. But it's more of a shovelware than anything else.
The reviews are horrendous if you do a quick search for it on Google Play, so we don't see this game flourishing any time soon.
The only reason this shovelware exists is that the company can point to the in-game ads as a source of revenue. But if that was the case, why charge members $32 every 120 days?
They also added something called Daily Tasks just last November 2020, which just like their software, does not make sense.
The Daily Task is a requirement of sorts and does absolutely nothing for you. You're just asked to share the program on your social media feed and that's about it.
So the app just makes it look like the program's legitimate overall, but it isn't.
For them to promise passive income opportunity constitutes a securities offering. $32 in and $54 out in 120 days. This means that they'd need to be registered with financial regulators to carry out these transactions for their members.
But there's no proof here that they're carrying out any form of trading or investments to generate ROI, let alone external income for the company.
This makes OSM Software Solutions just your ordinary Ponzi scheme.
How To Make Money with OSM Software Solutions?
The only way to make money through OSM Software Solutions is through recruitment. You're going to build a team and earn from their investments. Your investment will also be used to pay off the members above you.
How To Get Started with OSM Software Solutions?
Your investment is $32 to get into the income opportunity. This rolls over to about $54 in 120 days, and then you'll need to reinvest from then on.
OSM Software Solutions Compensation Plan
OSM Software Solutions requires an investment of $32 for 120 days. This gives you a $0.45 cent daily return. By the time the 120 days are up, you're cashing out $54.
A new $32 investment is then made in order to continue receiving the ROI.
Referral Commissions
There's also referral commission paid out following a unilevel compensation structure.
This structure puts you at the top of the pyramid so to speak. Your personal or direct recruits are your level 1.
Any time your level 1 recruits people, these new recruits become your level 2's and their level 1's.
And this goes on infinitely, in theory. OSM Software Solutions maxes out at 7 levels, so that's a lot of recruitment.
You earn a percentage of their daily $0.45 daily ROI paid out across the levels:
level 1 (personally recruited affiliates) – 5%
level 2 – 10%
level 3 – 15%
level 4 – 20%
level 5 – 25%
level 6 – 30%
level 7 – 35%
Referral Commission Restrictions
There are restrictions in place for the referral commissions. For starters, you're maxed out at $25 a day in commissions. You can't be earning more than that even if you have recruits on all 7 levels.
But you can increase your daily limit to $1,000 if you meet the following requirements:
Personally earn $25 a day in referral commissions
Generate $25 a day in your strongest unilevel team leg
Generate $25 a day in referral commission across the rest of your unilevel teams combined
OSM Software Solutions Ugly Truths Revealed!
#1 Obvious Ponzi Scheme!
Right off the bat, their compensation plan is solely based on recruitment. As long as you're at the bottom of the pyramid, you're not going to make money here.
In fact, even if you recruit people, you're not going to earn a single cent.
#2 Securities Fraud!
They promise a passive income through their gaming platform, which constitutes securities offering. They're not registered with any regulatory agency to carry out transactions for their customers.
This means that if you earn a single penny from their platform, you're criminally liable for promoting and operating a securities fraud program.
What I Like About OSM Software Solutions?
There's nothing to like about OSM Software Solutions and what it has to offer. This is just one big Ponzi scheme bordering on securities fraud.
Is OSM Software Solutions a Scam?
OSM Software Solutions is anything but legitimate. It's clearly a Ponzi scheme hiding behind a gaming platform. There's no proof anywhere on their program that their members are making any money.
Their referral commissions are based on recruitment, so if you don't recruit, you don't get a single cent out of the program. We seriously doubt that people will even get something out of it if they recruit people too.
This program is just bad news, so avoid it at all costs!
How I Make a Living Online?
I'm not a fan of MLM, not because it's illegal or not profitable, but because of all the restrictions and the expensive costs involved.
Instead, Affiliate Marketing is my top recommended business model for anyone to make money online.
The reason is simple...
You don't have to recruit anyone to make money
You have the freedom to promote any products you want and not being restricted to only promote the products from one MLM company
It's Free to get started
In fact, with affiliate marketing...
I've personally created a 4-Figure Monthly Passive Income Stream and become financially independent at just 21 years old without any College degree or working experience!
Through my own hard work, I went from a broke restaurant waiter to living my dream laptop lifestyle in less than a year's time...
If you want to discover the secrets of how I did it at such a young age, click here!