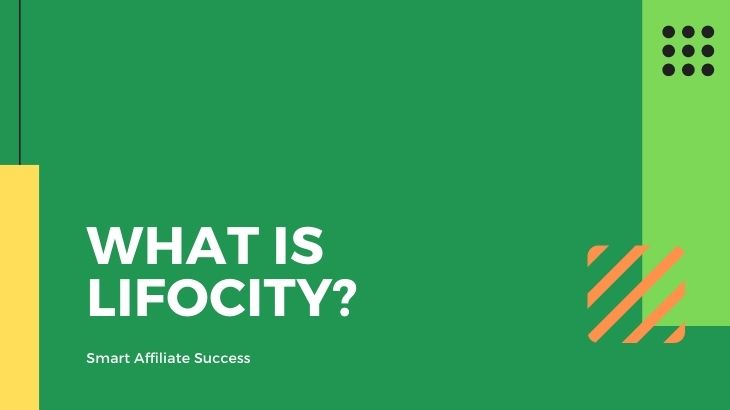 What Is Lifocity? A Look At This CBD MLM Company!
Welcome to my Lifocity review!
CBD products are all the rage these days. It's a healthy alternative to your OTC medicines and is noted to have a lot of health benefits. Research on these products continue to grow, and more and more countries are starting to legalize the use of these products.
That's why we see all of these MLM companies marketing health and wellness supplements tackling these products, or creating companies out of selling them.
Today, we're taking a look at Lifocity.
First of all, I must Congratulate you for taking your time to do your own research before buying into any "seemingly good" product.
That's the way to avoid scams and find the legitimate way to make money online!
Let me be completely transparent with you, I'm not associated with Lifocity in any form.
So, rest assured that I'm not here to pitch or sell anything to you.
Instead, I'm here to reveal what this company is all about...
Lifocity Review Summary
Product Name: Lifocity
Founder: Doug and Sheila Braun
Product Type: CBD Supplements MLM
Price: $30 Annual Membership + Various Starter Sets
Best For: No one
Summary: Lifocity is a MLM company that markets CBD-based products and nutritional supplements. It's relatively new, but its income potential leaves a lot to be desired. You're marketing in a saturated niche where people can easily buy cheaper, and maybe better, alternatives on Amazon. Plus there's the stigma of the use of Cannabis-related products, so it's difficult to persuade people about its medicinal benefits.
Rating: 50/100
Recommended: No!
More...
Lifocity is a MLM or multi-level marketing company that markets various CBD products and nutritional supplements.
The company was founded by Doug and Sheila Braun, and are located in Texas, USA. They're currently the CEO and Chief Experience Officer, respectively.
A little bit of background on their MLM experience. Doug served as the CMO for USANA from 2011 to 2018. It's unclear as to why he left the company, but it's safe to assume that it was to start his own.
On their landing page however, its corporate address belongs to LaCore Enterprises, which belongs to Terry LaCore. This could mean that LaCore has some form of ownership on Lifocity, but there's no confirmation.
What Is CBD?
For those of you who don't know, CBD or Cannabinoid is extracted from Cannabis (which is popularly known as Marijuana). In a nutshell, Cannabis has two kinds of constituents: CBD and THC. CBD possesses all the health benefits, while THC is the psychoactive constituent.
CBD products are infused with this extract so you get to enjoy the health benefits of Cannabis, minus the part of getting high. This is why it's popular amongst people with varying health conditions such as seizures and insomnia.
Most countries have legalized the use of CBD (not Cannabis), while there are some that have legalized the use of medicinal-grade Cannabis.
You would have to check with your local state or country to find out if marketing CBD products is 100% legal.
Lifocity Product Line
Lifocity sells products, or calls them as brands. As of this writing, they have two brands called Durt and Envoi.
Durt is a liquid supplement that supposedly contains "essential nutrition from the ground we tread on".
It comes in two versions: Black Version costs $65.95 while Gold Version costs $69.95. Each box will contain 32 individual servings
Envoi is their brand of hemp products with CBD. There are three products on that lineup:
Full Spectrum Hemp Oil costs $69.96
Hemp Softgels with Curcumin costs $65.95
Instant Relief is a soothing cream that costs $45.95
I'm Jerry!
I Created My Own 4-Figure Monthly Passive Income at just 21 Years Old!​
Does The Product Work?
For these types of products, their claims would have to be approved by the FDA or Food and Drug Authority. Otherwise, any claim they make would be taken with skepticism.
You see, therapeutic and medicinal claims can't be made without the FDA's approval. They'd have to carry out certain testing procedures to determine as to whether or not there's substance to the claims made.
Lifocity doesn't make any therapeutic claim about their products, which is kind of a good sign. However, we are disappointed that we weren't able to find third-party feedback from their users. This could mean one of two things:
The people who tried them found that these products worked at the bare minimum but didn't have anything unique to offer.
The people who tried them weren't exactly happy with the product, but it wasn't worth it to post something on social media or any review site.
All that we can rely on is the scientific journals' findings on CBD and its efficiency and other properties.
How To Make Money with Lifocity?
Just like any other MLM business, Lifocity offers two ways to make money from their program:
Retail sales and commissions from selling their products.
Commissions from building a team and having them generate their own sales
How To Get Started with Lifocity?
To become a member and to qualify for the MLM opportunity, you need to pay a $30 annual membership fee and then you have to purchase one of the starter kits available:
Brand Experience Kit for $313
Brand Builder Kit for $589 or
Business Builder Kit (cost not disclosed)
Lifocity Compensation Plan
Lifocity's compensation plan isn't that complicated. In fact, it's pretty much straightforward. It's heavily incentivizing retail sales as opposed to recruiting people, which is a good thing.
Retail Commissions
You earn a percentage of retail commissions from the products you sell at retail price. You get their products at wholesale price, usually averaging at 15 to 25% discount. The difference between retail and wholesale is your profit, or what they call as retail commission.
Retailer Bonus
This is a bonus amounting between 40% and 50% based on the generated retail sales volume.
40% of 50% of sales volume generated by personally enrolled retail customers
5% on level 1 of the unilevel team, 10% on level 2 and 15% on level 3
Retail Commission Match
Members earn a percentage match of the retail commissions earned by their first three levels of their unilevel team.
Level 1 Brand Partners earn a 10% match on level 1
Level 2 Brand Partners earn a 10% match on levels 1 and 2
Level 3 Brand Partners and higher earn a 10% match on levels 1 to 3
Lifocity Ugly Truths Revealed!
#1 Saturated Market
The thing about Lifocity and their products is that they're in a very saturated market. Go on Amazon and you'll find different commercial and independent companies marketing the same product, but they're cheaper.
You don't need to go through the hassle of talking to a sales rep when you shop on Amazon.
#2 Not Easily Received By Other Countries
Despite being widely received by western countries, Cannabis still has a lot of borders to break in terms of being medically and therapeutically beneficial to individuals suffering from various conditions. With that said, you're marketing a product carrying a certain stigma.
Some countries will even consider CBD as still illegal because it's a component of Cannabis. This would make it difficult for you to market this product.
What I Like About Lifocity?
#1 Incentives On Retail
There's a huge incentive for making retail sales, so you don't really have to build a team to maximize their income potential. It just pushes you to sell more, or if you're going to build a team, have them sell more.
Lifocity is a legitimate MLM company that markets various CBD brands and other nutritional supplements. However, its income potential may be affected by the following:
People are on a saturated market for these products. You'll find cheaper counterparts on Amazon, and coming from more reliable providiers.
Some countries are still skeptical about marketing CBD products as an alternative to commercial medicine. Some may even consider it illegal, so there's no way to sell this product.
One good thing here is that their incentives are focused on retail sales, so you don't have to go out and build a team. You can make a steady income just by reselling these products, but you'd have to shell out a lot of money to make it worth your while.
How I Make a Living Online?
I'm not a fan of MLM, not because it's illegal or not profitable, but because of all the restrictions and the expensive costs involved.
Instead, Affiliate Marketing is my top recommended business model for anyone to make money online.
The reason is simple...
You don't have to recruit anyone to make money
You have the freedom to promote any products you want and not being restricted to only promote the products from one MLM company
It's Free to get started
In fact, with affiliate marketing...
I've personally created a 4-Figure Monthly Passive Income Stream and become financially independent at just 21 years old without any College degree or working experience!
Through my own hard work, I went from a broke restaurant waiter to living my dream laptop lifestyle in less than a year's time...
If you want to discover the secrets of how I did it at such a young age, click here!