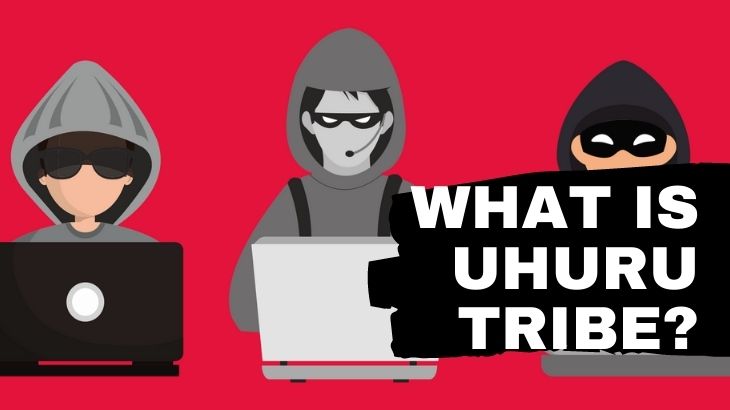 What Is Uhuru Tribe? Exposing This South African Ponzi Scheme!
Welcome to my Uhuru Tribe review!
This is one of the many scams that we've seen online, proliferating as much as it can and trying to get as many people to invest.
The sad part is that these programs take advantage of people's lack of information on cryptocurrency. All they're promised is a huge ROI for their money, and they cash out as millionaires in a few months. Before long, this scheme would've raked in a lot of money and would've left their people with no returns.
This scheme is called Uhuru Tribe.
First of all, I must Congratulate you for taking your time to do your own research before buying into any "seemingly good" product.
That's the way to avoid scams and find the legitimate way to make money online!
Let me be completely transparent with you, I'm not associated with Uhuru Tribe in any form.
So, rest assured that I'm not here to pitch or sell anything to you.
Instead, I'm here to reveal what this Ponzi scheme can do to you...
Uhuru Tribe Review Summary
Product Name: Uhuru Tribe
Founder: Coenraad "Coenie" Botha
Product Type: Cryptocurrency MLM
Price: Bitcoin for UHC
Best For: NO ONE!
Summary: Uhuru Tribe is a MLM company that operates in the cryptocurrency niche. It's got a lot of red flags of a Ponzi scheme, and some of them are obvious. But they operate differently than most of the Ponzi's we've reviewed here. We're going to discuss all about it in this article...
Rating: 1/100
Recommended: NO!
More...
Their landing page alone doesn't have any useful information that we can use. All we know is that Uhuru Tribe is a MLM or multi-level marketing company that operates under the cryptocurrency and investment niche.
There's no information on who operates or who owns the website, but they have one YouTube video talking about their income opportunity. This spokesperson, named Coenraad "Coenie" Botha, talks about the opportunity and can be seen logging on the site using the Admin dashboard.
It's safe to say that he's running the show, or at least holds a high position in the income opportunity. His social media accounts state that he's currently residing in Swakopmund, Namibia. However, Uhuru Tribe's bank accounts are located in South Africa. It's unclear as to where they operate, but it's definitely either of these locations.
What The Heck Is A Stockvel?
On their website, you'll something they market called a Stokvel, which is defined by Wikipedia as:
"an invitation-only club of 12 or more people serving saving schemes or credit unions in South Africa. Members continue to contribute fixed sums of money to a central fund on a monthly or fortnightly basis".
What this basically means is that people invest in a coop or union of sorts, expecting a fixed return on their deposit. It may be in the guise of savings, but it's actually an investment and people are getting into an investment opportunity.
Uhuru Tribe Product Line
Like most of the MLM companies that reviewed that operated under this niche, Uhuru Tribe doesn't have any product line or service to avail of. This means that there's no profit generated by the company other than the money invested by their members.
Are there trades done to generate ROI? No.
Are there products sold? No.
I'm Jerry!
I Created My Own 4-Figure Monthly Passive Income at just 21 Years Old!​
I'm Jerry!
I Created My Own 4-Figure Monthly Passive Income at just 21 Years Old!​
Does The Product Work?
The first iteration of Uhuru Tribe didn't have anything to do with cryptocurrency. They operated in South African Rand (South Africa's currency) and used a MLM matrix to pay out commissions. This is a combination of Ponzi and Pyramid Scheme.
Now, Uhuru Tribe takes on cryptocurrency by only paying out in Bitcoin and UHC. UHC or Uhuru Coins points are their own brand of cryptocurrency that's traded within the program. To get more coins, you'd have to invest real money.
Outside of the company, UHC does not have inherent value and cannot be traded or invested in other platforms.
So what does this mean?
The only source of income that Uhuru Tribe has is through recruitment. If they get people to invest in the program, there will always be funds to pay off members at the higher tier. The top positions will always get a slice of the pie.
Because their business model is fraudulent, they set up this pseudo-compliant statement that goes like this:
This is a big fat lie. Their commissions and compensation are based on a MLM unilevel compensation structure.
To operate legally, and that means to carry out investments, they need to be registered with the various financial regulators. We couldn't find any information on their registration, so it's safe to assume that they're not.
This makes them liable for securities fraud in the countries they operate.
How To Make Money with Uhuru Tribe?
There's only one way to make money from Uhuru Tribe and that's through recruiting people. Your ROI is only based on how many you can recruit into the program.
How To Get Started with Uhuru Tribe?
The membership costs 2.50 UHC and then succeeding months will cost 25 UHC. Their marketing material states that they only accept Bitcoin for payment for these UHC.
Uhuru Tribe Compensation Plan
Their compensation plan is focused on their investment platforms. These are what they use to convice you that your money is going to grow with them.
UHC Investment Plans
Uhuru Tribe only accepts Bitcoin as initial deposit in exchange for UHC points. The current exchange rate is not disclosed on their website. Once UHC is acquired, you can use it to invest in the following plans:
Starter – invest 25 UHC or more and receive a 0.28% daily ROI for 11 weeks
Bronze – invest 50 UHC or more and receive a 0.32% daily ROI for 25 weeks
Silver – invest 250 UHC or more and receive a 0.36% daily ROI for 40 weeks
Gold – invest 1000 UHC or more and receive a 0.58% daily ROI for 53 weeks
As expected, your returns are paid in UHC.
Residual Commissions
They pay out residual commissions through a unilevel compensation structure. Your recruits are placed at your first level. Your recruits' new signups will be placed on your second level, and so on.
You earn a percentage commission based on these levels as follows:
level 1 (personally recruited affiliates) – 65%
level 2 – 10%
level 3 – 5%
levels 4 and 5 – 4%
levels 6 and 7 – 3%
levels 8 to 10 – 2%
Uhuru Tribe Ugly Truths Revealed!
#1 Ponzi Scheme
It's clearly a Ponzi scheme. It doesn't take a genius to see through their compensation plan. The income that they generate only come from people who sign up for the program.
They don't have retail products or services, so there's no profits generated from retail side of things.
There's no trading being done here, so no profits earned based on margins.
You can also refer to the SEC and FTC's guidelines for spotting these schemes:
#2 Useless Coins
They're asking you to use valuable cryptocurrency, which is BTC, in exchange for useless coins. Their UHC is practically useless and has no market value outside of Uhuru Tribe. Bitcoin is valued in the thousands in the market, and can be used in any business.
So why would you even trade in your BTC for something so useless?
What I Like About Uhuru Tribe?
There's just nothing to like about Uhuru Tribe. The program's very fraudulent and the fact that it's very obvious in its red flags means that only the most gullible people are pulled into investing.
Uhuru Tribe is definitely a Ponzi scheme, and there's enough evidence just by looking at the way their compensation plan and income opportunity work.
There's no retail product or service being marketed. This makes it so that the only source of income comes from investments coming from new members. This makes it a Ponzi scheme.
You're trading in expensive Bitcoin for useless cryptocurrency. The way I see it, only the higher end of the membership tier and the owners are going to benefit from the BTC investments.
Stay away from this program. You could also land some jail time if you promote this program. They're committing securities fraud for taking in investments without any permission from financial regulators.
How I Make a Living Online?
I'm not a fan of MLM, not because it's illegal or not profitable, but because of all the restrictions and the expensive costs involved.
Instead, Affiliate Marketing is my top recommended business model for anyone to make money online.
The reason is simple...
You don't have to recruit anyone to make money
You have the freedom to promote any products you want and not being restricted to only promote the products from one MLM company
It's Free to get started
In fact, with affiliate marketing...
I've personally created a 4-Figure Monthly Passive Income Stream and become financially independent at just 21 years old without any College degree or working experience!
Through my own hard work, I went from a broke restaurant waiter to living my dream laptop lifestyle in less than a year's time...
If you want to discover the secrets of how I did it at such a young age, click here!