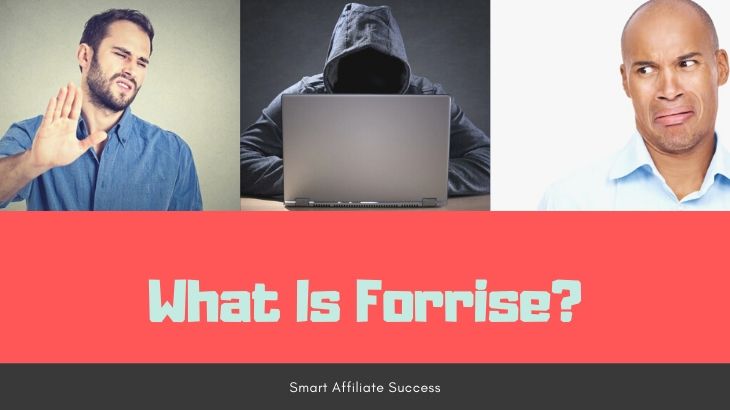 What Is Forrise? It's Not Another HYIP Scheme, Is It?
Welcome to my Forrise review!
There are a handful of MLM companies that promises an investment opportunity where you could make tenfold of your entire investment. This, combined with other promises of passive income, has led to the creation of many Pyramid and Ponzi schemes that have made headlines over the Internet.
But why disguise themselves as MLM companies though? It's because it's easy for them to copy the basic MLM compensation plan and incorporate it into their program so much so that they look legitimate.
Today, we're taking a look at a private trading company called Forrise.
First of all, I must Congratulate you for taking your time to do your own research before buying into any "seemingly good" product.
That's the way to avoid scams and find the legitimate way to make money online!
Let me be completely transparent with you, I'm not associated with Forrise in any form.
So, rest assured that I'm not here to pitch or sell anything to you.
Instead, I'm here to reveal what this Ponzi scheme is about...
Forrise Review Summary
Product Name: Forrise
Founder: Adam Schultz
Product Type: HYIP MLM
Price: $50 USD or various cryptocurrencies
Best For: NO ONE!
Summary: Forrise is a HYIP or High Yield Investment Program disguised as a MLM company. Its business model is questionable, and has no proof that it's generating income. There's a lot of red flags that we uncovered in this review, so find out in the article below.
Rating: 1/100
Recommended: No!
More...
Forrise is a MLM or multi-level marketing company founded in 2009 by Adam Schultz. The company's located and registered to operate in the Republic of Panama.
They currently have a development plan until 2022 with various offices up in London, Milan, Hong Kong, Beijing, Mumbai, and Singapore.
However, the website's domain registration dates the company back to 2019 and has only started to promote itself on social media channels the same year. The website does state that they've been around since 2009 when Schultz started to study about finances in Great Britain.
We only hear about Schultz in their marketing videos, and for someone of his experience, we never saw any digital footprint about him anywhere. His name is only linked to Forrise, which is mighty suspect if you ask me.
They also have an incorporation certificate on their website that labels them as "Forrise Inc." but it doesn't really mean anything.
Forrise Product Line
Legitimate MLM companies will always have a retail product or service to offer, with incentives for selling them. Legitimate MLM's will also make sure that their compensation plan are rewarding sales over recruiting more.
Unfortunately for Forrise, there's no retail product or service being offered here. You're only buying into their membership, which will allow you to take part in their income opportunity.
I'm Jerry!
I Created My Own 4-Figure Monthly Passive Income at just 21 Years Old!​
Does The Product Work?
So, because they have no products or services to sell, does this make them a Ponzi scheme?
It doesn't, but it certainly is a red flag.
According to Forrise, all of their external review are generated through funds from their customers to create consolidated financial flows of investment funds.
This basically means "exchange arbitrage" where funds are funneled upwards to pay off people at the higher tiers. To become a higher tier, you need to recruit people below you.
And in this case, you will always be someone's bottom tier.
Even if they do want to carry these out as investments, they'd need to be registered with financial regulatory authorities such as the SEC. Since their audience is mostly coming from the USA, they'd need to be registered with the SEC to offer this kind of service.
Their incorporation document doesn't mean anything at all because it's one thing to be registered to do business and another thing to actually do investments.
So them being not registered with the SEC means that they're just a straight-up Ponzi scheme. The only source of income they get is coming from new members signing up for the program.
How To Make Money with Forrise?
There's only one way to make money from Forrise and that's through recruiting. Your commissions, or what they dub as your ROI, are coming from people you recruit.
How To Get Started with Forrise?
There's a minimum investment to join Forrise. These may come in the following currencies:
You can invest in one currency, or combine two or more.
Forrise Compensation Plan
ROI or Return on Commission
Your investments are promised to earn you ROI over a period of 15 days. You earn a 1% profit daily between those days.
Investing in amounts from $700 to $4999 earns you 1.4% of daily profits over the course of 30 days.
The next rage goes from $5000 to $10,000 nets you 1.7% daily profit over 50 days.
Your ROI can be in any currency you want, so you can get USD, BTC, or ETH.
Referral Commissions
You earn a referral commission following a unilevel compensation structure. Your members are placed under you, and their recruits are placed on another level below that.
The structure is about 25 levels deep.
Forrise Ugly Truths Revealed!
#1 Ponzi Scheme Business Model
There's no proof that they're carrying out investments or trading to generate profits for their members. There's also no way how much money the upper management is making from the rest of the members.
Like I said earlier, members are being paid out using the new members' investments and that's just a vicious cycle. As long as you're the lowest tier, you're never going to get your money back.
The fact that their investment cycles are as long as 50 days means that they don't want you to withdraw your cash out immediately. You're just being fooled into thinking that your money is growing. When in fact, the cash stays longer in a pool because it's being divided between the upper tiers.
#2 No Owner Information
We're considering this to be a red flag given that the only time Schultz' name comes out is when you search for Forrise.
Here's something that doesn't add up. If he's been in this niche for more than 10 years, we would have an inkling of what he's done (like a portfolio or a list of his accolades) that would allow us to gauge just how good of a financial expert he is.
And if he's a trader or investor, it's pretty difficult to keep those things silent. In fact, you want people to know about your achievements in the industry.
We assume that Schultz might just be a paid actor to be the front man for this program. We doubt we're ever going to know who the real owners are.
What I Like About Forrise?
Nothing about Forrise makes sense for us. There's just a lot of red flags that there's not going to be a good thing to find about this program.
At this time of writing, we have enough reason to believe that Forrise is a HYIP or high-yield investment program, which is another fancy way of saying PONZI SCHEME.
The business model just doesn't add up, and is clearly reliant on recruiting people to invest more into the program.
There's no proof that external profits are generated by anything else other than the members' investments. There are no trades done here.
Even if they do carry out trades, they are not authorized to do so. This constitutes securities fraud, and you could land some jail time just by promoting this program.
Stay away from this program. There's nothing that you could possibly benefit from this program, be it in the short-term or long-term.
How I Make a Living Online?
I'm not a fan of MLM, not because it's illegal or not profitable, but because of all the restrictions and the expensive costs involved.
Instead, Affiliate Marketing is my top recommended business model for anyone to make money online.
The reason is simple...
You don't have to recruit anyone to make money
You have the freedom to promote any products you want and not being restricted to only promote the products from one MLM company
It's Free to get started
In fact, with affiliate marketing...
I've personally created a 4-Figure Monthly Passive Income Stream and become financially independent at just 21 years old without any College degree or working experience!
Through my own hard work, I went from a broke restaurant waiter to living my dream laptop lifestyle in less than a year's time...
If you want to discover the secrets of how I did it at such a young age, click here!