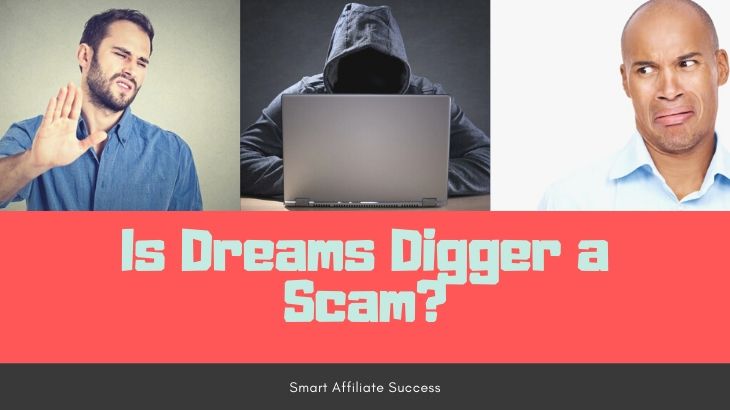 Is Dreams Diggers a Scam? It's a Brazilian Cryptocurrency Ponzi Scheme!
Welcome to my Dreams Digger review!
The MLM industry will never be rid of cryptocurrency programs, mostly because it's easy for these programs to scam people. Mind you, we're not assuming that all cryptocurrency MLM's are scams, but it's hard to not be suspicious about every single one of them.
We've actually yet to review a legitimate MLM company that markets a cryptocurrency investment service or any product related to it.
Today, we're taking a look at another possible scheme called Dreams Diggers.
First of all, I must Congratulate you for taking your time to do your own research before buying into any "seemingly good" product.
That's the way to avoid scams and find the legitimate way to make money online!
Let me be completely transparent with you, I'm not associated with XXX in any form.
So, rest assured that I'm not here to pitch or sell anything to you.
Instead, I'm here to reveal
Dreams Digger Review Summary
Product Name: Dreams Digger
Founder: Leonardo Araujo
Product Type: Cryptocurrency MLM
Price: $10 per year + various investment packages
Best For: NO ONE!
Summary: Dreams Digger is a cryptocurrency investment program in the MLM industry, but it has a lot of red flags. We have enough reason to believe that it's a Ponzi scheme due to its main source of income being recruitment. They're also being investigated by the Brazilian SEC for fraud.
Rating: 1/100
Recommended: No!
More...
Dreams Digger is a MLM or multi-level marketing company that operates in the cryptocurrency niche. They're based in Salvador, Brazil, with Leonardo Araujo as its CEO and founder.
The site has no information on Araujo's background on both the cryptocurrency niche and in the MLM industry. We were able to locate one Leonardo Araujo who was involved in network marketing as far as 2015, but we doubt if it's the one and the same.
Looking at their WHOIS information, it turns out that the site launched on Jan 1 2018, registered in Scottsdale, Arizona and under a private registration.
So, no owner information and a relatively new website make this program somewhat sketchy, but we'll move on to their products.
Dreams Diggers Product Line
Unlike most cryptocurrency Ponzi schemes we reviewed, Dreams Digger actually has a program to sell for called Next. This is their proprietary trading bot that allows you to invest funds and get a return on investment.
They claim that Next can be used to get you "insight into the incredible cryptocurrency market" and helps you "become an expert in the field".
Let me tell you right now that these are just fancy buzz words to pitch a sale.
I'm Jerry!
I Created My Own 4-Figure Monthly Passive Income at just 21 Years Old!​
Does The Product Work?
Dreams Digger's Next participates in Arbitrage Trading, which carries out automated operations throughout different exchanges in the market. Arbitrage trading involves buying and selling stocks at cheaper quotes.
This is a legitimate form of trading, and is used by short-term traders. But there's no proof that Dreams Digger actually carries out arbitrage trading. They're not even registered with the Brazilian SEC to carry out these investments.
So where does that leave us? Well, their only source of income comes from new investments coming in from new recruits. These newly invested funds are used to pay out the members at the higher tiers, especially the management side. This makes it a Ponzi scheme.
On to the topic of registration. They're not authorized with the Brazilian SEC, or any country's SEC, to carry out these types of financial activities (and by activities, I mean the trading and investments).
Legal trading and investment firms will make it a point to post any of the following on their website to prove to people that they are authorized to carry out financial activities:
SEC registration, along with the corresponding details, that allow their users to verify their registration on their country's SEC database.
Registrations with other pertinent financial authorities that overlook investments and trading (on top of the SEC).
A roster of their registered and licensed traders and brokers, all duly certified and verified by the country's SEC or financial regulation authority.
The fact that Dreams Digger has none of these means that promoting this program could land you some serious jail time for securities fraud.
How To Make Money with Dreams Digger?
There's only one way to make money from Dreams Digger, and that's through recruitment commissions. You're not going to make any money from your investment.
How To Get Started with Dreams Diggers?
There are two services that you can avail of from Dreams Digger. To join their product, Next, you'll have to subscribe at $10 per year as a retail customer. I don't think there's a member discount for the subscription.
Then comes the affiliate membership packages which will allow you to enjoy their income opportunity.
Pro Pack – costs $149 per year
Enterprise Pack – costs $249 per year
Just like any other Ponzi scheme, the more you pay, the higher your income potential is.
Dreams Diggers Compensation Plan
Their compensation plan is meant to confuse people just so they can get them to sign up without wondering how the thing actually works.
By purchasing the membership package, you can earn from the following commissions:
Affiliate Commissions
You earn a commission every time you sell a Next program subscription. You also get commission for recruiting people into the system.
Retail Commissions
You earn commissions from people when they invest in the trading bot. You get a 10% commission from their investments.
Recruitment Commissions
You get 10% of the membership fees paid out by members you recruit, along with the 10% commission that they invest in the bot.
Residual Commissions
Dreams Digger follows a binary compensation plan to pay your residual commissions. The members are placed on your two legs, left and right, and houses only two positions. This is the first level. When your members recruit people, they're placed in their own legs, but they become your second level.
Succeeding levels will split positions as it goes deeper, which the lower level having twice the number of positions as the preceding one.
Dreams Digger Ugly Truths Revealed!
#1 Investigated For Fraud
Dreams Digger has been investigated by the Brazilian authorities for fraud. According to this document, Dreams Digger or DG Cursos de Trader LTDA has funneled investments amounting to millions of dollars.
This is also coming from the fact that they have no prior registration with the Brazilian SEC to carry out these investments.
#2 Have Not Paid Members Since December 2019
Dreams Digger has not paid out their members since December 2019, and they've been holding out to about $1.09 million in payouts since that time.
Earlier in January 2020, Dreams Digger's founder Leonardo Araujo confirmed that the company has collapsed.
#3 Rebranded As E-Volve
There's a new rebranded version of Dreams Digger called E-Volve, with Simoni Volpe listed as the company founder. The promotion of E-Volve started right after the collapse of Dreams Digger, which took place on March 2020.
There's no digital footprint for Volpe, so this is highly suspicious. We also don't know if he was involved with Dreams Digger as well.
However, I doubt we'll be hearing the last of Dreams Digger. Schemes like these are only going to take a hit, shut down for a bit, and rebrand.
What I Like About Dreams Digger?
There's nothing positive that's worth mentioning about Dreams Digger. It's just a Ponzi scheme, so it doesn't make sense to praise this program and the people behind it.
Dreams Digger is a Ponzi scheme, and various sources have reported that it's already shut down since March 2020. The founder blames the programmers behind Next for its collapse, but we all know why the program died the way it did.
It relied too much on recruiting as its source of income, so once the recruitment stopped, the money stopped coming in too. This is why the company collapsed and didn't pay out their members.
The company is being investigated for fraud, so that's more than enough to stay away from this program.
As of this writing, they may have rebranded into a different company with a new spokesperson at the helm. There's no way of determining if the founders for the rebranded company are in cahoots with Dreams Digger, but either way, stay away from this program.
How I Make a Living Online?
I'm not a fan of MLM, not because it's illegal or not profitable, but because of all the restrictions and the expensive costs involved.
Instead, Affiliate Marketing is my top recommended business model for anyone to make money online.
The reason is simple...
You don't have to recruit anyone to make money
You have the freedom to promote any products you want and not being restricted to only promote the products from one MLM company
It's Free to get started
In fact, with affiliate marketing...
I've personally created a 4-Figure Monthly Passive Income Stream and become financially independent at just 21 years old without any College degree or working experience!
Through my own hard work, I went from a broke restaurant waiter to living my dream laptop lifestyle in less than a year's time...
If you want to discover the secrets of how I did it at such a young age, click here!