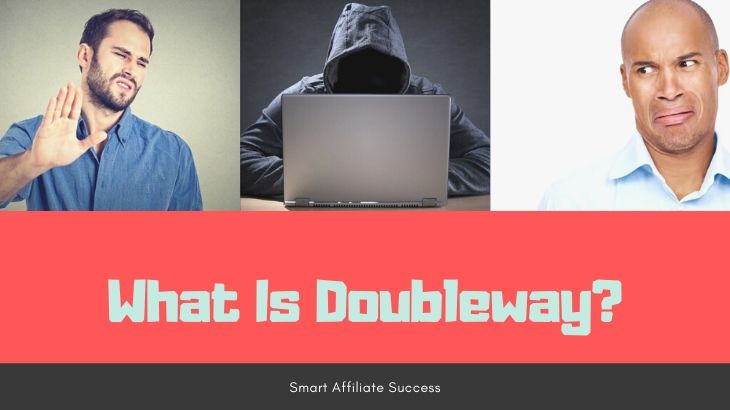 What Is Doubleway? Beware Of This Crypto MLM Scam!
Welcome to my Doubleway review!
Cryptocurrency MLM's are popping up like crazy, and not because it's a good opportunity for the masses. There are a lot of crypto MLM's that actually turn out to be nothing more than a pyramid scheme.
The reason why people fall for it is because cryptocurrency is brand new and mysterious. Not a lot of people know the ins and outs of the industry, and that's why they get a lot of victims for these pyramid schemes.
Today, we're looking at a possible (and obvious) pyramid scheme called Doubleway that tries so hard to hide its illegitimate operations…
First of all, I must Congratulate you for taking your time to do your own research before buying into any "seemingly good" product.
That's the way to avoid scams and find the legitimate way to make money online!
Let me be completely transparent with you, I'm not associated with Doubleway in any form.
So, rest assured that I'm not here to pitch or sell anything to you.
Instead, I'm here to reveal why you can't trust this company...
Doubleway Review Summary
Product Name: Doubleway
Founder: Not disclosed
Product Type: Cryptocurrency MLM
Price: 0.8 ETH minimum investment ($188.92 based on ETH to USD conversion)
Best For: NO ONE!
Summary: Doubleway is a cryptocurrency investment MLM that has all the makings of a pyramid scheme. It's violated every single FTC guideline out there, and it's just too suspicious to trust. You'll see what we mean in this article...
Rating: 1/100
Recommended: NO!
More...
Doubleway is a MLM or multi-level marketing company that markets a cryptocurrency investment opportunity (Ethereum or ETH). The company makes this possible by having you invest in a position and then have you fill up the rest of the matrix by recruiting people.
We'll talk more about their compensation plan in the next few sections.
For now, let's focus on the owners.
Unfortunately, there are no information that can be found on who owns the company or who even founded it. The site, doubleway.io, was registered on September 2019, so it's relatively new. The domain registration was private, so there's no information on who owns it or where it was registered from.
However, third-party reviewers who used Alexa found out that the site's main source of traffic comes from South America. We assume that the company might be based there.
We would also like to assume that Doubleway might be a rehashed or revamped version of another older cryptocurrency scam because of how new it is.
Right off the bat, having no owner information is a huge red flag because it just lets us know that the company is not transparent with such important information.
Doubleway Product Line
There are no retail products or services being offered by Doubleway. As a MLM company, several countries are requiring MLM's to have at least a product or service to continue operating.
The only thing that Doubleway really offers is an investment of sorts, or rather, have you purchase a membership tier that you need to fill up in order to make money.
This is how it goes:
You purchase a matrix (2x8).
You fill in this matrix by recruiting people. They will do the same as you did, and they'll have the same matrix as you.
You cash in once all the positions are filled, and then you go back to step 1 to make more money.
It sounds easy and promising, but there's just no way to make money this way.
I'm Jerry!
I Created My Own 4-Figure Monthly Passive Income at just 21 Years Old!​
Does The Product Work?
Unfortunately, there's no way to make money from their opportunity and here's why.
Because there's no product or services, there's no other way for the company to generate profits. There's no realistic way to sustain the company because there's no money coming in other than the investments from people.
If people don't buy into the program, the money stops coming in.
On top of that, their compensation plan is focused solely on recruiting, and that's a huge red flag for the FTC or any other financial institution.
If you check the guidelines for how to spot pyramid schemes, you'll see that one of the red flags is its focus on incentivizing recruitment.
There's just enough reason for me to believe that there's something up with this company.
How To Make Money with Doubleway?
The only way to make money from this program is to recruit people. There are no products or services sold, so there's no way to make retail commissions here.
All that you're really making here is from the recruitment.
How To Get Started with Doubleway?
The minimum investment cost is 0.8 ETH or US$188.92 as of this writing.
Filling up the 8 levels will amount in a total investment of 21.12 ETH per month, or US$4987.49.
You don't have to purchase all of the levels to start the investment, but you use your commissions to purchase the levels below you to upgrade.
Doubleway Compensation Plan
Doubleway follows a Matrix compensation plan that tracks and pays your commissions in this company. This one follows a 2x8 Matrix, with the first level having only 2 positions.
This means that you can only recruit 2 people for your first level, and your new recruits will be placed in the 2nd levels and so on.
Matrix Commissions
All of the payments are made in Ethereum, which is a cryptocurrency (a legit one). Your investment here will just be used to pay your sponsor in order to get him or her their payout, and the others before him.
The commissions you generate can be used to invest in purchasing levels, or sponsoring recruits.
There's no way of cashing out, unfortunately.
Doubleway Ugly Truths Revealed!
#1 No Owner Information
One red flag here is that there's no owner information. This means that they don't want to be liable for anything illegal if they do get caught.
Majority of MLM companies that we reviewed made the owner information available because it's a selling point. When people know who's behind a company, it adds more confidence in working with them.
#2 The Makings Of a Pyramid Scheme
All the recruitment done and being rewarded for it is a huge red flag. According to the FTC guidelines, any MLM or income opportunity that relies too much on recruitment with no products sold can be classified as a pyramid scheme.
#3 Possible Rehash of Another Scam
Because Doubleway is relatively new, we would like to assume that they might be a rehash of another crypto MLM scam that got caught.
#4 You Can't Cash Out Your Earnings!
Obviously, this program doesn't allow you to cash out your earnings because it's a scam. The money's just going around in circles, mostly to pay off the higher member tiers.
What I Like About Doubleway?
There's nothing to like about the program simply because it's a pyramid scheme, and we have enough reason to believe that it is.
Doubleway doesn't try so hard to be legitimate, and it looks like it just wants to get people into the program without any remorse.
There's no incentive here in signing up because all the money you get is from recruiting, and the people above you are always paid first. You have to recruit people to get paid.
It could be a rehashed version of another scam, and that's bad news because the older iteration might have collapsed or got caught.
We don't recommend this to anyone at this point, and there's nothing beneficial that you can get from this program.
How I Make a Living Online?
I'm not a fan of MLM, not because it's illegal or not profitable, but because of all the restrictions and the expensive costs involved.
Instead, Affiliate Marketing is my top recommended business model for anyone to make money online.
The reason is simple...
You don't have to recruit anyone to make money
You have the freedom to promote any products you want and not being restricted to only promote the products from one MLM company
It's Free to get started
In fact, with affiliate marketing...
I've personally created a 4-Figure Monthly Passive Income Stream and become financially independent at just 21 years old without any College degree or working experience!
Through my own hard work, I went from a broke restaurant waiter to living my dream laptop lifestyle in less than a year's time...
If you want to discover the secrets of how I did it at such a young age, click here!