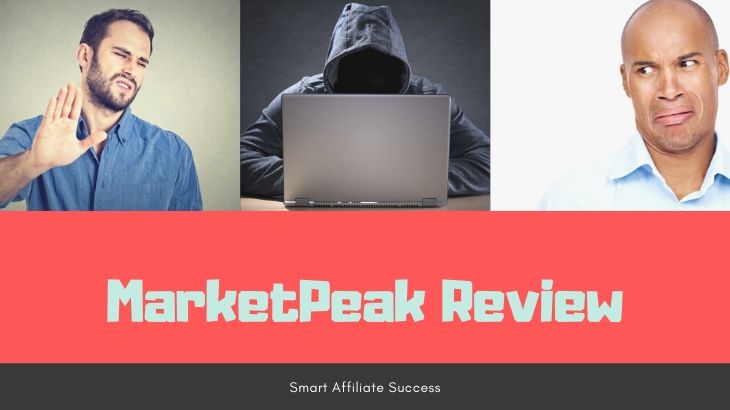 MarketPeak Review – This Crypto MLM Could Get You In Trouble!
Welcome to my MarketPeak review!
Cryptocurrency Ponzi schemes are very rampant in the MLM or multi-level marketing industry, and that's because not a lot of people know about the industry as a whole. People don't know enough about it and they just assume that they earn a lot of money because they got in early.
Unfortunately, we've reviewed a handful of these crypto MLM's and they're all just bad news.
Today, we're looking at MarketPeak.
First of all, I must Congratulate you for taking your time to do your own research before buying into any "seemingly good" product.
That's the way to avoid scams and find the legitimate way to make money online!
Let me be completely transparent with you, I'm not associated with MarketPeak in any form.
So, rest assured that I'm not here to pitch or sell anything to you.
Instead, I'm here to reveal why you shouldn't work with this company.
MarketPeak Review Summary
Product Name: MarketPeak
Founder: Sergei Heck
Product Type: Cryptocurrency MLM
Price: $250 to $7500 for investments
Best For: No one!
Summary: MarketPeak is a MLM company that operates under the cryptocurrency niche. It's nothing more than a Pyramid Scheme, and they make it too obvious that it is. The incentives are focused on recruiting people, and on top of that, the coin that they have is completely worthless.
Rating: 1/100
Recommended: No!
More...
MarketPeak is a MLM or multi-level marketing company that operates within the cryptocurrency niche.
The company's headquartered and incorporated in Dubai. The founder, Sergei Heck, is a real person but unfortunately, his reputation precedes him.
He's been involved in other Ponzi schemes too, namely Questra Global and Cryp Trade Capital. His latest involvement was with BeOnPush Ponzi back in 2018.
Of course, none of the companies are mentioned in his corporate bio found on MarketPeak's website. Rather, Heck starts off his bio with his enormous success in creating a global sales team in a matter of months.
MarketPeak Product Line
MarketPeak doesn't offer any products or services for retail, which is a big no-no for most countries who have a lot of MLM companies. In the USA, the FTC requires MLM companies to provide retail products or services as majority of their income opportunity.
Unfortunately, none of that happens in MarketPeak. You only pay for the membership that allows you to invest in the program and that's it.
Their membership covers investing into their token called PEAK, which is an Ethereum-based ERC-20 token and takes about an hour to setup and deploy.
I'm Jerry!
I Created My Own 4-Figure Monthly Passive Income at just 21 Years Old!​
Does The Product Work?
PEAK Tokens are actually useless outside of MarketPeak. You're investing in the compensation plan and that's it.
There are no retail products or services here, so that makes this program a pyramid scheme.
On another note, because it's not registered with any financial institutions, their investments could be counted as securities fraud. You see, even though they're incorporated, they still need to be authorized to carry out investments (which they aren't).
Even if they do have people investing in their tokens, they can easily devalue their tokens to make it look like their customers aren't getting their money back. This is called an exit scam.
The reason why they can do this is because there's nothing that would drive the coin's value up, and thus the value is arbitrary.
How To Make Money with MarketPeak?
There's only one way to make money from MarketPeak, and that is through recruitment. They make you think you're investing, but you're just purchasing a slot into their commission cycle, which I'll get into later on.
How To Get Started with MarketPeak?
There are no products or services offered, so you're not buying any starter sets or anything. What you are buying into is the affiliate membership fee, which is a minimum of $250 and could as high as $7500.
This allows you to purchase a position by allowing you to "invest" the money in their PEAK tokens.
MarketPeak Compensation Plan
Their compensation plan makes you think that you're investing into something, but it actually isn't. You're just buying into a membership, and I can't stress this enough.
But for the sake of this review, let's just go over their comp plan:
ROI Commissions
You receive a referral commission following a unilevel compensation structure for your ROI's. This depends on how much you invested in the program:
Affiliate – invest $250 and receive 5000 PEAK tokens
Marketer – invest $1000 and receive 20,000 PEAK tokens
All-In – invest $2000 and receive 40,000 PEAK tokens plus a 10% bonus
Enterprise – invest $7500 and receive 150,000 PEAK tokens plus a 15% bonus
All direct recruits are placed one level under you and your future recruits (or your recruits' recruits) are placed on your 2nd, 3rd, and so on.
Referral commissions are paid out based on levels:
level 1 (personally recruited affiliates) – 10%
level 2 – 4%
level 3 – 2%
levels 4 to 6 – 1%
levels 7 and 8 – 0.5%
Residual Commission
This follows a binary compensation structure, but will not benefit new members. Instead it only benefits the older members up on the higher positions.
The residual commissions earned on a daily basis based on rank are:
Newbies and Rookies earn up to $560 a day
Intermediates earn up to $1040 a day
Advanced earn up to $1520 a day
Professionals earn up to $2000 a day
Experts earn up to $2560 a day
Leaders earn up to $3040 a day
Mentors earn up to $3520 a day
Stars earn up to $4000 a day
Super Stars earn up to $5040 a day
Matching bonuses are also offered based on residual commissions paid out by MarketPeak. A 5% bonus is given out following the same unilevel structure.
MarketPeak Ugly Truths Revealed!
#1 Owner Has Previous Involvement with Other Ponzi Schemes!
MarketPeak's Sergei Heck has been involved with numerous Ponzi schemes, and that's not something that gives me confidence to invest in this program.
It already has the makings of a Ponzi scheme, so I'm pretty sure that this one's going to go down too.
#2 Worthless Cryptocurrency
The cryptocurrency is worthless and can't be used outside of MarketPeak. You can't trade on it and you can't even purchase stuff with it.
The cryptocurrency coming from MarketPeak is just to make sure your money stays within the company.
#3 Obvious Ponzi Scheme in the Making
Their fraud is divided into two components. First, there's the pyramid aspect of the model. All of the commissions within the business are based on recruiting affiliates and getting them to invest.
There's no retail to speak of here, so the money's just going straight into the company.
The second fraud is that of a Ponzi scheme because the money just revolves within the company and is left to pay out the higher ranked members. The funds that are remaining are trickled down into the next few ranks.
The lowest ranks will not be getting any fair slice of the commissions unless they get people into the program. That makes their recruits now the lowest rank.
Ultimately, this is just one bad program.
What I Like About MarketPeak?
There's nothing good about this program. It's suspicious and a complete waste of time.
MarketPeak is probably a pyramid scheme and Ponzi scheme, and we stand by our decision to call it that. There's just nothing legitimate going on around here.
There are no retail products or services here, so that's a huge red flag in the eyes of the FTC or any institution that governs MLM companies.
The focus is on recruitment and getting people, which is another red flag. You don't get any money unless you recruit people.
They're on the verge of committing securities fraud because they are not authorized to carry out financial investments.
Stay away from this program!
How I Make a Living Online?
I'm not a fan of MLM, not because it's illegal or not profitable, but because of all the restrictions and the expensive costs involved.
Instead, Affiliate Marketing is my top recommended business model for anyone to make money online.
The reason is simple...
You don't have to recruit anyone to make money
You have the freedom to promote any products you want and not being restricted to only promote the products from one MLM company
It's Free to get started
In fact, with affiliate marketing...
I've personally created a 4-Figure Monthly Passive Income Stream and become financially independent at just 21 years old without any College degree or working experience!
Through my own hard work, I went from a broke restaurant waiter to living my dream laptop lifestyle in less than a year's time...
If you want to discover the secrets of how I did it at such a young age, click here!