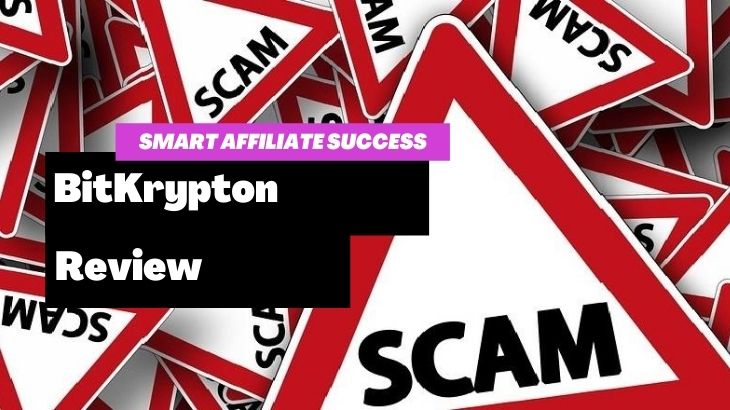 What Is BitKrypton? A Daily 0.5% Daily ROI Ponzi Scheme Exposed!
Welcome to my BitKrypton review!
There's just something about the cryptocurrency industry that draws in people who want to run Pyramid schemes. Is it the lack of public knowledge about the industry itself? Is it the promise of huge ROI's in a short amount of time? Is it a combination of these two?
Well, we'll find out in this review for BitKrypton.
First of all, I must Congratulate you for taking your time to do your own research before buying into any "seemingly good" product.
That's the way to avoid scams and find the legitimate way to make money online!
Let me be completely transparent with you, I'm not associated with BitKrypton in any form.
So, rest assured that I'm not here to pitch or sell anything to you.
Instead, I'm here to reveal what this scheme tries to do...
BitKrypton Review Summary
Product Name: BitKrypton
Founder: Not disclosed
Product Type: Cryptocurrency Ponzi Scheme
Price: $50 minimum investment
Best For: NO ONE!
Summary: BitKrypton is a cryptocurrency Ponzi scheme that promises 0.5% daily ROI in 730 days. This brings you to a total of 365% ROI, but this is nothing more than a scheme. The red flags of a pyramid scheme are all here on this program, and we're going to exploit them one by one...
Rating: 1/100
Recommended: No!
More...
BitKrypton is a MLM or multi-level marketing company that operates within the cryptocurrency investment niche.
Their landing page and product offering page claim that they've been in the investment service for 8 years and running. But their domain information says otherwise.
According to their WhoIs info, their domain name was registered privately in October 2019. The owner of the domain name remains a mystery. However, the bulk of the traffic coming into BitKrypton comes from Pakistan.
We assume that their owner could come from this country, or that they already have a few people they scammed into buying into this program.
And like always, if a MLM company (or any company for that matter) is not transparent about who owns them, then it's most likely a scam. There's no reason for secrecy in the MLM industry. While the cryptocurrency industry operates in anonymity, the MLM industry and its regulators require all companies to be transparent with ownership.
BitKrypton Product Line
Their company website doesn't offer really much information about what they have to offer. It's safe to assume that they have no retail products or services to offer. The only thing they really have up their sleeve is their membership.
You have to join their program to take part in their income opportunity. This means that you have to be a member to be able to get ROI's.
Does The Product Work?
BitKrypton claims that they generate these so-called ROI's or return on investments by trading cryptocurrencies, Forex, indices, and commodities.
There's no evidence of any of that being done here, nor is there any evidence that BitKrypton generates external revenue by any other source to pay for these withdrawal requests.
Because they offer passive ROI's and carry out financial transactions, they're required by law to register with their corresponding financial regulators. However, there's no proof that they are registered with the SEC or its counterparts in any jurisdiction.
This means that they're committing securities fraud and that the owners (when they're exposed) could land some serious jail time. Members who've promoted and made money through this program will also be heading to jail.
Like all Pyramid schemes and ponzi schemes, once the recruitment has died down, the income will stop too.
How To Make Money with BitKrypton?
There's only one way to make money from BitKrypton and that's through recruitment. There's no proof that they're generating any income through investments.
How To Get Started with BitKrypton?
The membership is free, but if you want to take part in the income opportunity, you'd need to invest a minimum of $50.
As always, the higher your investment is, the more money you'll make.
BitKrypton Compensation Plan
Their main driving point is the passive ROI, paid out on a daily 0.5% and is dished out over 730 days (2 years). That's a whopping 365% return on the investment made over that duration.
Referral Commissions
When you recruit people into the progrma, you earn a commission. Their referral commission follows a binary structure where your personal recruits are placed under you and are marked as your first level.
Their recruits, or your indirect recruits, get marked as your second level and their first level. This goes on indefinitely.
You earn a commission every time a level is completed. Points are based on your left and right legs.
Simply put, the more you recruit, and the more your members recruit, the more money you get.
Ranks
You can also increase your rank to increase your income potential here in BitKrypton. You do this by having 2 big investors in your 2 legs, but you also do that by having a lot of smaller investors on both. Either way, it looks like this is determined by how much your members invest into the program.
To get the highest rank, you'll need to get a total of $10 million of investment volume on both legs. To get promoted to the lowest rank, you'll just need $50 invested on both elgs.
Residual Commissions (Binary)
Their residual commission also follows a binary compensation structure and allows you to earn a percentage of one-time investments made by your downline. The company pays out 5% of these investments that start from your weaker leg.
Salary Rewards
They also offer Salary reward bonuses, which come in the form of additional commissions that you earn over a period of time.
For example, you get $60 for two months when you generate $4000 worth of investment volume on both sides.
This is just an additional commission that you earn overtime.
Rank Achievement Bonuses
There are various bonuses when you move up in rank. This starts in rank Elite and higher. The rewards range from cash prizes to apartments to luxury trips.
BitKrypton Ugly Truths Revealed!
#1 Recruitment Incentives
Right off the bat you'll notice that their compensation plan is nothing but purely focused on recruitment. There's no incentive anywhere to sell anything because there's nothing to sell.
This is a huge red flag in the eyes of the FTC and its counterparts because MLM companies are required to have sales as their main source of income, and not recruitment.
#2 Securities Fraud
The lack of registration with financial regulatory agencies easily constitutes securities fraud, no matter what country you live in.
Their brokers, or whoever is carrying out these trades, will need to be registered and licensed as well by these agencies. Since they're not using any trading bots or platform, we assume that the trading is done manually.
#3 No Owner Information
Personally speaking, I wouldn't want to work with any company if I can't verify owner information. This is the first step of being transparent, and they've already failed that.
Nobody likes to do business with anonymous owners.
What I Like About BitKrypton?
There's nothing to like about this fraudulent company. Everything about it reeks of pyramid scheme.
BitKrypton is nothing more than a 0.5% daily ROI pyramid scheme, and there's no way this company is legitimate.
There's no proof of them being registered with financial regulators, so they're committing securities fraud. The owners and its members could land some serious jail time by marketing this company.
There's no proof that trading and investing are being done to generate income. The only way that the company is making money is through new member investments. Once the recruitment stops, the money stops coming in too.
Stay away from this program.
How I Make a Living Online?
I'm not a fan of MLM, not because it's illegal or not profitable, but because of all the restrictions and the expensive costs involved.
Instead, Affiliate Marketing is my top recommended business model for anyone to make money online.
The reason is simple...
You don't have to recruit anyone to make money
You have the freedom to promote any products you want and not being restricted to only promote the products from one MLM company
It's Free to get started
In fact, with affiliate marketing...
I've personally created a 4-Figure Monthly Passive Income Stream and become financially independent at just 21 years old without any College degree or working experience!
Through my own hard work, I went from a broke restaurant waiter to living my dream laptop lifestyle in less than a year's time...
If you want to discover the secrets of how I did it at such a young age, click here!