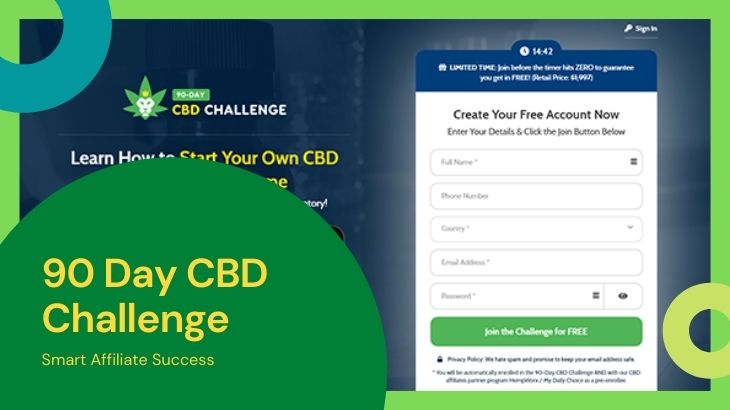 What Is 90 Day CBD Challenge? It's a MLM Sales Funnel!
Welcome to my 90 Day CBD Challenge review!
CBD is all the rage because it's an innovative health supplement that has a lot of potential. Unfortunately, it's still quite illegal in a few countries over the fact that it's extracted from Cannabis, or Marijuana. But CBD is the extract that doesn't have the chemicals that makes you high or hungry. It's actually the extract that provides the health benefits.
We also had a chance to review a lot of MLM companies that market CBD oils and products, and a few of them were far from what we expected.
Today, we're reviewing 90 Day CBD Challenge, a 12-week free program that teaches you how to earn commissions by selling the extract.
First of all, I must Congratulate you for taking your time to do your own research before buying into any "seemingly good" product.
That's the way to avoid scams and find the legitimate way to make money online!
Let me be completely transparent with you, I'm not associated with 90 Day CBD Challenge in any form.
So, rest assured that I'm not here to pitch or sell anything to you.
Instead, I'm here to reveal the ins and outs of this supposed training course...
90 Day CBD Challenge Review Summary
Product Name: 90 Day CBD Challenge
Founder: Chris Record and Peter Sorenson
Product Type: Affiliate Marketing Training Course / MLM Sales Funnel
Price: $20 plus upgrades
Best For: No one!
Summary: 90 Day CBD Challenge is a training course designed to help you set up your CBD business at home. It's actually a sales funnel to get you to sign up for another MLM company. It's not something that we can recommend because it's a MLM program and there are better programs out there that market CBD products.
Rating: 50/100
Recommended: No!
More...
What is 90 Day CBD Challenge?
90 Day CBD Challenge is a 12-week program that teaches you how to earn by selling CBD oil extracts. According to its founders, the CBD industry is expected to grow to $22 billion by 2022. This means that as early as now, you're getting into a massive opportunity that allows you to market health supplements and learn from industry experts at the same time.
The CBD industry in the USA and in some countries is heavily regulated, so products are required to undergo rigorous testing to keep up with standards. That's why CBD products are often expensive.
The goal of the 90 Day CBD Challenge is to get you started on your home-based CBD business.
Who Created 90 Day CBD Challenge?
The men behind 90 Day CBD Challenge are Chris Record and Peter Sorenson, both of whom are experienced Internet marketers. They've also launched multi-million dollar firms during their successful careers.
The last time we saw Chris and Peter was with their program called the 90-Day E-Com Challenge. This program gave Chris and Peter the biggest monthly affiliate payouts ever issued by Shopify after their program referred thousands of customers their way.
They generated a small fortune within a short period of time before they got started with the CBD oil niche. That's how they started the 90 Day CBD Challenge.
Inside 90 Day CBD Challenge
90 Day CBD Challenge is a training course to help you set up your CBD business right at home. This program has you selling these products as an affiliate and earning commissions from the sales.
The idea behind the 90 Day CBD Challenge is that you partner with an existing company, get their products, learn how to market and sell them, and then make a living out of it.
The company that you're partnered with is HempWorx, or also known as My Daily Choice. They're a MLM or multi-level marketing company that we've also had the chance of reviewing. They've been around for quite some time and they just recently got into the CBD industry.
The training you get is "drip fed" over the 90-day period. This means that you get one training video per day over 90 days. You can also opt to get all these videos by upgrading your package.
Some of the materials you get will come in:
Video Training Format

PDF Training

Webinars (Live and Recorded)
I'm Jerry!
I Created My Own 4-Figure Monthly Passive Income at just 21 Years Old!​
What's In The Course?
This is the member's area for 90 Day CBD Challenge. It's pretty straightforward. You'll see all of the materials the moment you login.
The training program is divided into 12 weeks and looks like this:
Week One – CBD Websites

Week Two – CBD Legalities

Week Three – CBD Knowledge

Week Four – CBD Marketing

Week Five – CBD Branding

Week Six – CBD Advertising

Week Seven – CBD Monetizing

Week Eight – CBD List Building

Week Nine – CBD Email Marketing

Week Ten – CBD Technology

Week Eleven – CBD Worldwide

Week Twelve – CBD dispensaries

Bonus: CBD Trending News
As mentioned earlier, you'll have to sign up for the Executive level in HempWorx to unlock all the 90 videos in one go. This is about 400BV (product volume) and you're going to be subscribed to the 100BV monthly autoship.
The training you get at the Executive Level will help you make the most out of this program.
How To Get Started with 90 Day CBD Challenge?
You can sign up for the basic training course for $20. This is the baseline membership fee and you'll get the 90 videos delivered to you in 90 days.
You can also get access to all the 90 videos in one go by signing up for the Executive Level. This will cost you about $599 plus the $20 affiliate fee.
Who's 90 Day CBD Challenge For?
90 Day CBD Challenge is meant for people who want to try their luck at selling CBD products. Note that this should only be taken in by people who live in countries or states that allow CBD products. Otherwise, you could go to jail for illegal possession.
90 Day CBD Challenge Ugly Truths Revealed!
#1 Expensive Upgrade
The system plays out like a "pay to win" model because you have to pay to get an advantage over people. There are also monthly requirements to subscribe to the program, thanks to their monthly autoship. This is typical of most MLM companies, so you end up paying for more products before you can even dispose of them.
#2 Marketing Funnel For Hempworx
90 Day CBD Challenge is a marketing funnel for HempWorx, which Chris and Peter are members of. This lets them make money off of you. When you sign up for their program, you immediately become their downline.
When you sell products or recruit people, they make money off of you.
If you just want to take the middle man out, you could always sign up directly for HempWorx or My Daily Choice. The downside here is that you miss out on the training course.
#3 It's MLM in Disguise!
You're getting into a MLM program one way or the other if you're decided to sell CBD products. HempWorx is just one of the many CBD MLM companies out there, but it's definitely not the best one we've seen.
If you want to get into MLM and CBD, check out
CBD Biocare
.
What I Like About 90 Day CBD Challenge?
#1 Hempworx is Legit
HempWorx is a legitimate MLM company and there's nothing shady about what they do. They're known for selling high-quality CBD products and their income opportunity is as legitimate as it gets. There's nothing fishy going on here with what Chris and Peter are doing.
Is 90 Day CBD Challenge a Scam?
90 Day CBD Challenge is a legitimate training program that funnels you into a MLM company called HempWorx. There's nothing shady or suspicious about what they have to offer. But if you're looking to get into the CBD industry, this might be a good starting point for you.
However, it can get expensive if you do plan to upgrade to the highest level to get the 90 videos. You're also going to be subscribing to a monthly autoship, which you'll need to pay for. You're losing money if you don't sell through the products you get.
We've already recommended a CBD MLM company if you don't want to sign up for their training course or income opportunity, but there's nothing wrong with either 90 Day CBD Challenge's or HempWorx's opportunity.
How I Make a Living Online?
I've personally created a 4-Figure Monthly Passive Income Stream and become financially independent at just 21 years old without any College degree or working experience!
Through my own hard work, I went from a broke restaurant waiter to living my dream laptop lifestyle in less than a year's time...
If you want to discover the secrets of how I did it at such a young age, click here!