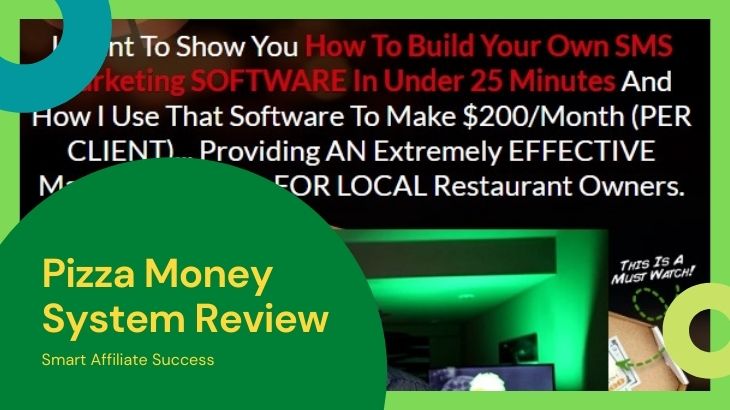 Pizza Money System Review – Start Your SMS Business Agency?
Welcome to my Pizza Money System review!
Email marketing is one of the most common strategies used by marketers to generate leads and sales. On the other side of the fence, you also have SMS marketing and operate under the same principles and concepts as email marketing. But is it as effective as email marketing? It's hit or miss.
Today, we're reviewing a training course that helps you set up a SMS marketing business. This is Pizza Money System.
First of all, I must Congratulate you for taking your time to do your own research before buying into any "seemingly good" product.
That's the way to avoid scams and find the legitimate way to make money online!
Let me be completely transparent with you, I'm not associated with Pizza Money System in any form.
So, rest assured that I'm not here to pitch or sell anything to you.
Instead, I'm here to reveal what this system can do for you...
Pizza Money System Review Summary
Product Name: Pizza Money System
Founder: Ben Adkins
Product Type: SMS Marketing Business Agency
Price: $47 one-time fee plus upsells
Best For: No one
Summary: Pizza Money System is a SMS business agency training course designed by Ben Adkins. All the modules in this course are the processes and concepts he uses to build his own agency. But there are several factors that might affect your decision here and we'll discuss those in this article. For starters, restaurants might not want to work with you because of the Covid-19 situation. They are surviving right now and they don't want to incur any expenses.
Rating: 50/100
Recommended: No!
More...
What is Pizza Money System?
Pizza Money System is a 5-part training course that will teach you how to build your own SMS marketing business and system. This is a system that you can sell to businesses, such as restaurants, who're going through tough times during this pandemic.
The system was designed by Ben Adkins, who also developed Serial Progress Seeker, which is a service provider for offline firms.
Who Is Ben Adkins?
Ben Adkins has been around the digital marketing scene for more than 10 years now. His strategies are known for landing rockstar clients and prospects, allowing him to help businesses scale exponentially.
His students have always commented that Adkins over-delivers on content and value, which is a good thing. He knows how to market his stuff without going over the line and he'll show you how to do that as well with his system.
Inside Pizza Money System
So basically the course is all about setting up your own SMS list and broadcast system. You build your list of dedicated customers, market your services and any other important information, and replicate to your clients.
Pizza Money System will then show you how to bring them onboard your business for $200 a month.
The training course is divided into 5 parts, which we'll discuss below:
#1 SMS List And Broadcast Service Creation
This is the first part of the course that teaches you how to set up your own SMS list and broadcast service. It may sound difficult and technical, but it actually isn't.
Like what Adkins mentioned in his sales video, there's no coding required here. You'll also find various resources such as:
SMS List Building Ideas for restaurants

SMS List and Broadcast Service Setup Guide; and

SMS Broadcast Templates
I'm Jerry!
I Created My Own 4-Figure Monthly Passive Income at just 21 Years Old!​
#2 Pinpointing Prospect Clients
Businesses won't be successful if they don't have clients, and this is where Pizza Money System comes in to show you how to land them. This section covers the exact processes that Ben himself uses to identify and land ideal clients. He also provides a 5-item checklist to ensure that you're talking to a suitable client for your business. This checklist helps you identify whether or not this business needs your service or not.
#3 Approaching Prospects
Pizza Money System shows you how to approach your prospective clients, which coincides with the lessons from #2.
This module shows you how to approach clients without stepping a foot inside their business. You're going to showcase to the clients how your system works without having to call them. This module also goes over email campaigns, FB campaigns, and even messenger campaigns.
#4 Closing Clients
Part 4 is all about closing the deal. Part 4 will also go over how to run a sales meeting successfully that will make the client pay you $200 a month in 6 steps. This sales meeting can be done online or offline (because again, Covid-19).
There are also DFY sales presentation templates included in this module.
#5 Maintaining Your Client Base
This module goes over onboarding and taking payments from your clients, and setting up your business. This part talks about the "First 3-Months Timeline" and gives you detailed tips to help you convince your clients to avail of your service for 3 months.
Once you've convinced the client, you're now set to find new prospects.
Pizza Money System Cost
There are 4 pricing structures for Pizza Money System.
Front End: The Pizza Money System
This is the system itself and will cost you $27. This gives you access to the training videos that are listed above.
Upsell 1 - The Pizza Money Agency
This is more expensive than the Pizza Money System and will cost you $47. This bundle gets you more resources for the business.
Upsell 2 - The Double-Your-Fee Package
If you want to take your business to the next level, you can pay for this package for $97. This will show you how to double your service fee, from $200 to $400!
Who's Pizza Money System For?
Pizza Money System is meant for people who want to build this kind of marketing agency. It's not meant for everyone because it's specifically geared for restaurants. So if you live in a town with few restaurants that are open due to the pandemic, it might not be a good program for you.
Pizza Money System Ugly Truths Revealed!
#1 May Be Difficult To Land Clients
Getting the system might be a bit risky because we don't know whether or not businesses are willing to take you on as added service. The question here is whether or not they can afford your services.
If you get this course, how sure are you that you're going to land the clients that you need? Will they even meet the items listed on Ben's checklist?
#2 Might Be Difficult To Approach Businesses
During the crisis, it might be difficult to approach businesses and sell your services. Because restaurants are forced to comply with regulations, it means that their income might be limited.
What I Like About Pizza Money System?
#1 60-Day Money Back Guarantee
Pizza Money System offers a money-back guarantee for 60 days. This gives you time to go through the course content and decide whether or not it's for you.
But there are conditions in place.
You have to go through 100% of the training content and put everything into action. If you think this isn't worth it, you can file for a refund within 60 days.
#2 Comprehensive Training
The training itself is comprehensive and covers enough ground to help you get started on this business. Ben Adkins will show you his entire process of building the business, landing clients, and closing deals.
For the price you're paying, it's relatively cheap and you could just think of it as something supplemental to your own business as well.
Is Pizza Money System a Scam?
Pizza Money System is a legitimate training course that shows you how to build your SMS marketing agency. It's not as fancy as an email marketing or social media marketing agency, but it gets the job done still.
But with its client-specific requirement, it may not be a good fit right now given the current situation with Covid-19.
You might have a hard time landing clients because restaurants are trying to make ends meet. And if you live in a town where restaurants are few, this course may not even be worth getting into.
But the lessons are still as valuable for the price you're paying, so you could just think of it as a form of training to grow your business.
How I Make a Living Online?
I've personally created a 4-Figure Monthly Passive Income Stream and become financially independent at just 21 years old without any College degree or working experience!
Through my own hard work, I went from a broke restaurant waiter to living my dream laptop lifestyle in less than a year's time...
If you want to discover the secrets of how I did it at such a young age, click here!