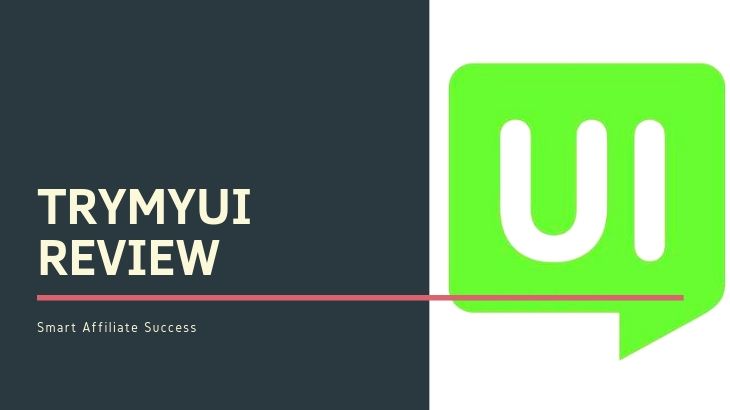 TryMyUI Review – Another Usability Testing Site Reviewed!
Welcome to my TryMyUI review!
I've reviewed quite a handful of user testing sites the past couple of days, and they're quite decent.
Now, you might be wondering if there's money to be made from these income opportunities.
The answer here is YES and NO.
But I'll explain why that's my answer.
Today's user testing site is TryMyUI!
First of all, I must Congratulate you for taking your time to do your own research before buying into any "seemingly good" product.
That's the way to avoid scams and find the legitimate way to make money online!
Let me be completely transparent with you, I'm not associated with TryMyUI in any form.
So, rest assured that I'm not here to pitch or sell anything to you.
Instead, I'm here to reveal how their program differs from the other programs out there, and if they are better (or worse).
TryMyUI Review Summary
Product Name: TryMyUI
Founder: Ritvij Gautam
Product Type: Get Paid To Test Sites
Price: Free to join!
Best For: People who are able to create short and concise thoughts about a product or app.
Summary: TryMyUI is a usability testing website that provides you with a somewhat OK income opportunity by hiring you as a tester. But despite having great pay, the income potential is still quite low due to the limited availability of tests. If you don't mind the number of tests available, then this might be worth a shot if you're just looking for a few bucks online.
Rating: 50/100
Recommended: Yes and No!
More...
TryMyUI is a platform that brings business owners, web designers, and app developers together with real-world users or testers to help improve their products.
And this is way more important than you might think.
Websites and apps can evolve as the years progress, and they need to be working perfectly by the time they launch it.
This is why these companies will pay TryMyUI testers to find out if there are certain bugs or errors that need to be fixed before it's launched.
If you're not familiar at all with the concept of user testing, it's simply a means for the web designers and app developers to see how people interact with their products in real life situations.
But these companies won't have employees doing the testing. That's why they hire companies such as TryMyUI to help link them to testers.
Testers, this basically means you, record both your screen interaction and voice while following instructions sent by the developers and designers.
TryMyUI Requirements
Like most user testing sites, the only requirements you need to join are:
At least 18 years of age
A computer or laptop
Working microphone and webcam
High speed Internet
Other than that, they are not looking for anything else in particular in terms of skills or experience.
I'm Jerry!
I Created My Own 4-Figure Monthly Passive Income at just 21 Years Old!​
TryMyUI Application Process
To apply as a tester, you'll need to fill out a standard demographic questionnaire to match you with the tests that are best for you.
This is similar to signing up for survey sites and get paid to rewards programs, but this one looks to be a lot easier and doesn't contain as much questions.
After you submit the questionnaire, you'll be asked to complete a sample test video along with a written response.
Both are easy to do and they will provide you with instructions on how to complete the test (and pass it with flying colors).
Regardless if you did well or not, you'll be given feedback on your test.
If you passed the test, you can start taking their tests. If not, you have 24 hours to improve before you can take the test again.
The application process takes less than 24 hours, so they're quick.
A Typical TryMyUI Test
You will start to receive invites to tests in your emails if you pass their sample tests.
One thing to keep in mind is that these tests are first come, first serve due to the limited number of slots given to test a product or site.
The tests take about 15 to 20 minutes to complete and then you can submit it for review and approval.
Once it's approved, you'll be paid.
Here's a sample of a test video from TryMyUI.
How Much Does TryMyUI Pay?
TryMyUI pays out a fixed rate of $10 for both written and recorded tests, but I'm not entirely sure of that.
Similar to Validately, TryMyUI only pays with PayPal. There are no cash or gift card options as of this writing.
They also pay twice a week, but there's no exact day as to when this happens.
For example, if you complete and submit a test on Tuesday and it gets approved, you should get funds by the end of the week.
TryMyUi pays $10 per test. From what I can see written tests pay the same as recorded tests, but I'm not 100% sure on that.
TryMyUI pays with PayPal only. Once your test is approved, usually within 24 hours, funds will be added to your account.
How Much Can You Really Make?
This is probably the most important part of the review, and I want to be as clear as possible.
Usability testing sites such as TryMyUI may not be considered as full-time income because of certain factors, which I'll explain in the next section below.
But if you're wondering if you're going to get paid $10 per test, then the answer is yes.
I have not found any complaint of people getting less than that, or complaints of hidden charges and deductions, which is a good thing.
TryMyUI is a decent source of income for people who are able to create short and concise thoughts about a product or app, and are able to present themselves properly in front of the camera.
But if you're looking for a source of full-time income, then you might check out my step-by-step guide on affiliate marketing.
It's free and doesn't require you to sign up for anything.
TryMyUI Ugly Truths Revealed!
#1 – Low Rating? You Won't Get Invited To Tests!
If you've been delivering low quality tests, then the company will give you a low rating.
And if you get a low enough rating, then you won't be invited to tests as much.
This is completely fair because TryMyUI aims to provide the best service for their clients.
#2 – Low Income Potential Due To Limited Test Availability!
The money you make depends on the number of projects available to you.
Granted they pay out $10 per test, the invitations are quite limited and available for a short period of time.
#3 – You Have To Qualify Before You Can Take These Tests!
If you fail to pass the qualification test, then you won't be able to take the paid tests.
This is the bane of a lot of testers, and I'm not just talking about TryMyUI in particular.
User testing sites are very rigid in terms of quality to ensure that their clients get the quality of feedback that they deserve.
What I Like About TryMyUI?
#1 – It's Available To Everyone!
As long as you have a verified PayPal account, then you can sign up to be a tester for TryMyUI.
Now take note that some tests will require certain demographics (e.g. location, gender, etc…), so you may not find a lot of them available from time to time.
TryMyUI is a legitimate usability testing site that provides a somewhat decent income opportunity.
However, the income potential is so low that it doesn't make for a great source of full-time income.
The payout may be great, but the availability of tests is the reason why its income potential is so low.
But if you don't mind earning a few dollars every week, then this should be something that you can look into.
How I Make a Living Online?
I've personally created a 4-Figure Monthly Passive Income Stream and become financially independent at just 21 years old without any College degree or working experience!
Through my own hard work, I went from a broke restaurant waiter to living my dream laptop lifestyle in less than a year's time...
If you want to discover the secrets of how I did it at such a young age, click here!