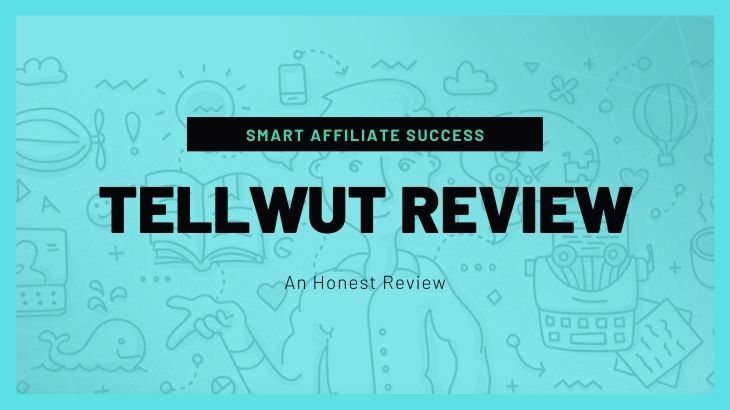 Tellwut Review – It's A Survey Site Unlike Any Other
Welcome to my Tellwut review!
Survey sites are dime-a-dozen, but they're about as unique as every other site we review. They may have the same business model, but their structure is going to be built differently.
This is also attributed to how survey programs are run, and who runs them. For example, a survey company powered by a market research company will have entirely different features than a survey company that makes its own surveys.
Today, we're looking at Tellwut, a Canadian Survey Panel.
First of all, I must Congratulate you for taking your time to do your own research before buying into any "seemingly good" product.
That's the way to avoid scams and find the legitimate way to make money online!
Let me be completely transparent with you, I'm not associated with Tellwut in any form.
So, rest assured that I'm not here to pitch or sell anything to you.
Instead, I'm here to reveal what makes this survey site unique...
Tellwut Review Summary
Product Name: Tellwut
Founder: TellWut Corporation
Product Type: Paid Survey Program
Price: Free to Join
Best For: People who love to make and do surveys
Summary: Come check out this Tellwut review. It's a unique survey site because it allows you to make your own surveys and you get paid for doing so. However, there's hardly any income potential here because there's no cash out option. You can change out to gift cards, but that's about it.
Rating: 50/100
Recommended: No!
More...
Tellwut is a paid survey panel run and developed by Tellwut Corporation, a Canadian market research company.
The "WUT" in Tellwut stands for What U Think, which is kind of like a millennial thing to say. Just like most market research companies, they have their own clients which need surveys done. They also have other ways to provide surveys, which is the core feature of Tellwut.
Tellwut Corporation has been around since 2010, and they created Tellwut, the survey program the same time.
Tellwut's concept is fairly simple and familiar. You take part in surveys and other parts of their program, and get rewarded.
As of this writing, US and Canada residents are allowed to join the program.
You only need to click on Create an Account at the upper right portion of the site, and fill in the necessary information.
It will also ask for your demographic profile, so info such as age, gender, and geographical location are required. This will also enable Tellwut to find the surveys to match your demographics.
There are different ways for you to earn from their program, and that is through:
Answering Surveys From Other Members
Tellwut is unique in a sense that it pays you to take surveys from other members. All members are allowed to create surveys, and these are usually short so it takes a few minutes to complete them.
The surveys can be about any topic, and isn't limited in terms of how many you can take in a day.
Creating Your Own Surveys
You can also create your own surveys in Tellwut. If your survey gets approved, you also get paid. You can create surveys based on polls, include small videos, and even images as long as it follows the company's TOS.
But unlike answering surveys, you're limited to making your own surveys to two per week (approved surveys).
Participating In External Surveys
External surveys are surveys not made by Tellwut or its members. These come from other organizations and companies that Tellwut is working with.
These will be longer and will pay out more. These surveys are sent out via invitations through your email or you can access them through your member dashboard.
This is your bread-and-butter source of income from Tellwut.
I'm Jerry!
I Created My Own 4-Figure Monthly Passive Income at just 21 Years Old!​
Interacting With Members
You can interact with members to make some extra cash, but it's not going to be that much. Tellwut is a community of survey enthusiasts, and you can mingle with other people who think like you.
This may be a great idea to promote your own polls, get access to other surveys, and so on.
Refer friends
Tellwut's referral system rewards you for signing up a friend. You get 25 points when you recruit something into the program. This is about $0.06.
How Do You Get Paid?
You get awarded in the form of points, which you get from answering surveys and the other tasks listed above.
On average, surveys are worth about 5 to 15 points, while external surveys can go as much as 2000 points.
Creating surveys can earn you 10 to 20 points.
You can redeem rewards once you hit 4,200 points, or about $10. More rewards are available if you wait until you get to $25 or 10,000 points. :
Amazon gift card
Visa prepaid debit card
Cineplex gift card
Walmart gift card
Tablets
T-shirts
Other merchandise
Rewards are handed out and fulfilled within 10 to 15 business days after redeeming them. Shipping times also come into play. Electronic gift cards are available directly and emailed to you.
Tellwut is meant for people who love taking surveys and who love making them at the same time.
Tellwut Ugly Truths Revealed!
#1 No Cash Out Option
One thing that really sucks about Tellwut is that there's no cash out option. So right off the bat, there's no income potential here.
You can use the gift cards to save up on online purchase, but that's about it.
And this isn't something uncommon as well. We've reviewed quite a number of survey sites that work the same way as Tellwut and will not give out cash rewards.
#2 Only Open To US and Canada Residents
At this time of writing, Tellwut is only available to US and Canada residents. This is not that bad and I wouldn't count it against them, but they are limiting themselves in terms of how many people actually want to join this program.
What I Like About Tellwut?
#1 Available Surveys!
There's a lot of surveys available at any given time, and that's because of the fact that members can create surveys for other members to answer.
The points are relatively small, but you make up for it in volume.
You can also camp out for external surveys, which look to pay out more than internal surveys.
#2 Low Reward Threshold
You can redeem rewards for as low as $10. Now, this isn't the lowest we've seen as we also found survey sites that let you cash out for as little as $5.
But hey, anything's better than cashing out at $25!
Tellwut is legitimate as far as we're concerned. We just can't recommend it to anyone looking for a decent source of income.
Tellwut is not meant for people looking to earn cash online or doing surveys.
The biggest downside here is that there's no cash reward here. What you're doing here is simply for the gift cards. Unless you're shopping online frequently, this site may not be worth your while.
It's only open to Canada and US residents, so if you're not from those countries, you can't join.
If you still want to give this a shot, feel free to do so.
Related Links
How I Make a Living Online?
I've personally created a 4-Figure Monthly Passive Income Stream and become financially independent at just 21 years old without any College degree or working experience!
Through my own hard work, I went from a broke restaurant waiter to living my dream laptop lifestyle in less than a year's time...
If you want to discover the secrets of how I did it at such a young age, click here!