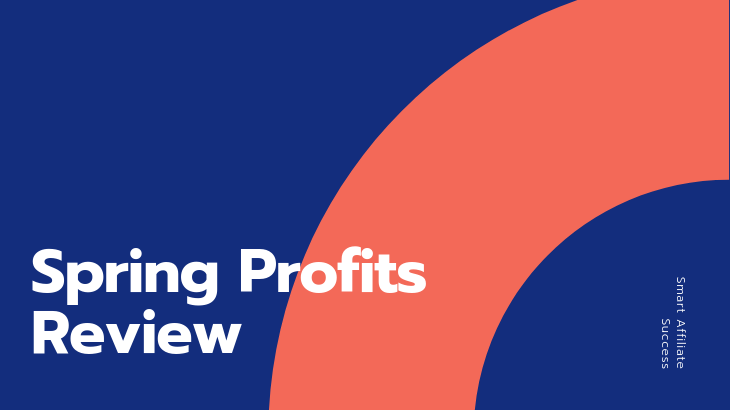 Spring Profits Review – How Not To Do E-Commerce!
Welcome to my Spring Profits review!
I came across this program because one of the readers sent me an email about it and asked me if I could recommend this program to anyone.
But as soon as I read the name, I knew something was already up. After digging around for a few hours, this is what I found out about Spring Profits, a program that helps you sell shirts on a website.
First of all, I must Congratulate you for taking your time to do your own research before buying into any "seemingly good" product.
That's the way to avoid scams and find the legitimate way to make money online!
Let me be completely transparent with you, I'm not associated with Spring Profits in any form.
So, rest assured that I'm not here to pitch or sell anything to you.
Instead, I'm here to reveal what this e-commerce training course is going to teach you and why the course is complete nonsense!
Spring Profits Review Summary
Product Name: Spring Profits
Founder: Daniel Green
Product Type: E-Commerce Training Course
Price: $37 plus upsells
Best For: No One!
Summary: Spring Profits is an e-commerce training course that teaches you how to sell on Teespring, but it's not as good as the program claims it to be. The training modules can be found online for free, and from reputable experts too. But there were red flags that were raised during the review. I found out that the owner information is absolutely fake and the testimonials are also fake, so there's nothing truthful about what they're selling here.
Rating: 1/100
Recommended: No!
More...
Spring Profits is a Clickbank product that promises you could make a lot of money using their secret system.
Developed by marketer Daniel Green, he mentions on the sales video that even beginners are earning up to $25,000 a week using their secret system. But I know that this is a completely BS claim.
In the sales presentation, he also has his "members" add in their testimonials about how they've been successful using his system.
About The Owner Of Spring Profits
The best online programs are created by the top affiliate marketers in the industry. A quick Google search about programs such as Affilorama and Wealthy Affiliate will return you results on who their founders are.
If you look up their founders, you'll be able to see their digital footprint spread out online, ranging from social media profiles to personal blogs.
But it's the exact opposite for Daniel Green. Normally, one of the first things to verify is legit or not is to determine the owner's reputation
But that's a little hard to do if you can't find any information about Daniel. I found a number of people named Daniel Green but nowhere near Spring Profits or affiliate marketing.
This leads me to believe that Daniel Green is not a real person, which is a huge red flag already and I haven't even begun to review the program just yet!
Spring Profits is a training course that teaches you how to make money by selling shirts on a site called Teespring.
Now, selling shirts on Teespring is a legitimate business model, but what Daniel and the rest of Spring Profits are telling you is that you could milk your way to thousands of dollars just by doing 10 minutes of work per day.
The Teespring website is free to join and gives you access to create and sell your designs. Teespring then manufactures your shirts and ships them to your customers. Your profit margins should be above the costs to make the t-shirts and ship.
So basically, you're not spending anything to make the shirt.
But what you need to understand is that a lot of people are doing this business and you need to have the most creative and most successful designs to really reach thousands of dollars in sales.
I'm Jerry!
I Created My Own 4-Figure Monthly Passive Income at just 21 Years Old!​
What's Inside The Member's Area?
Here's a glimpse of the member's area, which looks completely legitimate and doesn't look like a get-rich-quick scheme at all. Bravo to the creators for actually putting in effort to make the member's area look nice.
Then we have the contents for the training modules, and right off the bat, I can probably do a quick search on each of these topics on Google and find more relevant and updated information without spending a single cent.
At a glance, you're just paying for generic affiliate marketing training and like me, you can find these information on Google for free.
How Much Does It Cost?
You can purchase the product for $37, but you're going to be presented with upsells that cost hundreds of dollars.
These upsells are also Clickbank products, but they're not going to help augment your income with Spring Profits. The only thing these products do is to make the owner more money.
Who's Spring Profits For?
Spring Profits is not meant for anyone, simply because there are a number of red flags that were raised during the review.
These red flags lead me to believe that the program is an absolute scam, or at the very least, operating at a fraudulent level.
Spring Profits Ugly Truths Revealed!
#1 - Fake Testimonials
The second major red flag that I found during the review is the use of fake testimonials. They're not real members of Spring Profits. In fact, they have nothing to do with Spring Profits.
They're paid actors from a site called Fiverr, and they'll make spokesperson videos for as little as $5.
And now I believe that no one's really making any money at all from the site.
#2 – Generic Information Being Taught!
You're actually paying for information that you can find online for free. If you're looking to invest money in selling products online, I would go for something such as Clickbank University.
They're expensive, but they can help you build a solid foundation in affiliate marketing.
#3 - Fake income claims!
This is the same modus operandi that Spring Profits and other scams use. They trick you into believing that you're going to make a fortune. But in reality, no one's making any money apart from the owner.
This kind of goes hand in hand with the fake testimonials. This is a trick meant to get naive and beginners to buy the course. There's most likely no one making a lot of money from this training.
#4 – $37 Is NOT Enough!
Again, part of their modus operandi is to trick you into buying their upsells by telling you that they're going to help you earn more money.
But that's not the case with the upsells since the only person that makes money from the upsells is the owner.
What I Like About Spring Profits?
There's nothing positive worth mentioning about the program because it's an obvious scam.
Is Spring Profits a Scam?
Spring Profits is obviously a scam, and I say this with complete confidence because of the 2 red flags: the fake testimonials and the absence of information about who its real owners are. It's obvious that Daniel Green is fake.
The information that they are selling you can actually be found by a quick search on Google and you don't even have to spend a single cent!
This program is not worth your time at all.
How I Make a Living Online?
I've personally created a 4-Figure Monthly Passive Income Stream and become financially independent at just 21 years old without any College degree or working experience!
Through my own hard work, I went from a broke restaurant waiter to living my dream laptop lifestyle in less than a year's time...
If you want to discover the secrets of how I did it at such a young age, click here!